Pride: Barack & stroll
While Obama kicks up dust on the campaign trail, make your own tracks past his hometown haunts.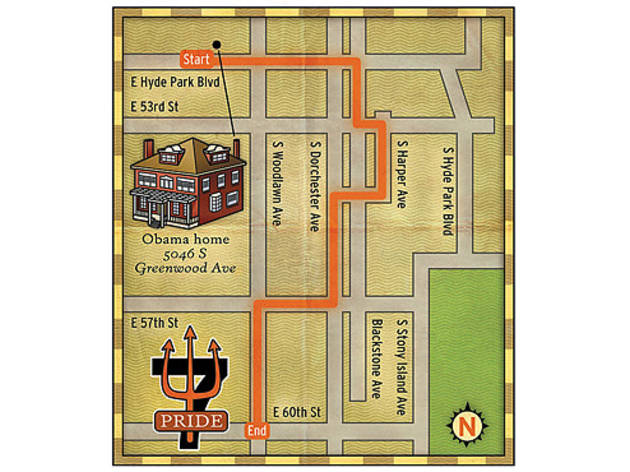 TIME About an hour
START Obama's home
FINISH University of Chicago Law School
MILES 2.1
He's the country's first African-American presidential nominee; he has plans for renewable energy and the economy; and he's the dreamiest major-party candidate since JFK. How could Chicagoans be faulted for beaming with pride at the very mention of Barack Obama?
Though his juggernaut of a political career pulled him away to Washington, he still calls the Hyde Park/Kenwood neighborhood home, and the two seem a perfect match: They're both brainy, stately and the product of varied cultural influences. Start your presidential pride tour at the Obama family home(5046 S Greenwood Ave). This is the same property connected to a real-estate deal with Tony Rezko, a developer and political fund-raiser who was found guilty of fraud and bribery this year. Now that there's nary a camera crew in sight, the two-story, red-brick manse appears to be just another gorgeous home on a beautiful, tree-lined street—save the Secret Service camped out in an SUV in the driveway. If you gawk through the fenced wall of evergreens too long or snap pictures from too close of an angle, expect a well-rehearsed, "Please take your pictures from the other side of the street."
Moving on, walk about five blocks east on Hyde Park Boulevard to Blackstone Avenue. Turn south until you arrive at the Hyde Park Hair Salon & Barber Shop(5234 S Blackstone Ave, 773-493-6028), where Obama's gone to keep his perfectly trimmed, close-cropped 'do looking so politician-perfect for the past 20 years. The shop, which moved to this location from the corner of 53rd Street and Harper Avenue in 2007, has seen a spike in business since Obama's rock star–like rise. It was even called out—albeit by the alias Smitty's—in his book, Dreams from My Father.
Continue south on Blackstone Avenue to 53rd Street and turn left. Peer through the window of Valois(1518 E 53rd St, 773-667-0647), a cafeteria-style restaurant that attracts an assortment of Hyde Parkers—from working Joes and aging African-Americans to University of Chicago profs and students, as chronicled in Mitchell Duneier's book Slim's Table. Obama was once a regular, but workers admit they haven't seen him lately, though his supporters still schedule meetings there.
Now backtrack half a block to Harper Avenue and walk south. About a block and a half down, you'll see the first apartment Obama rented as a young community organizer in the late '80s (5429 S Harper Ave). The building's a little tattered but still full of charm: You can easily picture Obama as a fresh-faced social crusader back in the late '80s, darting out the front door in the morning in the very earliest phases of his "change" campaign.
Continue south to 54th Place and turn right. Walk two short blocks to Dorchester Avenue and turn left. Keep walking until you reach 57th Street. Turn right and head to the Medici on 57th Street(1327 E 57th St, 773-667-7394). Though it's well-known Obama once frequented this U. of C. hangout, don't expect the Valois-style downplaying—the Medici has grasped onto its famous patron's coattails with a kung-fu grip. A glass case on one wall enshrines a selection of OBAMA EATS HERE T-shirts, which employees wear with pride. Just in case you missed the message, each table is graced with an OBAMA 2008–engraved wood cutting board, available for $35. If you ask what the Obamas' favorite dishes are, there's a chance your scarcely seen server might walk away midsentence mumbling something about the Secret Service making it hard for the candidate to drop in.
Continue west on 57th Street. When you reach Woodlawn Avenue, turn left. Walk through the Midway Plaisance to 60th Street and turn right, where you'll see the University of Chicago Law School(1111 E 60th St). Obama taught here for more than a decade, beginning in 1992. The building doesn't bear any trace of his presence, but if he lands the commander-in-chief gig, a commemorative plaque or, better yet, a bronze bust, seems inevitable.
WHILE YOU'RE THERE
This brainiac-packed nabe is home to many great independent bookstores: Seminary Co-op Bookstore(5757 S University Ave, 773-752-4381) is housed in the basement of the Chicago Theological Seminary; Powell's Bookstore(1501 E 57th St, 773-955-7780) specializes in used and rare books; and the city's oldest bookstore, O'Gara and Wilson Booksellers(1448 E 57th St, 773-363-0993), is loaded with out-of-print and collectible titles.