Pullman hobo festival
Rail-riders and hobo enthusiasts flock to Chicago's historic train company town.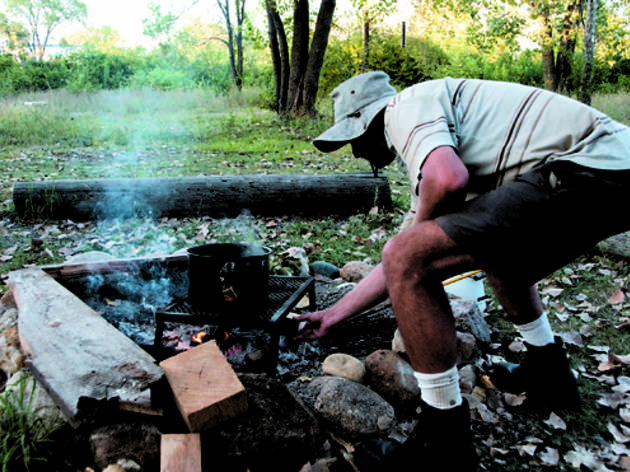 They started showing up 20 years ago in the park in historic Pullman: hobos, tramps, train folk.
Tom Shepherd walked from his 19th-century row house into the park one August day and saw men and women from the rails selling crafts and playing guitars and banjos. They had their ice-cold brews and their mulligan stew, made from whatever meat and vegetables the vagabonds could muster.
"At first, most of us who live here didn't even know [why or how] they came in," Shepherd says. "But we really got to know some of these characters."
Rather than kicking the wayward folk out of Pullman, Shepherd says, the Far South Side neighborhood embraced them. Shepherd felt a special kinship with the travelers: He's part Roma (Gypsy) by blood, and as a boy he hopped freight trains on the South Side.
With Shepherd leading the way, Pullman residents decided to formalize a festival, welcoming hobos and hobo enthusiasts with a campout. The festival has come and gone since the early 1990s, but it once again takes place on Saturday 27 and Sunday 28 with overnight camping, a bonfire behind the Pullman Clock Tower and a slew of other activities in the park and at the 19th-century Hotel Florence.
Shepherd never rode the rails more than a few city blocks, but a lanky hobo known as Stretch, who's been making the trek to Pullman for two decades, claims he's logged more than 500,000 miles of rail, some of that with his shaggy orange dog, Burlington, in tow. (Traditionally, hobos traveled in search of labor, while tramps rode the rails and hitchhiked but didn't work.)
"This will be my 30th year riding trains," says Stretch, whose birth name is John Wilson. "I'm on the road full-time." He spoke on his cell phone (yes, some hobos are armed with mobile devices) from Cassville, Wisconsin, where he was enjoying a hobo festival on the heels of the national hobo celebration held each August in Britt, Iowa. Stretch once rode the rails as an itinerant laborer, but these days he mostly just goes from festival to festival. He says he's been busy spreading the word about the Pullman fest to his fellow tramps.
Pullman is of particular importance to hobos because of its role in both railroad history and the history of the labor movement. The former company town was designed around the now-defunct train manufacturer Pullman Palace Car Company. Residents originally both worked for and paid rent to their boss, George Pullman, inventor of the Pullman sleeping car, who presided over his company and village with an iron fist.
Local historian Paul Durica of Pocket Guide to Hell Tours says Chicago had anywhere from 30,000 to 100,000 transient men living in the skid-row hotels along Madison Street between Halsted Street and Ashland Avenue in the late 1800s and early 1900s. "Chicago was the center of the hobo culture because there were so many train lines here," Durica says. "Pullman would be a stopping-off point to catch a train up town." At this year's fest, Durica plans to re-create the "Hobo College," a series of lectures that professors from the University of Chicago and Northwestern University gave to hobos and tramps from the 1910s to 1930s. The U. of C. doctoral student will be joined by soapbox speakers performing a 1917 hobo play, singing songs about the Wobblies and pontificating on high-speed rail.
Most of the fest's attendees are hobo enthusiasts rather than true hobos. The culture is dying out, Shepherd says, and curiosity seekers just want to glimpse real-life hobos and get a little insight into their free-spirited way of life.
Occasionally, people are inspired to join the ranks of the unpaying rail riders. "Young people come with wanderlust and want to head out," Shepherd says. "They come down with just the clothes on their back and set off on rail."
For more information, visit pullmanevents.info/hobofest.