R.J. and Jerrod Melman share their Chicago memories
The LEYE heirs and Paris Club bosses recall growing up in the restaurant business.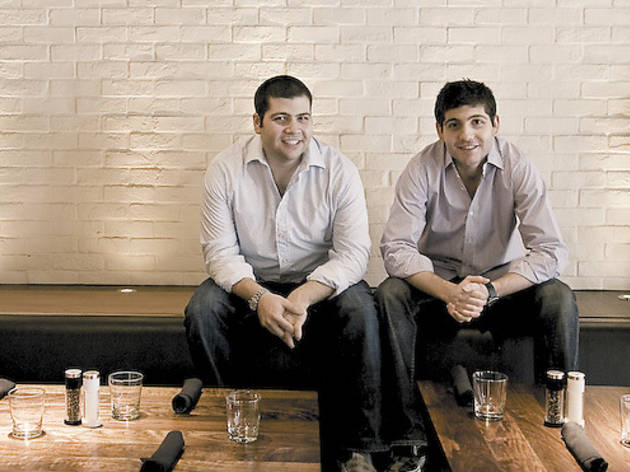 When you're named after your dad's restaurant (R.J. Grunt's, Lettuce Entertain You founder Rich Melman's first LEYE eatery, predates his son R.J. by eight years), you either embrace the food biz or run screaming into a cubicle. Fortunately, Winnetka native R.J., top photo, with younger brother Jerrod, chose the former. The New Trier grads, now 31 and 28, run River North's Hub 51 and bustling new French bistro Paris Club.
R.J. I remember the opening of Tucci Milan [in 1989] really well.
Jerrod Our mom would put us in the station wagon and we would come down [for openings]. "This is what Dad's doing. We have to support Dad."
R.J. We were just a regular family at a table.
Jerrod I remember coming out of [now-shuttered LEYE crab shack] Bub City, across from Joe's on Weed Street, and seeing my first hooker. I think I was ten. I haven't seen a lot of hookers since then, in fairness. But I was with a friend, and somehow we just knew [it was a hooker]. There was nothing over there. It's not like Crate and Barrel was across the street [back then].
R.J. There were definitely times when we didn't like the food.
Jerrod When we went to the Tucci Milan opening, I don't know if my dad and I weren't getting along that day, but I was determined not to like anything. I was 7 or 8. You had to fill out a comment card, "How did you like your main course? How did you like your appetizers?" I let my dad have it. He has it framed in his office.
R.J. I think the city is better today than it was then. The mayor has done so much.
Jerrod But when I drive by where Bub City was, I still think about it.
R.J. We wish it were still open.