Rah deal
After the '86 Super Bowl, the Honey Bears got the ax. But some fans still fantasize about bringing the cheering squad out of hibernation.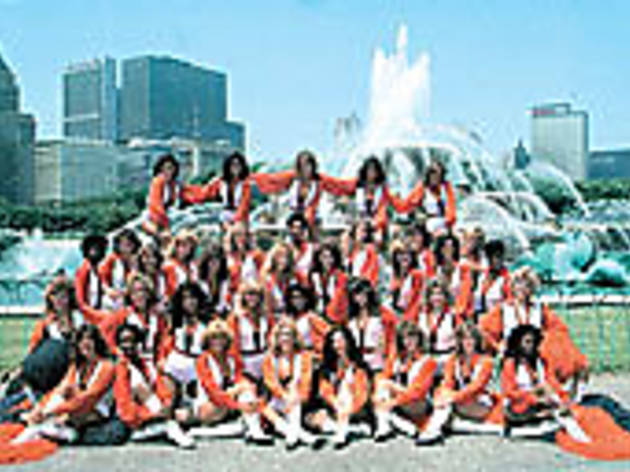 For almost ten years, the Honey Bears were as much a part of the Bears experience as cold weather and touchdowns. The attractive ladies were brought in during the '77–'78 season when then-owner George Halas said he wanted "dancing girls." But they were much more than that.
"People respected them, it wasn't like, 'Oh, those dumb cheerleaders,'" recalls Roy Taylor, who runs the www.bearshistory.com website. "I remember seeing them when I was a little kid…that's why it's so cool and mystical to me, because it's part of the nostalgia that's not around anymore."
When Halas died in 1983, his daughter Virginia McCaskey became owner, and when the Honey Bears' contract expired at the end of the '85–'86 season, it was not renewed. "The rumor has been that Virginia didn't want them," Taylor says. With Super Bowl fever mounting, fans are calling for the return of the Honey Bears: Taylor has been getting e-mails from former members, and comedian John "Sloop" Biederman posted the following limerick at www. dailylimerick.net: "For future of football, big care's / not 'O,' 'D' or special teams' flair. / But a unit lacking—Halas Hall, get cracking/and bring back the damn Honey Bears!"
Taylor doesn't think that will happen on McCaskey's watch. But when we met with two former Honey Bears, Ginamarie Woldman and Laura Meyer, the Naperville neighbors, former teammates and longtime friends told us the squad was a tight-knit group who not only loved the Bears, but weren't necessarily in it for the money.
"We made $15 a game—and we had to pay $5 for parking," says Woldman, who was on the squad from '79–'80 to '83–'84. "So you had to have a full-time job or be a full-time student…but it opened doors for a lot of girls."
Many of the women, who were selected from a local modeling agency, went on to be convention spokesmodels—and some hit it big with their careers. Former Honey Bear Cheryl Burton is now a news anchor on ABC Channel 7. Woldman and Meyer say it was the team's charity work—appearing at events that benefited causes from muscular dystrophy to veterans—that made the experience so memorable. One of their favorite events was at a North Side pizzeria where they signed autographs to raise money for Brian Piccolo.
"We loved meeting people—it wasn't about the money," says Meyer, who left the Luvabulls in 1982 to join the Honey Bears, and is now an accountant, mother and special needs teaching assistant . She also coached cheerleading and various sports for 21 years.
Behind it all was Honey Bears manager, Cathy Core, now coach of the Luvabulls. "She was Mama Bear—she was [also] our manager, our choreographer, our friend—you just respected her," says Woldman, who was a vice president of a bank, and is now a waitress and mother of four. "She would say, 'Come on girls, we need ten girls at this charity event,' and no one ever said no. We were like sisters."
Send a message at www.chicagobears.com to resurrect the Honey Bears.