Record Store Day events
These four record stores pull out all the stops on April 20.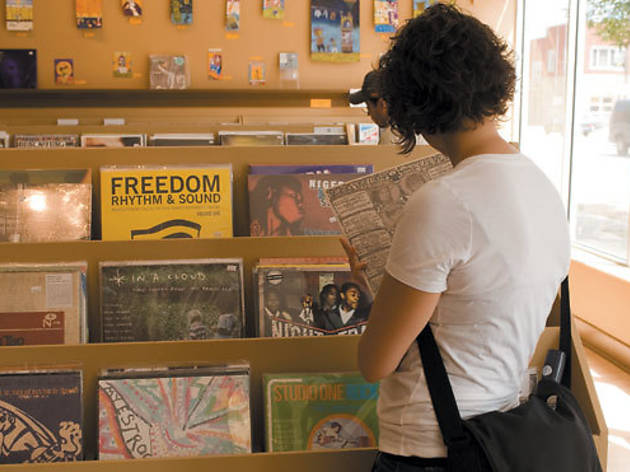 Dave's Records
In case you were worried Dave's wouldn't be dishing out Molly's Cupcakes at Record Store Day this year, have no fear. "We will always have Molly's Cupcakes on Record Store Day," says owner Dave Crain. Though the cupcakes only come with purchases more than $25, everybody waiting in line gets candy. There are also free limited edition Heather McAdams posters for 25 early birds and Record Store Day T-shirts on sale. Dave's Records, 2604 N Clark St (773-929-6325). 11am.
Dusty Groove
The Ukrainian Village record store likes a circus atmosphere at its crate-digging party and it delivers: In addition to an in-store performance by funkmaster George Freeman at 4pm, a roaming magician performs magic tricks on the willing, and customers can spin a "Wheel of Fortune." (The grand prize is a new turntable.) Dusty Groove, 1120 N Ashland Ave (773-342-580). 8am–9pm; free.
Laurie's Planet of Sound
Come early to Laurie's and you can win a Laurie's tote bag. Not enticing enough? Come to Laurie's really early and you can win that same tote bag, except this time it's stuffed with goodies. Chubby Wieners provides the victuals and there'll be in-store performances from Edward Burch & The Grand Ennui, Luke Winslow King, Dolly Varden, Claps, UNUR and Cinchel. Laurie's Planet of Sound, 4639 N Lincoln Ave (773-271-3569). 9am–10pm; free.
Saki
Need a java jolt to start your RSD right? Gaslight Coffee will be outside this Logan Square store at 8:30am offering free coffee. In fact, coming early to Saki's is a good rule of thumb on this day. The first ten people to make purchases win limited edition Ryan Duggan tote bags. At noon, CHIRP hosts The Price Is Right–style Plinko. Prizes include concert tickets, posters and gift certificates courtesy of the Empty Bottle, Dill Pickle Co-Op and New Age Coffee, among others. Live performances start at 1pm and include Radar Eyes, Fake Limbs, Pink Avalanche and Twin Peaks. Comics Nick Rouley and Joe McAdam also record their podcast live. Saki, 3716 W Fullerton Ave (773-486-3997). 9am; free.
Find more Record Store Day events at recordstoreday.com.