"Restoring Earth" at the Field Museum
Can conservationists save Chicago's threatened wildlife? The Field Museum sure hopes so.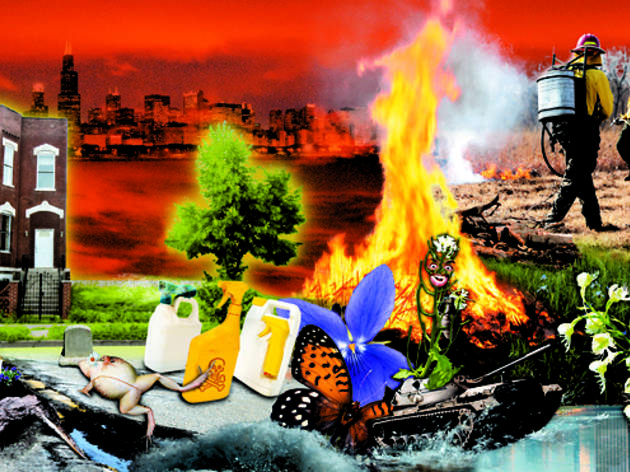 You might think of the Chicago area—its great masses of steel and sprawling pavement—as too inhospitable to nurture nature. Not so, according to "Restoring Earth," the Field Museum's forthcoming permanent exhibit that chronicles global conservation efforts. Part of the exhibition looks at Chicago's "globally rare" natural communities­—an official Nature Conservancy ranking, explains Laurel Ross, urban conservation director of the Field's Environment, Culture and Conservation (ECCo) division.
Now, don't get too excited. Ross says we've been depleting these communities. Using videos, projections and interactives, "Restoring Earth" focuses on ways environmentalists—and you, the citizen-scientist—can undo this damage. Otherwise you might face a dark future like the one pictured here: an intensified version of Chicago-area damage recorded by Ross and the museum's ECCo scientists.
1. Oak savannas and forests were razed for farmland and now for sprawl.
2. Lawns with pesticides kill animals and native plants and force fragmentation, a process where natural areas become ever-shrinking islands of vegetation. An exhibit interactive shows just how difficult it is for these communities to attempt to relocate.
3. Invasive garlic mustard aggressively blocks sunlight, killing plants on the forest floor. The exhibition shows how you can volunteer to remove it.
4. Before Chicago's metropolis swallowed up a few thousand square miles, most of the land consisted of prairies. In 2011, only one-tenth of one percent of that prairie land remains in Illinois, but what's left is rich with biodiversity—in some cases, an 18-inch circle of prairie can contain 32 species of plants. In "Restoring Earth," an augmented-reality interactive lets you see an image of yourself on a screen surrounded by these species.
5. Prairie white-fringed orchids rely on sphinx moths for pollination, but the supply of sphinx moths is dwindling—likely due to fragmentation. A few orchids continue to reproduce thanks to volunteers' toothpick-wielding hands, which imitate sphinx moths' long proboscises. In the exhibit, displays of scientific specimens let you explore threatened species.
6. A regal fritillary butterfly must lay its eggs on a violet—the only food source for its caterpillar. With less and less prairie land, violets are disappearing, as are regal fritillaries.
7. Pavement causes alteration of hydrology—adding or subtracting water, or changing its chemical makeup—killing prairie plants.
8. Occasional wildfires—protectors of prairie ecosystems—haven't occurred naturally in decades. Prescribed fires, performed by professionals, are needed to keep tall, sunlight-blocking plants out of the prairie. See how organizations safely start these prairie fires in a video in "Restoring Earth."
9. When plants surrounding the Chicago River die, dirt and garbage erode into the water, causing turbidity—a smokelike haziness that kills fish and plant life.
"Restoring Earth" • Field Museum, 1400 S Lake Shore Dr (312-922-9410) • Opens Nov 4; $15, seniors and students $12, kids ages 3–11 $10