Royal wedding
We rate royal wedding events by how obsessed you are with the crown.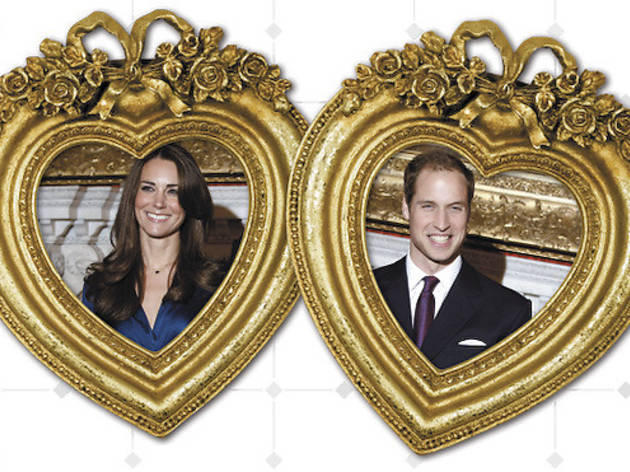 Tea at 3: Tulle, Tears and Tiaras
Prepare to clutch your pearls and laugh when monarchy-maven Caroline Aston gives the lowdown on royal courtships past and present. Reservations required. Maxim's, The Nancy Goldberg International Center, 24 E Goethe St (312-742-8497). Thu 28 at 3pm; $35. 2/5 stars
But I was supposed to marry Prince William! party
Quit your bloody whining already. All the single ladies and gents are welcome to find their own prince and princess…or at least try to shag. Jack's Bar and Grill, 2856 N Southport Ave (773-969-5200). Thu 28, 7:30–9pm; free. 2/5 stars
Royal Suite Retreat
This deal is strictly for the ballers. English breakfast in bed, a 4:30am wake up for the Royal Wedding broadcast, Rolls-Royce ride and a 24-karat gold facial are some of the hotel package amenities. Reservations required. Four Seasons Hotel, 120 E Delaware Pl (312-280-8800). Thu 28 and Fri 29; $5,500. 3/5 stars
Better Kate than Never Collection & In-Store Shopping Event
Consume cake and bubbly, or nab a commemorative tea towel that comes with any purchase. We know. We had you at cake. Ted Baker London, 1009 N Rush St (312-255-0290). Fri 29 and Sat 30, 10am–7pm; free. 1/5 stars
British Royal Wedding of Prince William and Kate Middleton
If you want to see and hear every single pre-event detail—from who wasn't invited to images of stone-faced guards—stop by the South Loop cinema lounge for the entire day's coverage. Lobby Lounge at ShowPlace ICON Theatre, 150 W Roosevelt Rd (312-564-2104). Fri 29 at noon; free. 1/5 stars
Cityscape Bar's British Royal Wedding Viewing Party
Martinis dubbed Courtship and Bitter Queen might not sound very delectable, but give the booze some time to kick in. Watch the nuptials on jumbo screens. Cityscape Bar, Holiday Inn Mart Plaza, 350 W Mart Center Dr, 15th floor (312-836-5000). Fri 29 at 11am; free. 1/5 stars
London's Calling: The Royal Wedding Tea Party
Tip a hat to Wils and Kate at Formé Millinery's chapeaux show, viewing and traditional tea. Guests can tour room 550, the suite Princess Di slumbered in during her 1996 stay. Reservations required. The Drake Hotel, Palm Court, 140 E Walton Pl (312-932-4619). Fri 29 seatings at noon and 3:30pm; $35. 2/5 stars
Crumpets and Couture
Waking up at the break of dawn isn't your cup of tea? Enjoy a taped broadcast of the royal hitching, a fashion show with retailers Karen Millen and L.K. Bennett, swag and Champagne. Four Seasons Hotel, 120 E Delaware Pl (312-649-2349). Fri 29 at 3pm; $55. 1/5 stars
A Royal Wedding Night
Sorry, Queen Elizabeth. All eyes are on Kit Kat "Queen Diva" Kathryn Cole as she performs drag numbers. The main event will be shown on seven projectors at 7pm. The bar is at it again with its "Put a Ring On It" martini. Kit Kat Lounge, 3700 N Halsted St (773-525-1111). Fri 29 at 7pm; free. 1/5 stars
The Wedding Bash
Since those wankers didn't send you an invitation to their fairy-tale affair, let's pretend. Throw on wedding attire for an evening of cocktails, dessert, raffles and photo ops with William and Kate look-alikes. Proceeds benefit the Avon Walk for Breast Cancer. Proof, 1045 N Rush St (312-397-1045). Sat 30, 6–9pm; $60. 2/5 stars
Royal wedding broadcast begins at 4am.
Rating system
[fivestar:1] You'll watch, but only to glimpse that hottie Harry.
2/5 stars You contemplated buying a limited-edition royal commemorative plate.
3/5 stars You're likely to be physically restrained by a guard if caught anywhere near Westminster Abbey.