Ryan Bowden, 19
Find him in the women's department.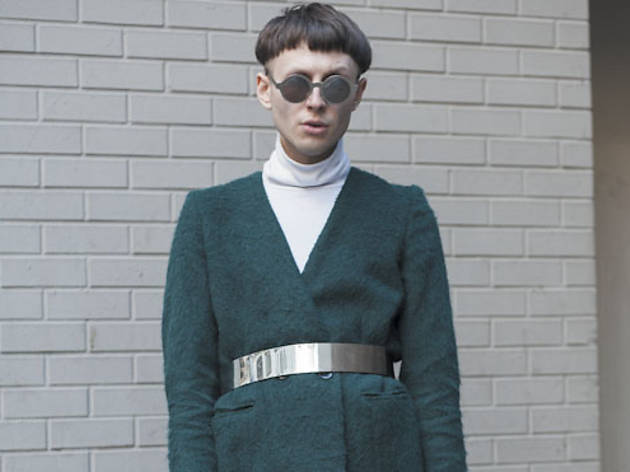 State and Washington Streets
You might be a Bond villain. Yes! I love that! [Laughs] People usually say Marilyn Manson—and I love Marilyn Manson, but the comparison is just not accurate. Someone once said I look like I'm from a Renaissance painting. If someone has something to say about my outfits, good or bad, I appreciate it. This is my art form, the way I express myself.
What exactly are you wearing? Believe it or not, everything is from H&M. Most of this outfit is women's clothing. I have no problem whatsoever shopping in the women's department. I like being androgynous. Today is actually a little bit more manly than usual.
What's the typical day? Typically, I have on a lot of makeup. I dyed my eyebrows and cut my bangs short, inspired by Rooney Mara from The Girl with the Dragon Tattoo and Versace's fall/winter look of 2012, which was all, like, girls with short bangs and no eyebrows. Love that look!
As a kid, did you raid your mom's closet? No. My mom always saw fashion as shallow. I was a rebellious kid, so I wanted to go against that. And I really fell in love with it and have been doing it ever since. Fashion is very liberating for me. I always try to look like I'm in an editorial at the end of a magazine, like Vogue.
Have you made any new year's resolutions? Keep it crazy! [Laughs] I'm a smoker, and every smoker says they're going to quit smoking in the new year. I'll get rid of the habit eventually, but I kind of like the glamour of a cigarette. It's the deadliest accessory.