Schlock treatment
Can these Chicago tourist traps really be all that bad? Yeah, pretty much-but some turn out to have more than a few redeeming qualities.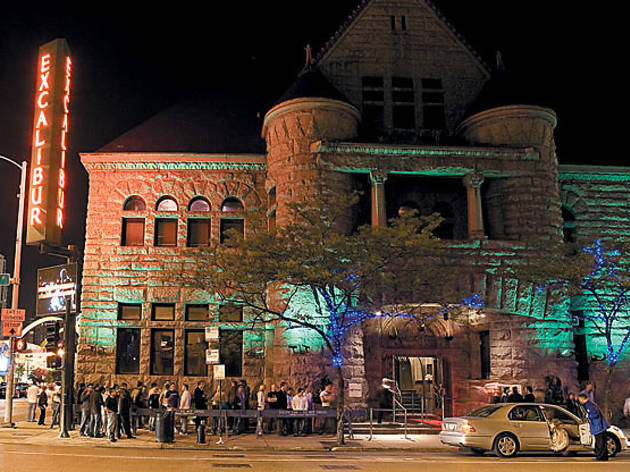 Photo: Jeremy Bolen
Excalibur
My visit to Excalibur proves little has changed in ten years (the last time I ventured here): The cover still starts at $10; most of the customers are either kids in shirts and ties from Wauconda or foreign tourists my dad's age; "Push It" and AC/DC still rule in heavy rotation; and I can't go five minutes without someone offering me a multihued shot named for a sex act. As a just-turned-21 birthday girl ("Her boyfriend plays on the Warped tour," I'm told) competes for attention with her friend's faux-lesbian dance-floor antics, and someone's dad rocks out near the bar, I remember why I used to rock this shit: cheap food and pool downstairs, nice staff, and one of the city's least-judgmental club crowds. (Cover charge is at least $10; food and drinks $5–$10; 632 N Dearborn St, 312-266-1944)
—Scott Smith
Rainforest Café
A Mongoose Mai Tai might help erase your memory of the screeching tweens filling the gift shop near the entrance. Yet we recommend the Rainforest Café only if you have small children in tow or an overwhelming taste for kitsch. The kids attending birthday parties will be too busy gawking at the giant aquariums, fake foliage, indoor waterfall and simulated thunderstorms to misbehave, but not even the animatronic jungle beasts will distract adults from the overpriced food. On the other hand, it's so hard to have a conversation with a robotic elephant trumpeting next to your table that you might want to bring your estranged parents here. (Kids' entrées $5.99–$6.99, adult entrées $8.99–$22.99; 605 N Clark St, 312-787-1501)
—Lauren Weinberg
The Untouchables Tour
Hey kids, want to relive all the fun of the Depression without any of the poverty? Tourists who hop on this school bus–turned–gangster mobile can expect a two-hour excursion to Chicago's most "notorious" gangster locations. In addition to visiting the scene of the St. Valentine's Day Massacre and the Biograph Theater where John Dillinger was shot, Untouchables guests also receive a thorough history of Chicago gangster activity—don't worry, Mom, it's G-rated—as well as the opportunity to win some Capone-related swag. Those who can get past the eye-rollingly cheesy jokes will be rewarded with a surprisingly fun and informative experience. One might even call it a blast. (adults $27, children $23, 773-881-1195, gangstertour.com)
—Christina Couch
JC Cutters downtown carriage rides
Beyond the fact that your slow-mo vehicle incenses every motorist stuck behind you, a carriage ride is one of the most enjoyably laid-back ways to see the city. Thirty-minute to one-hour tours begin at Michigan Avenue and Chestnut Street (across the street from the Hancock) and amble through downtown, the lakefront and/or Washington Park, depending on how much you're willing to pony up. While visitors won't learn much Chicago history on this tour, the drivers apparently have a history of picking up eccentric personalities. "One time I picked up four drunk guys, and they ended up picking up two more girls from the street," admits Donny, our chatty driver. "That takes some serious game in a carriage." ($40–$100, 312-890-9416, jccutters.com)
—Christina Couch
Hard Rock Café
"The salmon just tastes like salt," says my date. "What?" I shout back over a blaring Verve Pipe song. But he has given up on talking to me and is now thrusting his fork repeatedly through the mashed potatoes' thick, hard (and strangely salty) shell. And so goes Saturday-night dinner at tourist haven Hard Rock Café. I'm soon distracted by a group of suburban teens screaming the lyrics at the top of their lungs. Our lanky blond waiter is great, but my microwave has made better meals. As we leave, we hear a shriek and turn to see an overly tanned bachelorette party get tp'ed by the staff. (Entrées $10–$23; 63 W Ontario St, 312-943-2252)
—Maude Standish
Want to live like a tourist for a day? Click here for your chance to win a free pair of tickets to Chicago's hottest tourist attractions.