Scott Smith's All Animal Expo
A suburban safari to the bimonthly exotic beast show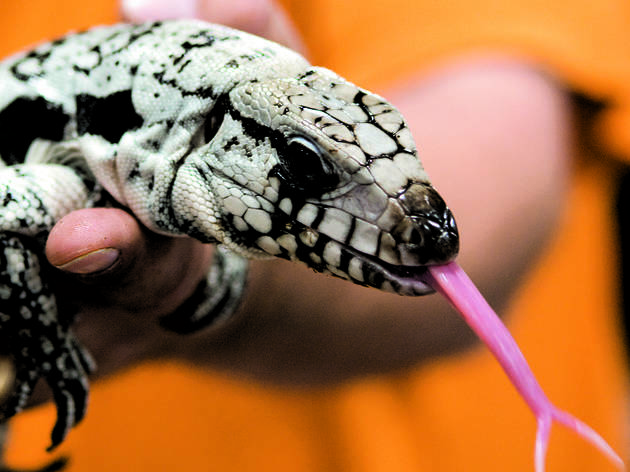 1/7
Photograph: Andrew Nawrocki
An endangered Blue Tegu at Scott Smith's All Animal Expo 6/4/11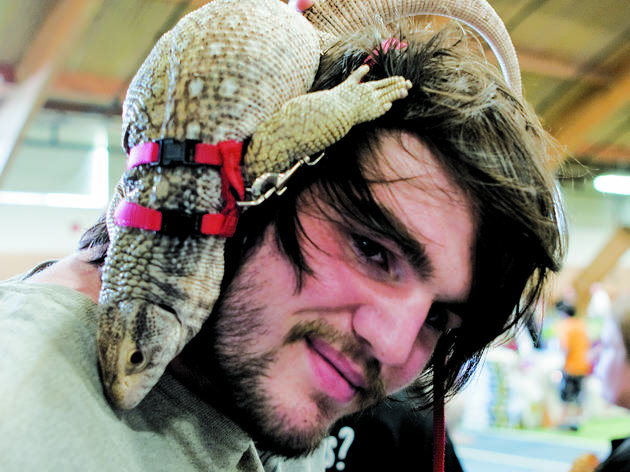 2/7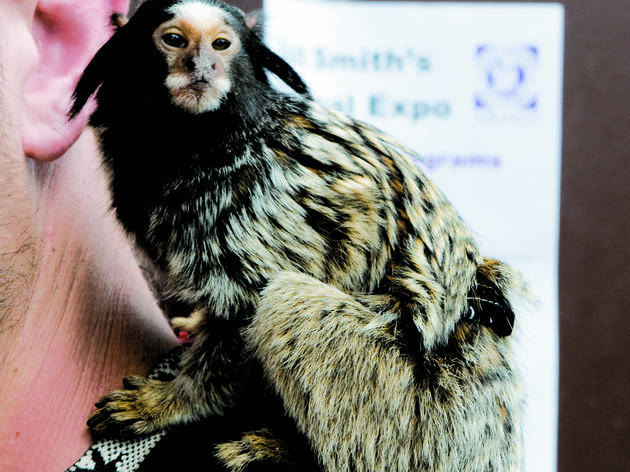 3/7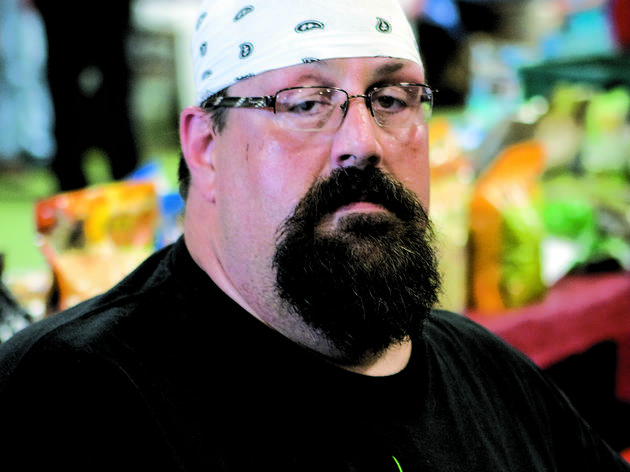 4/7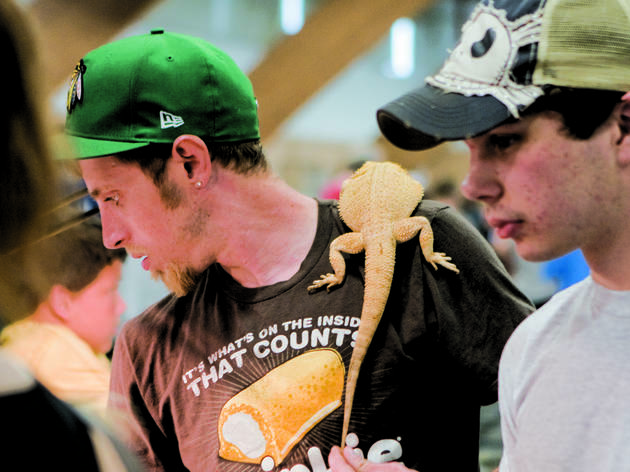 5/7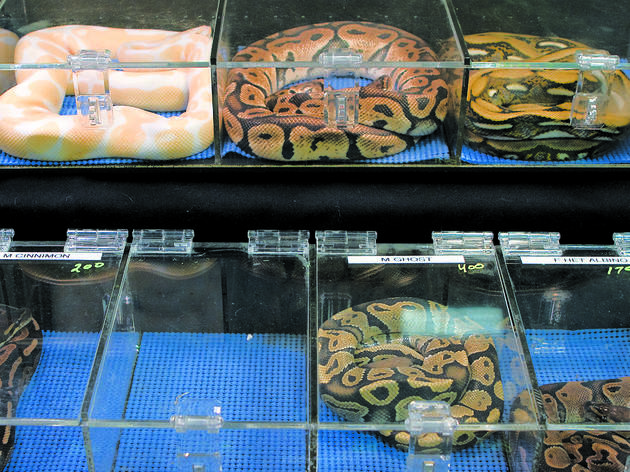 6/7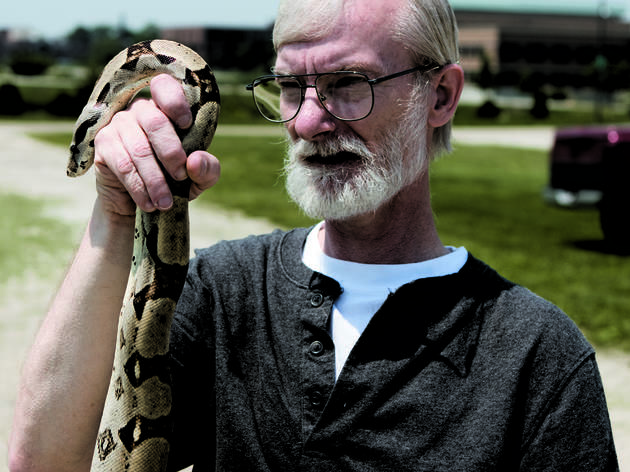 7/7
At Scott Smith's All Animal Expo, a bimonthly showcase of exotic beasts, it can be difficult to decide which is weirder: the array of animals exhibited or the folks who display and sell them.
The first person I encounter in the muddy grass field parking lot of the DuPage County Fairgrounds is Danny Ryan, a man wearing a ten-foot red-tail boa constrictor around his neck as he heads to his car. The folksy 55-year-old Chicagoan had been attempting to trade the snake, which had gotten too big for his 30-gallon tank, for a "more manageable" king snake, but none of the vendors would bite. As we part ways, Ryan puckers up and smooches his slithery serpent.
Barely through the door of the expo, I meet Ron Ermilio of DNR Exotics, who has a marmoset monkey named Spanky perched on his shoulder. And then there's Gluttony, the pudgy savannah monitor lizard crawling on the head of his owner, James Gardner. "As you can see by the girth on him, he eats," the 21-year-old says, proudly. Like most of the attendees at the expo, he defends his unconventional pet with a comparison to domestic animals. "He's as intelligent as a golden retriever," Gardner boasts.
The door-raffle prize at the All Animal Expo is appropriately peculiar: a snake egg. "You don't know what [breed] it will be until it hatches. You could be looking at a $200 or $300 snake," says Jason Hibben, a member of Windy City Reptiles, the group hosting the raffle at a folding table crowded with anacondas packaged in what look like Chinese takeout containers. The 23-year-old from Algonquin can't count how many snakes he owns, but he's a true amateur herpetologist. "I have albinos, which come out yellow. I have white ones, yellowish-purple ones," he says. "It's like collecting art."
The expo's ringleader, Scott Smith, looks like a former pro wrestler. Standing seven feet tall with a bandana tied around his head, he might've made a formidable foe for Andre the Giant. Five years ago, Smith inherited the event, formerly called Lee Watson's Reptile Swap. Attendees say the late Watson, an animal trainer, let vendors deal in illegal animals, like crocodiles. "I had a little bit of a different vision than Lee," says Smith, 47. "All animals under one roof. Mom and Dad come to see the birds, Junior comes to see the ball pythons. Animal people are all nuts anyway."
Smith got into animals as a kid, picking toads out of window wells near his Villa Park home. His Plano residence is now packed with more than 100 creatures. "I have a federal USDA permit so I've got some exotic stuff: a ring-tailed lemur, a fox. We just picked up a skunk. I could have venomous [snakes], even though it's illegal, but I know I'd get bit, so I stay away."
Among the rows of folding tables, it's a veritable menagerie. On one table, a lazy pit bull sleeps between two tubs of turtles. Next door, a tattooed biker dude hawks frozen white mice by the bagful as snake chow. Ten feet away, a vendor sells tarantulas and scorpions. "I'm going to add them to my colony when I get home," says Art Schamer, 40, as he pays cash for two scorpions.
One row over, farmer Dan Radavin of Sugar Grove keeps cages of free-range roosters and hens. "Mexicans like to slaughter the hens and eat them," he says. "They believe in fresh food."
"This is a world of its own, man," says Patrick Talley, a 26-year-old vendor from a Springfield-based business called Jumanji's Jungle. On his forearm is a tattoo of a python. "Snakes don't shed, they don't shit all over your carpet, and when you walk past someone who doesn't like reptiles and they run away screeching, that's a feeling, man. You like that. You're proud."
Scott Smith's All Animal Expo is Sunday 19 at the DuPage County Fairgrounds (2015 Manchester Rd, Wheaton). $5. For more info, call 630-533-0181 or go to allanimalexpo.com.