Six Flags Great America roller coasters ranked from worst to best
We rode and ranked all of the roller coasters at Six Flags Great America. Here are our findings.
Six Flags Great America is the biggest theme park in the Chicago area, and it certainly lives up to the hype. It's a perfect destination for a day trip and can be a great place to take the kids. The park is home to some of the best roller coasters in the Midwest, but it can be difficult to figure out which ones are worth the long lines.
Lucky for you, we spent a day riding every roller coaster at Great America to separate the terrifying from the yawn-inducing. Here are our rankings, from worst to best.
RECOMMENDED: The best amusement parks in America
10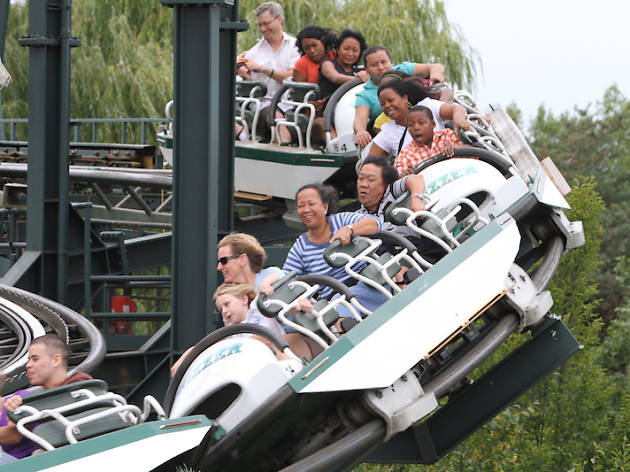 Photograph: Courtesy of Six Flags Great America
This ride is more vanilla than Anastasia Steele at the beginning of 50 Shades of Grey. It barely exceeds 40 miles per hour and you'd be better off getting your g-force fix from your local swing set. Whizzer opened in 1976 (when Great America opened) and is best used as a reminder of how lame roller coasters once were.
9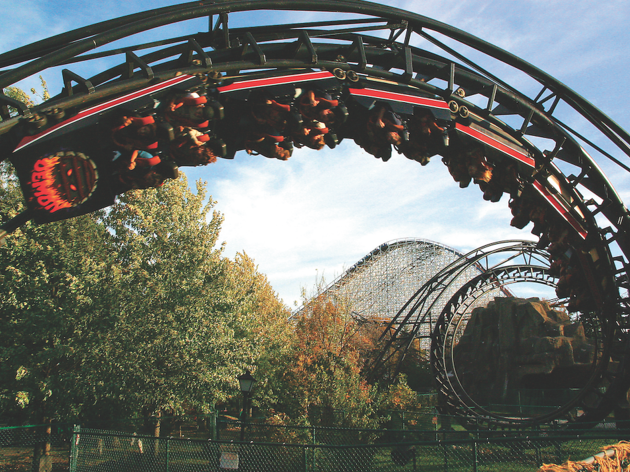 Photograph: Courtesy of Six Flags Great America
Built in 1976, it's a little unfair to compare this early steel coaster to its more modern brethren, which boast higher speeds and more towering heights. The Demon's double loops and corkscrews are fun, but much of the thrill is negated by the way the roller coaster slows down, as if to ease the rider into each element.
8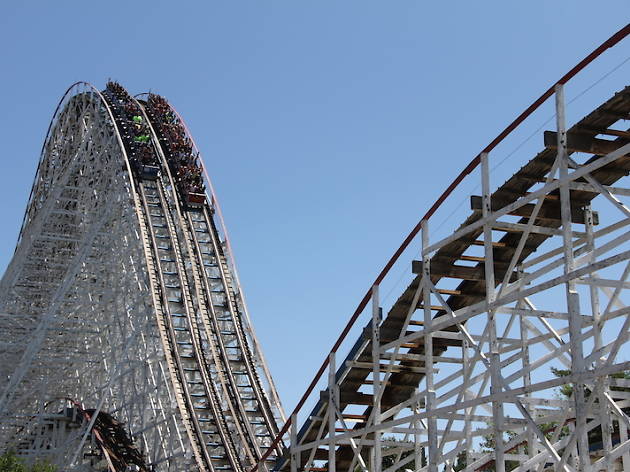 Photograph: Courtesy of Six Flags Great America
American Eagle is the one coaster at Great America you can never say no to. The line is always ridiculously short, you get to race another train, you sometimes get to ride the rails backward and, in general, it's never a bad time. Whereas most Six Flags coasters have the look and feel of an energy drink commercial, the Eagle is at the end of the park, stoic, steeped in Americana, politely suggesting you have fun.
7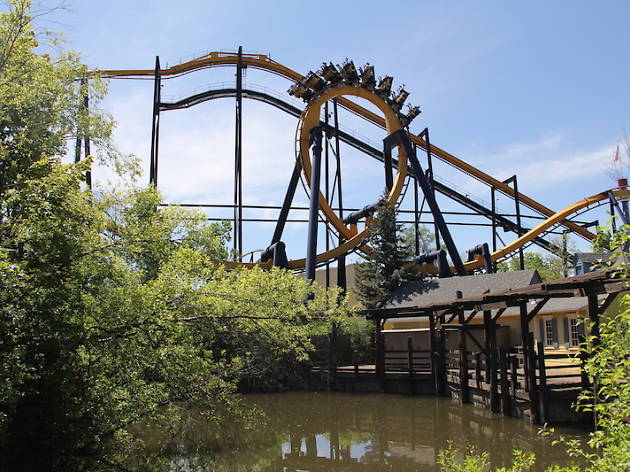 Photograph: Courtesy of Six Flags Great America
Waiting in line is part of the fun on this one, as you half expect Michael Keaton to appear in the Gotham City underground and the sounds of Seal's "Kiss from a Rose" fill the batcave. You'll climb 10 stories and get a
rush of adrenaline at 55 miles per hour while your feet dangle 100 feet high through swoops, loops and corkscrews over some great—if blurred—views of the park.
Opened in the '90s, this landmark roller coaster now has clones all over
the world.
6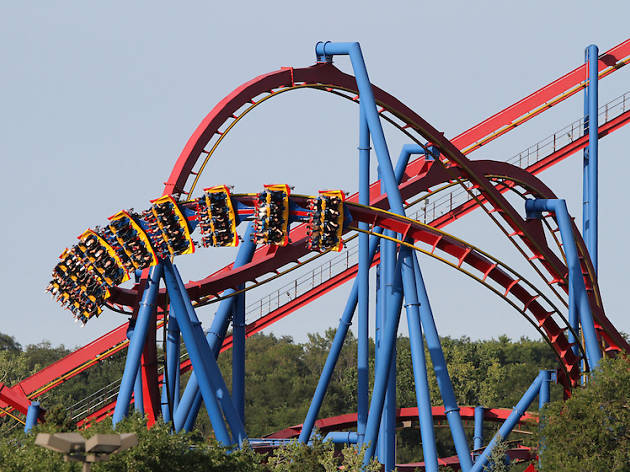 Photograph: Courtesy of Six Flags Great America
Superman: Ultimate Flight
This Superman-themed coaster isn't faster than a speeding bullet, but it's the only attraction in the park that forces you to ride headfirst (thanks to its unique, ground-facing seating design). It doesn't exactly replicate the sensation of flight, but the ride's twisting pretzel loop and barrel roll will make you walk away feeling heroic.
5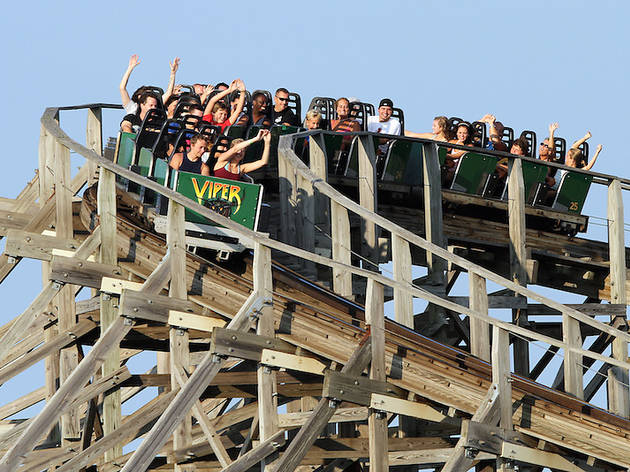 A good chunk of the fun in riding roller coasters comes from the fear that you are going to die. The Viper is a prime example. The 55 miles per hour top speed is nothing crazy, and the drops are nothing to write home about. But the way the train skids along the wooden track truly makes it feel like you are going to plummet to an unfortunate demise before the ride's end.
4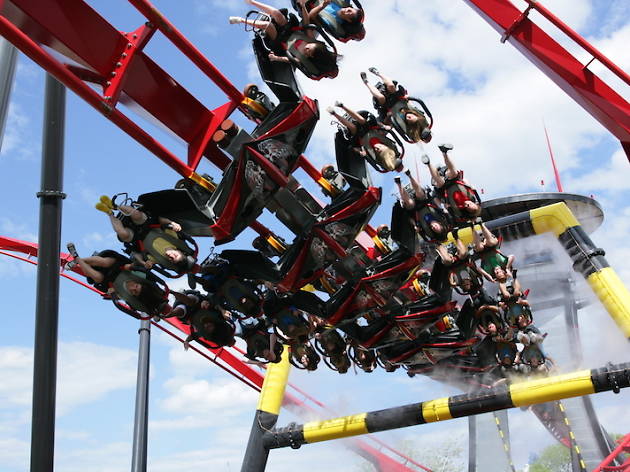 Photograph: Courtesy of Six Flags Great America
Prepare for takeoff because this sleek 3000-foot-long "wing coaster" is like nothing you've experienced before. Feel what it might be like to travel 55 miles per hour on the wing of a plane. Having climbed 120 feet, you'll barrel roll, drop and even dive full speed ahead toward
an airplane control tower repurposed from O'Hare before you narrowly escape disaster to squeeze through a keyhole opening at the last instant.
3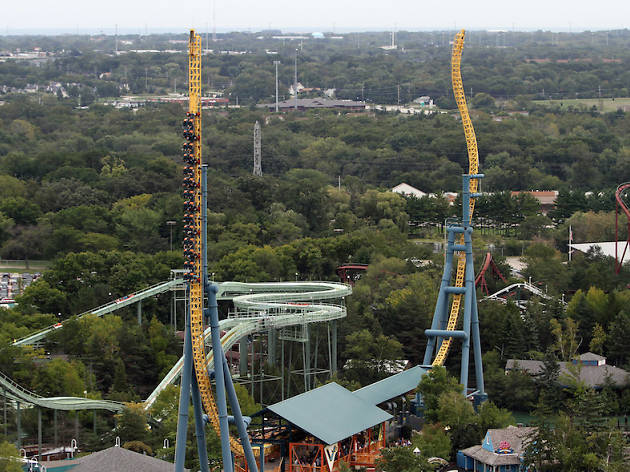 Photograph: Courtesy of Six Flags Great America
V2's enormous goalpost shape beckons the moment you enter the park. Don't mind the riders' shrill screams as you approach. This short, sweet ride sends its 28-passenger train careening at 70 miles per hour up a corkscrew, then plummeting backward through the station house and up another vertical track, leaving riders more than 100 feet in the air, staring at the ground, only to fall back down again, rinse and repeat.
2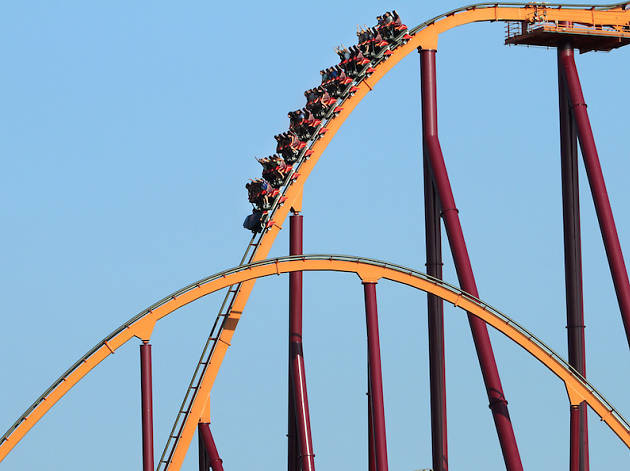 Photograph: Courtesy of Six Flags Great America
Since its opening in 1999, Raging Bull has been the most iconic roller coaster at Great America. It hits 73 miles per hour after the first 20-story drop and sends you around a series of bends and curves that make you feel like you're riding, well, a bull. The false dip before the initial drop is sure to give you a serious case of the willies.
1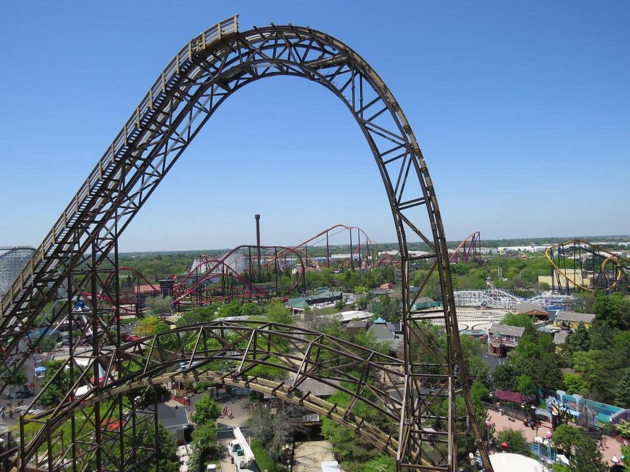 Photograph: Courtesy of Six Flags Great America
Nevermind that Goliath is the tallest and fastest wooden roller coaster in existence—it's the remarkably steep 85-degree initial drop that makes this worth the (long) wait in line. After falling 180 feet in a matter of seconds, you're thrust into a twisting track filled with inversions and banked curves that seem to defy gravity. After riding it once, you'll want to queue up to conquer it again.