Sixteen couples sue for marriage equality.
A new lawsuit pushes for same-sex marriage in Illinois.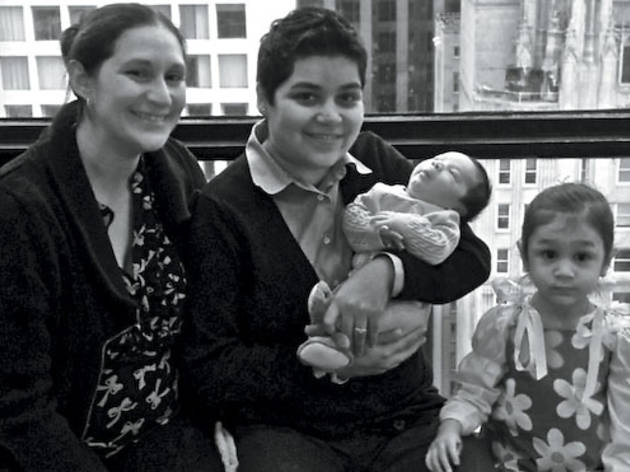 It's tough to listen to Angelica Lopez and Claudia Mercado's plea for why marriage equality trumps civil unions. When a committed couple of 14 years describes being marginalized by society, the pain is implicit. It's also literally difficult to hear them. Over the phone, en route to their Logan Square home, the couple's three-year-old, Isabel, and six-month-old, Indigo, are making quite a racket.
Lopez and Mercado are one of 16 couples who have joined with Lambda Legal, a national organization that litigates on behalf of LGBT civil rights, to sue the Cook County Clerk for marriage licenses. Fifteen of the couples have civil unions. But even with a legally recognized partnership, they're still experiencing "hurt, confusion and discrimination," says attorney Camilla Taylor, Marriage Project director at Lambda Legal.
After civil unions were legalized in Illinois June 1, 2011, Lopez, a 36-year-old lawyer, and Mercado, a 35-year-old school administrator, joined dozens of gay couples in a mass ceremony in Millennium Park on June 2. "Knowing that we were pregnant at the time," Lopez says, "we were hoping it would make it easier for us when our son was born." It didn't. The couple acknowledge civil unions are "a start," but they've already run into difficulties.
On the day they went to pick up Indigo's birth certificate, an official with the Cook County Clerk refused to acknowledge Mercado as the legal mother. The official kept her seated in the waiting area while Lopez, who gave birth to Indigo, was allowed to proceed to the counter along with daughter Isabel.
This kind of everyday injustice, Taylor says, is evidence enough of why civil unions aren't sufficient. "[Lopez and Mercado] are rearing their children to understand that they have two parents who love them equally and who will always protect them. Yet even state officials act like they are not married, essentially to disrespect their family."
They aren't the only couples taking a stand. Barrington residents Jamie Laurita and Rich Lane also want to show the world their love is as legitimate as a married straight couple. The 14-year partners have chosen an even more public forum than Millennium Park: television.
For years, Lane, a high school teacher, fought to get self-employed Laurita on his insurance. Laurita has toured with the likes of Sting and Aerosmith as a personal chef, and with Madonna as a dressing-room designer. "I had always said to Jaime, 'When [a civil union] becomes legal, we're just going to do it,' " Lane says. "'We're going to go the courthouse and get it done.' "
Laurita happens to be the brother of Dina and Caroline Manzo and brother-in-law of Jacqueline Laurita, cast members on the The Real Housewives of New Jersey, whose fourth season is currently airing on Bravo. Nudged by the network to be a part of the show, Laurita saw an opportunity to use his relationship with Lane to further the cause of gay rights. "We were driven to show the world that we matter and that love exists no matter who you are," Laurita says. Their two-episode arc airs Sunday 3 and June 10 on Bravo.
Marriage-equality advocates feel the wind is at their backs. In an ABC News interview last month, President Obama said he believes "same-sex couples should be able to get married," though he added that states should be able to decide the matter. The NAACP followed suit. "We've seen great developments here in Illinois with the advent of civil unions," says Taylor, who notes that a marriage-equality bill, introduced by Illinois Rep. Greg Harris (Democrat—13th District), is winding its way through the legislature. "It is no longer a time when support for equality can be used to penalize people at the polls."
Taylor says the climate for a judicial victory has been favorable for a while, but the time to litigate is now. "These couples have lived their lives in civil union for a year and they've experienced discrimination, disrespect and confusion. We felt there was no adequate justification for telling them they should wait any longer."