Sleevecandy: second-hand threads for good
Thirty percent of every sale goes to the Salvation Army.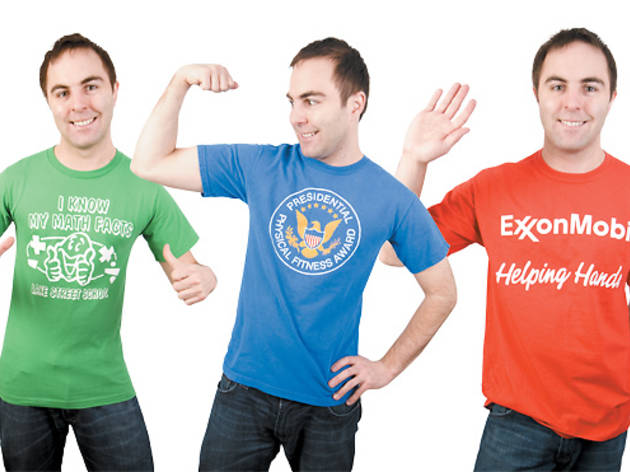 The perfect used T-shirt is elusive.
The One—fitted and in your favorite color, with just the right ironic message matching your très chic cynicism—is probably hanging on a thrift-store rack. But you'd have to visit a half-dozen Unique and Salvation Army shops before you find it. Or if you're willing to shell out the extra cash, you could leave all the legwork to Sleevecandy.com to get your hands on, say, an old-school Rainbow Brite ringer.
"We aggregate the best shirts from the Salvation Army's supply chain in Chicago, Milwaukee and Detroit," explains cofounder Reed Hushka, 28, of Evanston. "The biggest thing we look for is an element of accidental irony. Our ideal T-shirt is something that the original producer meant in a serious way, but that one of our customers wears in a humorous way."
Sleevecandy's site is studded with shirts for failed political campaigns (remember the Gore/Lieberman ticket?), once-popular businesses (Planet Hollywood, anyone?) and a number of oh-how-the-times-change tees ("ExxonMobil: Helping Hands").
The four-month-old online venture emerged out of a business start-up class at Northwestern University's Kellogg School of Management, where professor William Sutter instructed his grad students to develop real-world, potentially successful businesses à la Facebook, with its well-documented, infamous Harvard roots, and GrubHub, which was birthed by a U. of C. student.
Hushka and three classmates-cum-partners figured that legions of lazy hipsters would love to shop for their T-shirts from the comfort of their homes. The foursome, who graduated earlier this year, invested $40,000 of their personal savings to get the start-up going. "We're finding really great gems and putting them into the right hands," cofounder Hanif Perry says from New York, where the 28-year-old does marketing for the company and helps with sourcing (i.e., digging through racks of used clothes).
The founders' optimistic business plan projects Sleevecandy will begin turning a profit in six months. "Right now, we're trying to establish a good customer experience," says Hushka, who notes they've sold about three shirts, ranging from $16–$52, per day in the past quarter. Each shirt is categorized by size, color, price and message, such as "Bands & Music," "Vintage (1992 & Older)" and "Wall Street."
"Entrepreneurship comes down to energy, personality and zeal," says prof Sutter. "From that standpoint, these guys will figure out a way to be successful."
While the shirts may be snarky, the motivation is altruistic, at least in part. Sleevecandy donates 30 percent of each sale to the Salvation Army, the Protestant organization that works to house and rehabilitate people struggling with addiction and homelessness. For its part, the Salvation Army, which sells many of its tees for under a buck apiece, is happy to take a 30 percent cut of Sleevecandy's inflated prices. "This is a win-win situation," says Major Graham Allan of the Salvation Army, who has been working with Sleevecandy throughout this process. "They are giving back to the community and they're buying our product."
Hushka boasts he's been sporting vintage and second-hand tees long before Target was hawking fakes that attempt to replicate the soft, thin material and fading graphics of the true articles. He sounds genuinely pained recalling the 30-year-old college radio T-shirt he ruined at a concert this summer.
"The Salvation Army might get mad at me for saying this," Hushka says, "but the site is like T-shirt porn." Or like, well, porn: One shirt for sale features a hand forming "the shocker."