Snooze hounds
Two local entrepreneurs promise a good night's sleep in a five-ounce can.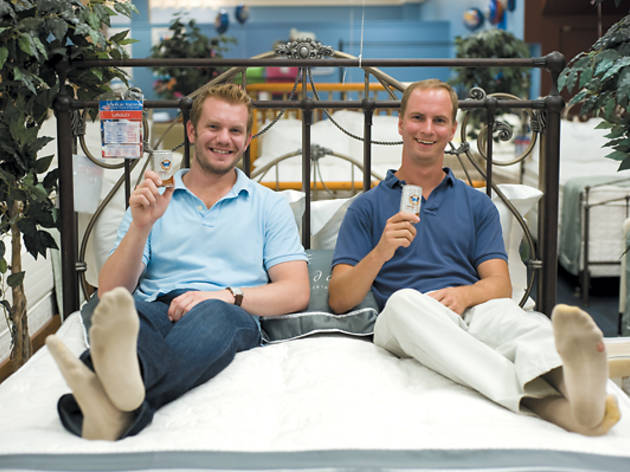 Chuck Hamman and Eli Galayda know firsthand how elusive restful sleep can be. The Lakeview guys behind the new herbal sleep-aid drink Sleepyhead met as political-science students at the University of Dayton and bonded, in part, over their common struggle to get shut-eye. "We talked a lot about how much time we've killed just staring at the ceiling," says Hamman, 28, who adds he has difficulty catching z's two or three nights a week.
"I lived on NyQuil in college," says Galayda, 27, who grew up in Park Ridge. When he got his current job as a paralegal in a downtown law firm, occasional sleeplessness became problematic. "I was working late hours and needed to wake up at six in the morning," he says. "I'm looking at the clock: I have to be up in three hours, two hours.…"
The pair searched for over-the-counter solutions and largely found medicinal sleep aids and a confusing amount of odd-sounding herbal supplements. "We were out for a beer one night talking about how they should come up with something simple and natural that would help us but wouldn't be medicine," says Hamman, a Glenview native. "We thought, Wait, why should they do it?"
In 2008, Hamman quit his sales job with an insurance broker, and he and Galayda began the two-year process of researching ingredients, trying out flavors in a lab and dreaming up names. In July, Sleepyhead hit store shelves at more than 40 Loop and North Side retailers. Its cocktail of three common natural sleep aids— valerian root (an herbal supplement to promote relaxation), GABA (an amino acid that lessens wakefulness) and melatonin (a naturally occurring hormone that causes drowsiness)—were vetted by Hamman's pharmaceutical-scientist brother, Chris. (Herbal nutritionist Jessica Marie of Complete Health Education & Wellness in Ravenswood says she's recommended the very same supplements to clients having sleep trouble.)
The 5.5-ounce can branded with a sheep wearing a sleep mask promises to promote the onset of snoozing in 15 to 30 minutes. Skeptical, I went on a Sleepyhead crawl with Hamman and Galayda to see if their drink would indeed put me out.
---
SLEEP WALK
8:10pm Like good Lakeview twentysomethings, Hamman and Galayda brought their own plastic shot cups to the Walgreens at 2317 North Clark Street so we can swig Sleepyhead. The drink is milky and hazel-colored, like a bottled Starbucks Frappuccino, and has a fake, chemically caramel flavor. "We're playing off the old adage of having a warm cup of milk before bed," Hamman says, "except warm milk is gross, so we wanted it to taste better." Honestly, I'd prefer the warm milk.
8:25pm "You know when you lie in bed for an hour and you finally get that tired feeling you like?" Galayda says as we stroll to a 7-Eleven at 2619 North Clark Street. "It brings that on a lot sooner."
8:39pm "I tried it about a week ago," says 7-Eleven clerk Michelle Gutierrez, 37. "I usually wake up every couple of hours, but I slept through the night." We down shots. A few minutes later, I become weirdly conscious of my body's heft.
8:50pm I'm rubbing my eyes and yawning deeply. An American Mattress store we pass looks like heaven.
8:55pm Final stop: Milk & More grocery at 702 West Diversey Avenue. Another gulp. One can is the recommended dosage of Sleepyhead; I've ingested a can and a half. My eyelids are leaden. "Sleep well," Hamman and Galayda say in harmony. I lurch sluggishly toward home.
9:10pm I stop off at a bodega for water. Without first grabbing a bottle, I approach the counter like a zombie and begin to swipe my debit card. "May I help you, sir?" the clerk asks. "I'm sorry," I say. "I'm medicated."
10:12pm I make a beeline for my bed and it's lights out. Sleep comes effortlessly—surprising, considering I usually don't doze until after 1am.The next morning I awake with ease. All in all, it's the deepest, most satisfying sleep I've had in a long time.
Find stores that stock Sleepyhead at drinksleepyhead.com/retailers.