South Side Irish Parade bus trips
Haven't navigated 115th Street in a few years? Bus trips take the wheel while you sit back, eat and drink.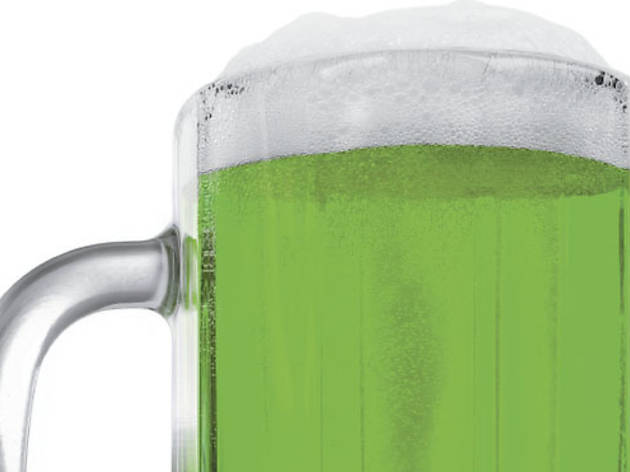 Bar–sponsored bus trips to the South Side Irish Parade were a long-standing tradition until the parade's cancellation in 2009. But with this year's return of the festivities, along with a new security policy that restricts how close chartered buses can get to the parade route, only the most dedicated pubs have vowed to reinstate the trips and take the party on the road again.
You're traveling from
THE NORTH SIDE
Never mind the South Side parade: Each fleet of five yellow school buses—leaving from one of four Lincoln Park bars and one Lakeview bar—is a parade itself. The bars open an hour before the buses take off at 10am, arriving near the south end of the parade route just in time for its 11am start. After the parade, reconvene at nearby Cullinan's Stadium Club (11610 S Western Ave) and hop back on the bus between 3pm and 4pm. Board at Duffy's Tavern, 420 1/2 W Diversey Pkwy; Durkin's Tavern, 810 W Diversey Pkwy; McGee's Tavern & Grille, 950 W Webster Ave or Redmond's Ale House, 3358 N Sheffield Ave (bar1events.com, 773-868-8073). Sun 11; $10.
You're traveling from
THE NORTHWEST SIDE
If you've never been to a bar at 8am, here's your chance: Lottie's opens bright and early this Sunday for $3 mimosas, $4 Bloody Marys and a $5 breakfast buffet. Board one of two 44–person school buses to Hinky Dink's Pub (3243 W 111th St) at 9:30am. After the parade, return to Hinky Dink's for live music and a 3:30pm departure. Board at Lottie's Pub, 1925 W Cortland St (playerssports.net, 773-528-1999). Sun 11; $20.
You're traveling from
THE LOOP (UPDATE: Canceled)
You don't have to be a rock star to ride in one of Reggie's two distinctive buses, one of which features paintings of Frank Zappa, Queen and Iggy Pop. The State Street rock club will open its doors at 9am for all-day corned beef and cabbage specials ($9), all-you-can-eat sloppy joes ($5) and buckets of beer ($13) to get you fueled up for the complimentary bus trip, which departs between 10am and noon on a first–come, first–served basis. Buses will drop you off back at Reggie's in time to see Italian funk band Umagroso perform at 4pm. Board at Reggie's Rock Club, 2105 S State St (reggieslive.com, 312-949-0120). Sun 11; free. This event has been canceled due to unforeseen circumstances.