Space age
You're practically an adult, but your apartment's style is just mature enough to buy cigarettes. It's time for your place to grow up.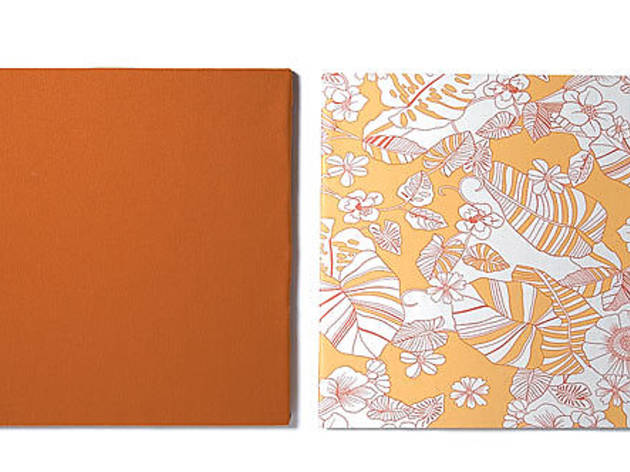 Take a look around your dorm or apartment: You have books and CDs everywhere but nothing on the walls. Join the club: Those are the most common problems that afflict bachelor (and bachelorette) pads. But how do you make your place look as if an adult lives there—without dropping your textbook money on furniture? Four experts are here to help with ideas for art and storage, on the cheap.
1 Try DIY fabric-wrapped panels Team pennants may be a college standard, but if you want your space to graduate to the next level, keep those items in your treasure chest. "The collegiate items should be minimized," says Bravo's Top Design winner Matt Lorenz. "No one wants to see them, especially that person you brought home to your bachelor pad." Students can steal a suggestion Lorenz often uses with his high-end clients: fabric-wrapped panels (check out our handiwork, top right). "It looks custom-made. [For an expensive look], you don't necessarily need art on the wall." Go to a hardware store and ask for 24-by-24–inch sheets of half-inch-thick plywood. Then add a layer of quilt padding, and cover it all up with fabric stapled to the back. For fabric choices, "if your style is young and [graphic], you can do bold colors; if you have a monochrome room, use a texture," he says. Lorenz is a fan of the cheap and stylish options at Vogue Fabrics (623 W Roosevelt Rd, 312-829-2505).
To add an artistic element, Lorenz says, "it's easy to find small images that are interesting, rather than large artwork. Inexpensive, large artwork looks really cheap." If you want to display family photos, he suggests shooting some in black-and-white, "so they look a little artsy." After you've chosen a small image, center it on a 30-by-30–inch white mat. Use a ready-made black stock frame (we like the 30-inch square Profile Metal Frame Kit, $10.20, at Pearl, 225 W Chicago Ave, 312-915-0200), and use nice white paper like Lenox printmaking sheets ($3.89 each, also at Pearl) instead of a pricey mat.
Paint works wonders If your landlord will allow it, break out the brushes, advises Mark Buchalter of design consultancy IDEO. "You can do a lot with just paint," he says. He recommends using an accent color on one wall, which will draw you into the room. "Look to the natural world for [color] inspiration." (Try paints like Valspar's Martha Stewart Colors in rich, earthy Andiron, or Valspar Premium's lemony Citrus Tickle, $28–$30 per gallon, both at Lowe's (3601 W Touhy Ave, Lincolnwood, 847-972-4041). Another option: "Buy magnetic paint that turns the whole wall into a magnetic surface that you can then stick [on] your favorite state-shaped magnets or those little word magnet kits," he says. (We suggest Rust-Oleum Magnetic Latex Primer, $19.97 per quart at Lowe's.)
Buy a piece of art Hey, why not buy some actual, you know, art? "If you know there's an art show coming up, you can start budgeting for it at the beginning of the year, says interior designer David Dilworth. "Put aside $10 a week and you'll have a couple hundred dollars to buy a piece of art." He suggests taking advantage of October's Chicago Artists Month to get acquainted with the art scene and checking out the city's art walks and events, like 18th St: Pilsen Open Studios (Oct 18, 19, from May St to Leavitt St and from 16th St to 23rd St).
2 Don't dismiss IKEA They've got some nice stuff, Dilworth says. "The Norrebo [storage unit from IKEA] (pictured, below; $220; 750 E Boughton Rd, Bolingbrook, 630-972-7900; 1800 E McConnor Pkwy, Schaumburg, 847-969-9700) is by far the best storage and shelving collection I've seen at this price range," he says. "It's great for hiding stuff. If you don't like the color, paint it." Or, if you're handy, make your own using furniture-grade plywood and tips from ReadyMade magazine.
3 Posters can look polished Janel Laban, coeditor of the Chicago edition of home-design website ApartmentTherapy.com recommends checking out printmakers. "It's possible to get [posters] from artists that are very affordable…a lot for $20 and definitely under $50, [so you can] buy enough that you can switch it out," she says. "It looks nice and can reflect a certain point in your life or interests." Locally, she loves the Bird Machine (pictured, top left), Spike Press (pictured, top center), the Post Family (pictured,top right) and Little Friends of Printmaking.
4 Revamp an old shelf Scour office warehouse stores for used shelving units and file cabinets. "Some are 30 years old and have great finishes on them," Lorenz says. To kill the industrial office feel, he advises, "take drawers out of filing cabinets and put shelves in them." (We used an old file cabinet and inserted plywood shelves, pictured, bottom center. A similar cabinet costs $50 at Direct Office Furniture Warehouse, 5041 N Western Ave, 773-271-3000.) A few guidelines: "If you're using one type of storage, use it everywhere. Don't buy one type for your CDs and another for your paper. In a small space, the more consistency you have, the larger it looks," he says.
Stow away your fugly items "Put out the good-looking books—everything else can go in storage," he says. To display the classics you've undoubtedly read (uh…right), Buchalter recommends the Elfa shelving system at the Container Store (pictured, bottom left; $358; 908 W North Ave, 312-654-8450).
5 Get multi-use storage units First and foremost, Laban recommends trashing anything you won't use again; it'll cost you time and money just figuring out how to store all of it. Once you've pared down, get a versatile, cool-looking storage piece. "Not the most inexpensive, but a real design piece is the Componibili storage unit at Design Within Reach [pictured, bottom center; $106 each; 1574 N Kingsbury St, 312-482-8661; 10 E Ohio St, 312-280-4677]," she says. "They're sort of round and stackable, molded plastic, come in bright colors and work as either bedside tables or a side table in a living area…you'll always have a use for them."