Strip club
A fledgling group of Chicago nudists-and one self-conscious reporter-party down in the buff.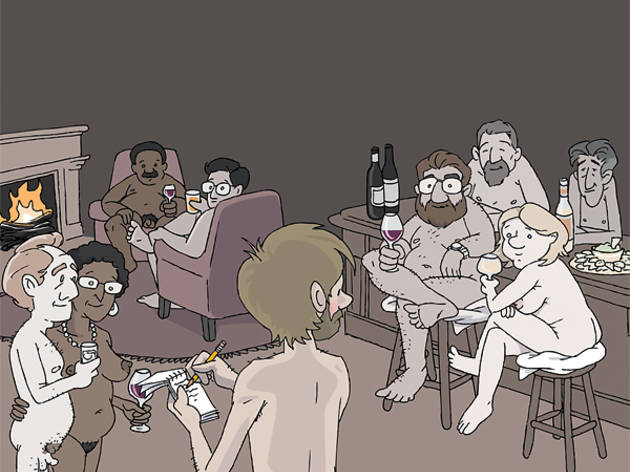 "I should have brought some flip-flops," I mumbled to myself as I peeled down to nearly nothing.
I was surrounded by 18 members of the Chicago Fun Club (CFC), a diverse group of folks dedicated to enjoying life completely bare-assed. The club's organizer, Steve, 35 (members requested that last names be withheld), greeted me with a handshake, a smile and absolutely nothing else on. And there I was, naked but for my Sketchers and stone-cold sober, getting the once-over from a roomful of nudists.
Some were chowing down on tacos and chips to celebrate the Mexican-themed gathering. An older, flat-topped Drew Carey look-alike introduced himself as George. "But tonight I'm Jorge!" he said with a huge grin. We shook hands, then he wandered away past the fireplace, roaring to keep the room at a nudist-comfortable temp.
The three-month-old club meets monthly in a private rec room in an undisclosed location. It's not a swingers' club or a dating service, Steve said, and single guys wanting to join undergo a screening process "so they don't have the wrong idea about what goes on." The day before, Steve ran through some of the rules for me: "First, bring a towel. You'll need it to sit on." (Who knew nudism had hygiene requirements?) "Second, no staring. Third, it's BYO."
CFC members range from twentysomethings to septuagenarians, from single men and women to couples, and they represent an assortment of races and sexual orientations, all brought together by a love of spending time in the buff. "We're a very mixed club," Steve, now clad in just a sombrero, told me as he edged his husky, hairy frame uncomfortably into my personal space. "We're the group that invites everyone."
The other first-timer in the crowd, a 61-year-old woman who preferred to go by the nom de nude Princess Woodbury, seemed to be taking to it like a duck to…well, nudity. She came with boyfriend Bob, a CFC member who introduced her to the lifestyle. "It's not about being naked. It's not about hiding yourself. It's about accepting: This is me, these are my stretch marks, take me for who I am." Bob, a genial bespectacled gentleman who didn't think twice about placing his pale body directly in front of me while I sat in an easy chair, discussed how he found his freedom later in life. "I was raised in a Judeo-Christian ethic, raised to believe that [by being naked] you're doing something wrong," he said. "One day, I just decided to do it."
Eddie, a 26-year-old Hispanic with a pierced nipple and a barbell piercing through his upper back, sat at the bar with his girlfriend and another couple, while other members lounged on couches or dangled their parts over the pool table as they lined up their shots. "It's not so much what you wear, it's who you are," Eddie said of the CFC. "I mean, you're born nude."
After getting dressed, I felt, surprisingly, even more like an outsider among the CFC. Putting on jeans and a T-shirt suddenly threw up a barrier between the shameless nudist clan and the ashamed clothed writer.
Want to show the Chicago Fun Club what you got? E-mail Steve at chicagofunclub@gmail.com or visit chicagofunclub.com.