Suds swap
We turn beer guzzlers on to better brews.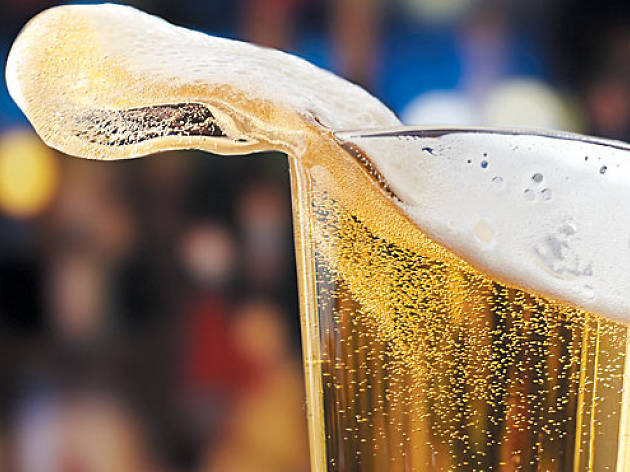 The guy who said, "You can lead a horse to water, but you can't make it drink," wasn't trying hard enough. (Come on, dude, horses love water.) But persuading a militant Miller man to drink a hoity-toity beer with a girly name? Now, that's a phraseworthy feat. In this spirit, we ventured into the brand-loyal jungles we call barrooms to spread the gospel of good beer. We pried the pale lagers, skunky suds and old standbys from people's hands; bought them better beers in the same or similar style; and gauged their reactions—which, thankfully, didn't include punching us in the face for insulting their taste.
THE TARGET Mark Flores at Cleo's (2048 W Armitage Ave, 773-227-6700)
Switch From Hacker-Pschorr ($6), one of the more commonly available hefeweizens, to Ayinger Bräu-Weisse ($4.50 for a half liter), a hefeweizen with strong notes of spiced banana bread
Why the standby? After friends introduced him to Hacker-Pschorr a few years ago, Flores says the beer quickly became his regular selection. Despite his dedication, it didn't take much to lure him from Cleo's to experiment at Map Room (1949 N Hoyne Ave, 773-252-7636). "Free beer? Those are the magic words," he says.
Verdict on the switch "There's no lemon in the Ayinger, but it's already citrusy," Flores says. "I like Hacker-Pschorr, but I can't drink it by itself. It needs that lemon. The Ayinger is a great beer without having to have any accessories. It tastes stronger, too. If I could pronounce the name correctly, then I would definitely buy this."
THE TARGET Andrew Cantrell at Delilah's (2771 N Lincoln Ave, 773-472-2771)
Switch From Miller High Life ($3.50), a standard, mass-produced American lager, to Stella Artois, a Belgian pale lager ($5.50)
Why the standby? Cantrell opts for the Champagne of Beers on nights he's penny pinching, which is almost every night. "It's not my preferred beer," he says, "but it's a really good beer if you're drinking cheap."
Verdict on the switch "As far as drinkability," Cantrell says, "the Stella is at about the same level [as Miller High Life]." He admits Stella has a more interesting flavor than High Life (which he calls "corn soda"), but says it leaves him with an unpleasant bitter taste. In the future he plans to stick with the High Life. "I'm a union organizer," he says, "and it's a union-made beer. So there's a little solidarity there."
THE TARGET Simi Sernaker at Map Room
Switch From Guinness ($5), the venerable and most popular Irish stout, to Beamish ($4.50 for an imperial pint, 19.2oz), a creamy Irish stout
Why the standby? Sernaker (who is the lead singer of local band Suffrajett) digs Guinness, but says it's sometimes "a bit too heavy and filling." Like many people, she wasn't even aware there was an alternate Irish stout out there. Guinness fanatics may cry blasphemy, but most Map Room bartenders insist Beamish is better.
Verdict on the switch "The Beamish is really good. It doesn't have that aftertaste you sometimes get from Guinness," Sernaker says. "I could drink this with a meal, whereas when I drink Guinness I'm like, Oh, I'm already full."
THE TARGET Jennifer Pollack at Cleo's
Switch From Blue Moon ($4.50), an intensely citrusy mass-produced wheat beer, to Allagash White ($4), an American craft-brewed Belgian-style wheat beer
Why the standby? Pollack describes her usual order of Blue Moon like someone explaining why she's spent years in a routine, passionless marriage. "I'm just comfortable with it," Pollack says. But as soon as we told her Blue Moon is a Coors product, she was quick to leave her regular spot at Cleo's and accompany us to Map Room to explore other options.
Verdict on the switch "[Allagash] is really, really good," Pollack says. "I realize now that the Blue Moon is very watery like Corona. [Allagash] has a lot more body and flavor to it. It's weird because when I drink wine, I'll drink a very bold wine, but I usually just stick to very plain beer. I've never been consistent that way." Pollack says she'd pick Allagash in the future—if she can find more bars that stock it.
THE TARGET Kristin Edsely, at Delilah's
Switch From Bavaria Pilsner ($4.50), an average, slightly skunky German pilsner, to Chimay Blanche ($7.50), a sweet, Belgian tripel-style ale
Why the standby? Edsely says she's light on funds and doesn't mind the taste. "As far as cheap beers go, it's pretty good."
Verdict on the switch "[Chimay is] really creamy, and it has a lot of flavor," Edsely says. "This is noticeably better. The Bavaria kind of tastes like beer-flavored water, but this has a nice bitter-sweetness to it." Alas, she says she'll likely return to her standard when she's picking up her own tab. We were shocked. She'd really go back to Bavaria? "Hells yeah," she says. "I have to pay my rent."