Sunday party Sunday
Booze. Britney. The "ass Mass." When it comes to attracting young parishioners, local holy houses go unorthodox.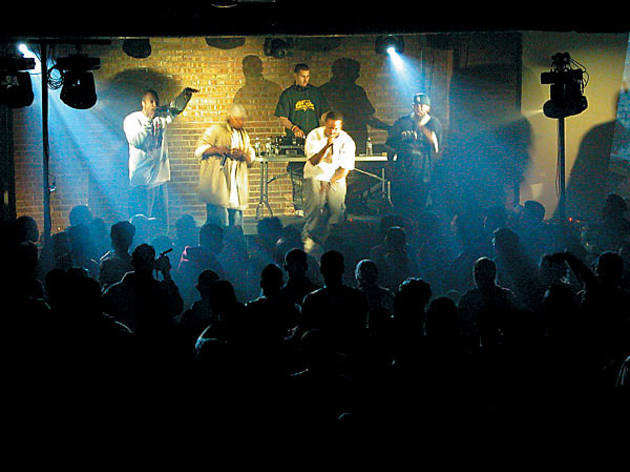 If you walk past St. Vincent de Paul Parish (1010 W Webster Ave, stvdep.org) some Sunday, you may notice an inordinate amount of good-looking, young professional types leaving the church after the 5pm service. It's no accident; St. Vincent's is so well known as the place where Lincoln Park Catholics go to hook up that regulars refer to this service as the "ass Mass."
A reputation as the place to go for both spiritual and booty worship is a godsend, so to speak, for a church looking to attract young adults. But without that rep, what's a house of worship to do to lure new lambs into (or back into) the fold?
"It's always a good idea to engage young people because it brings a different sense of vitality to the congregation," says Josie A.G. Shapiro, membership and programming director at Temple Sholom (3480 N Lake Shore Dr, 773-525-4707, sholomchicago.org). To that end, the temple has introduced Sushi Shabbat (8pm, fourth Friday of the month), which features the aforementioned vittles from Whole Foods (kosher, of course); live honky-tonk, jazz or other secular music; and a 30-minute sermon with young-skewing themes such as "Britney Spears and Dealing with Life's Disappointments" or "Wedding Crashers and Dating Ethics." A dessert reception follows, and the event is so popular with the mid-twenties to early-thirties set that "we literally—well, not literally—have to push people out the door at 10:30," says Rabbi Taron Tachman.
Young Jewish singles also can meet at Sidney N. Shure Kehilla (524 W Melrose St, 773-871-6780, shurekehilla.org), an organization that connects five local synagogues and coordinates Shabbat singles' dinners for 21- to 39-year-olds (second Friday of the month). Various members host small-group, dietary-law–friendly dinners in their homes, and all groups convene at the center for dessert.
"Some people do better in small groups, but if you didn't meet anyone you like, you get to meet more people later [for dessert]," says Shure Kehilla director Rachel Dreytser. "And we represent different types of congregations—Reform, Orthodox, GLBT—so it's an opportunity to meet people not affiliated with your own synagogue."
Several blocks south, Holy Covenant United Methodist Church (925 W Diversey Pkwy, 773-528-6462, holycovenantumc.org) attracts younger folks with provocative sermon topics that sound like Gossip Girl episodes, including "David: The Manipulative Backstabber" (Sun 9) and "Mary: The Pregnant Teenager" (Dec 16).
"Our congregation is diverse in terms of age range and sexual orientation, so we don't shy away from uncomfortable topics," says office administrator and member Chris Hein, who adds that the median age of the congregants is 25.
Holy Covenant's attendance spikes during its semiannual "U2 Eucharist" service, which features music by—you guessed it—U2. In support of Bono's activism, pastor Trey Hall donates proceeds to local and international poverty organizations. The next "U2 Eucharist" takes place in spring 2008.
Attracting the younger set with music also works for the South Side's Lawndale Community Church (3827 W Ogden Ave, 773-762-6389, lawndalechurch.org), a nondenominational Christian church that throws down with "The House" hip-hop services (7pm, first and second Saturdays of the month).
"I'm hip-hop myself," says pastor Phil Jackson, "and I think it's important to take the lifestyle you came out of and go back into that community and try to impact it, to build relationships." Services include sets by MCs, praise dancers, and performance poet and AIDS activist Mama Brenda Matthews.
Old St. Patrick's Church (700 W Adams St, 312-648-1021, oldstpats.org) sticks to tried-and-true traditional mass, but caters to twenty- and thirty-somethings with a continental breakfast for young Catholics from all congregations across the city after the 11:15am mass (first Sunday of the month) and a parish social with pizza and beanbag-toss games after the 5pm mass (second Sunday of the month).
For those who want to socialize outside the church basement, Fourth Presbyterian Church (126 E Chestnut St, 312-787-4570, fourthchurch.org), whose congregation is about half 25- to 40-year-olds, throws a monthly "SpeakEasy" event (next is Dec 18), where members meet at local watering holes to chat—and not necessarily about religion.
But sometimes it's not the side activities that attract young spiritualists. Daiyuzenji Zen Temple (3717 N Ravenswood Ave, suite 113, 773-472-3290, daiyuzenji.org) offers free instruction in traditional Japanese arts after its Tuesday meditations (7pm), and this month, the spotlight's on calligraphy. The center also offers classes in tea ceremony, floral arranging, shiatsu massage and chanting, and the in-residence Japanese Martial Arts Society teaches traditional swordsmanship.
"We're seeing an increase in younger and college-age members," says priest Meido Moore, "but they come in asking about the meditations. For them, the arts are a nice bonus, but what they're seeking primarily is spiritual and personal enrichment."