Super Bowl halftime shows: The ten most memorable performances of all time
Wardrobe malfunctions, the Boss's crotch, M.I.A.'s middle finger, oh my! Peep the most stirring and scandalous Super Bowl halftime shows in the game's 47-year history.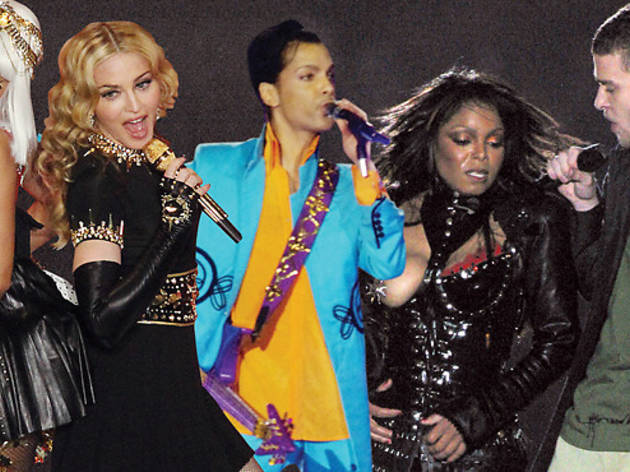 Many of the biggest names in music have graced the stage of the Super Bowl halftime show: Michael Jackson. Madonna. U2. Bruce Springsteen. Prince. Brian Boitano and Dorothy Hamill. Oh good, you're paying attention. While not all of the performances have been the equivalent of a gold medal-winning figure skating program, there have been quite a few spectacles during the show's 47-year run. As it is with Super Bowl commercials, you will want to stay glued to the TV set when the intermission begins.
In preparation for this year's performance featuring Bruno Mars and the Red Hot Chili Peppers, we present to you the ten most sensational Super Bowl halftime shows of all time. We can't promise you a sequel to Nipplegate, but there's a strong chance you will find out how the nipples of RHCP bassist Flea react to 30-degree weather. Get your popcorn ready!
10. 'N Sync + Aerosmith with Britney Spears, Mary J. Blige + Nelly (2001)
Have you ever listened to "Walk This Way" and thought, You know what this song could use? Steven Tyler and Justin Timberlake performing dueling chicken dances. Thankfully somebody did have that notion, and also realized that "I Don't Want to Miss a Thing" sounds way better played back-to-back with "Bye Bye Bye."
Dancing snowflakes! An R&B "Frosty the Snowman"! Olympic ice-skaters! Gloria Estefan! Would it shock you to learn that this gala caused CBS to lose millions of viewers, who switched over to Fox to watch In Living Color? This bold and successful counterprogramming strategy convinced networks to recruit megastars for subsequent halftime shows.
8. Madonna with M.I.A., Nicki Minaj, LMFAO + Cee Lo Green (2012)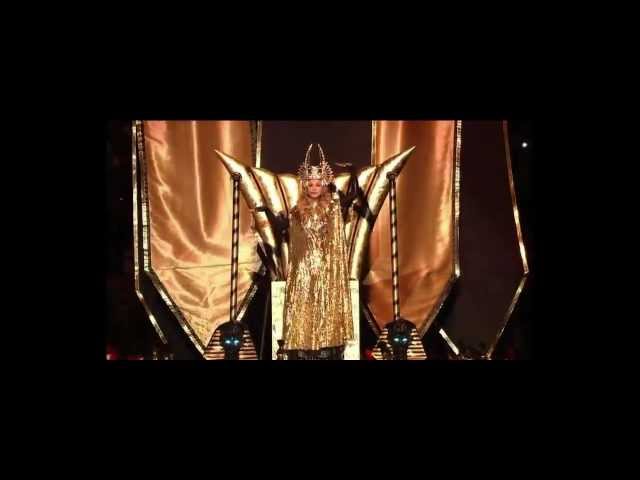 In between Madge entering the field in an outfit straight out of the Book of Exodus and Cee Lo stealing the show with his "Like a Prayer" cameo, M.I.A. stirred up controversy by flipping the bird right at the camera. The gesture earned her a gargantuan $1.5 million lawsuit from the NFL that she continues to fight publicly.
7. The Blues Brothers Bash (1997)
Tragedy arose in advance of this show: During rehearsal, a stuntwoman plunged to her death while practicing a bungee jump. But the blowout itself, which also featured James Brown and ZZ Top, was one to remember—John Goodman displayed some sick dance moves during "Everybody Needs Somebody to Love" that impressed even the Godfather of Soul himself.
6. The Rolling Stones (2006)
As Mick cheekily pointed out before launching into "Satisfaction," the Stones could've played Super Bowl I, but it took them four decades to get the nod. They tore up the stage, even though ABC decided to bleep out the more risqué lyrics in "Start Me Up" and "Rough Justice"—which, hilariously, caused many media outlets to employ the phrase synonym for rooster in their postshow reports.
5. Bruce Springsteen and the E Street Band (2009)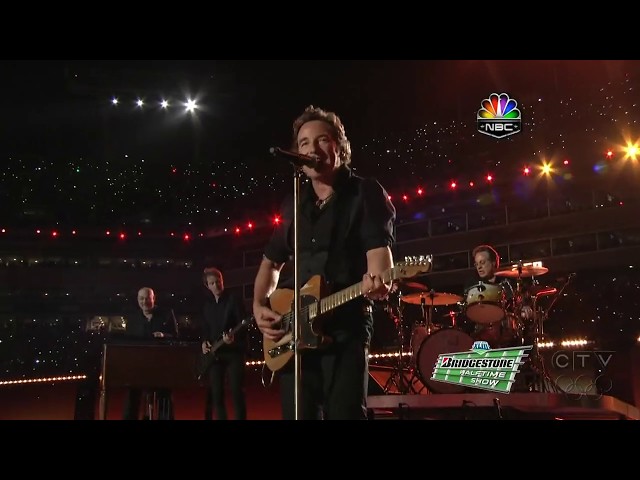 The most memorable thing about this set wasn't the Boss imploring viewers to "put the chicken fingers down." This was the night that (thanks to an awkward camera angle) we were introduced, intimately, to Springsteen's crotch—and we've never quite gotten over it.
4. Michael Jackson (1993)
This was the halftime show that made halftime shows cool. Before MJ jump-materialized onto the stage in a gold-and-black drum-major outfit, Super Bowl breaks were the time when you decamped from the couch to heat up more nachos. From this point on, the halftime show became a cultural spectacle.
The Purple One kicked all kinds of ass with a medley of classic-rock covers and his own hits, but the weather-fueled spectacle created by this rain-soaked Miami game was equally enthralling. Standing in a literal downpour, the Artist tore it up on "Purple Rain." Pop shows don't get much better than that.
In the wake of 9/11, Bono and his cohorts performed this moving tribute, playing "Where the Streets Have No Name" on a heart-shaped stage as the names of those lost in the attacks were projected onto a giant screen. Paul McCartney appeared during the pregame show to perform his own memorial, the anthemic "Freedom."
1. Janet Jackson + Justin Timberlake (2004)
The unforgettable event that cemented the phrase wardrobe malfunction in the popular lexicon provided a valuable lesson: The half-second appearance of a nipple on national television is enough to destroy the moral fabric of the nation. As a result of Nipplegate, halftime shows in the years that followed played it safe with a string of old-dude rockers sporting far less edgy outfits.