Talking heads
Jay Leno reclaims his late-night Tonight Show slot this week. Avoid the "beer-pong shot of the week" and watch these local talk shows instead.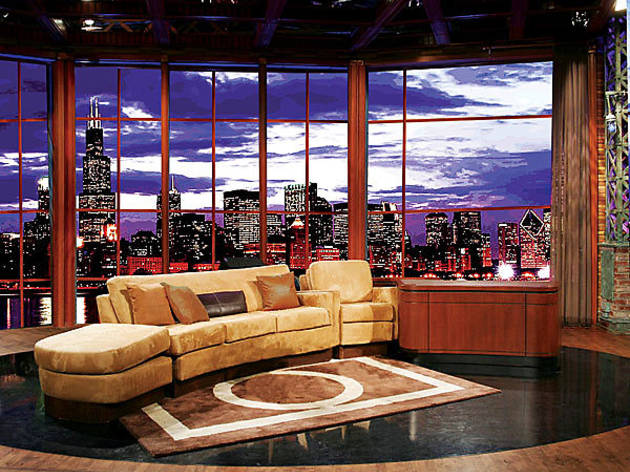 You, Me, Them, Everybody podcast
Brandon Wetherbee drops the f-bomb more than a few times while hosting his monthly live-interview podcast at North Side bar Hungry Brain. He's discussing "bus murder 2010"—his theory that CTA bus cuts are a way to kill off poor people by ensuring that crazy riders always have a full bus of victims. Banjo player Al Scorch joins him for a Q&A and strums a few ditties among a grab bag of interviewees, including comedian Adam Burke and a former Letterman show worker. Wetherbee keeps it flowing with the Bozo bucket game, tchotchke giveaways and a randomly chosen question for each guest from his favorite children's book, Kids' Book of Questions. Really a big, swear-word-loving kid, Wetherbee says he aims to make his role on the year-old show a mix of improv-genius Craig Ferguson, the inquisitive Terry Gross and the whimsical Fred Rogers. See if he hits the mark on the March 29 live podcast, which includes author Brian Costello, comedian Cameron Esposito and musician Trevor McSpadden of the Hoyle Brothers (Hungry Brain, 2319 W Belmont Ave; 8pm, free). Tune in to past shows on youmethemeverybody.com.
The Interview Show
The last Friday of every month, humor-writer Mark Bazer gives two hours of live interviews at the Hideout, pulling in big-name Chicago celebrities like Rick Bayless, Audrey Niffenegger, Paul Kahan and Rhymefest. Quick-witted Bazer asks interesting pseudo-intellectual questions and scores big laughs by regularly making his guests come across as funny. The often dour Kahan on the Wicker Park setting of his newest resto: "If we did anything too pricey [at Big Star], we would've been swarmed by fixed-gear bikes." Author Niffenegger on her simple reason for writing about time travel: "If time travel was true and happening to this guy, it would have a huge effect on his marriage."
Points for keeping the show professional-looking (desk, coffee mugs, backlit Chicago backdrop) and creatively curated: In one show, Bazer gets serenaded by Xanadu singer Elizabeth Stanley and then rolls around onstage in skates with a this-happens-to-me-everyday expression pasted on his face. We laughed so hard we spit out our drink. Beats watching Bazer's talk-show hero, Letterman, and Leno, any day.
The April 2 show features director Steve James and a performer from Chicago Opera Theatre (Hideout, 1354 W Wabansia Ave; 6:30–8:30pm, $5). Watch past shows at markbazer.com/interviewshow.
Joe Piscopo's After Dark
Former Saturday Night Live star Joe Piscopo might soon be relevant again. And it's not because his Paulie shtick has found a real-live doppelganger in a Jersey Shore housemate. Back in December, Piscopo was searching for TV talent at River North lounge the Joynt for After Dark, a Chicago-based show—featuring musicians, actors, filmmakers and comedians—that Piscopo is shopping around to national networks.