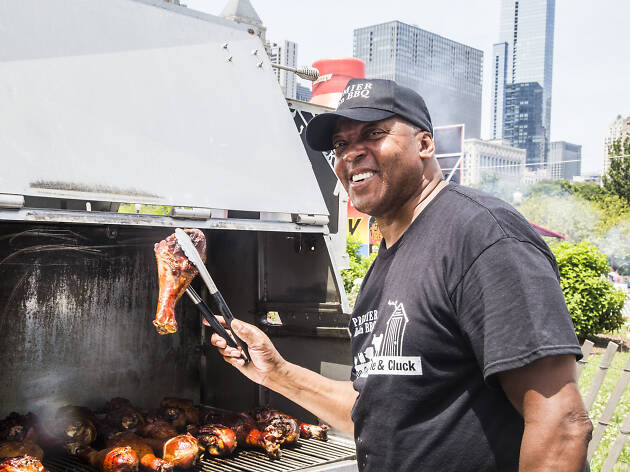 Time Out says
Since 1980, Grant Park has been hosting what has become the granddaddy of food festivals. You know the drill: Trade tickets for a taste of Chicago's street fare from some of the city's most beloved eateries. As always, there will be music at Petrillo for you to listen to while you devour your turkey leg, Eli's Cheesecake or deep dish pizza.
RECOMMENDED: Our complete guide to the Taste of Chicago food festival
Details
Average User Rating
4.2 / 5
Rating Breakdown
5 star:

3

4 star:

1

3 star:

2

2 star:

0

1 star:

0
Taste of Chicago is a great way to try a bunch of spots from around the city that you haven't been able to get to or can sometimes be a little out of the way. It's also nice to be able to go and listen to music on the cheap.
As someone who lives in the city and tastes the various food that Chicago has to offer on a regular basis, I have exactly two reasons to visit the Taste of Chicago. First, to see some great music for cheap or free. Second, to create a meal from sample sized food from different restaurants across the city.
Over the years, I've seen Death Cab for Cutie, Weezer and Janelle Monae, among others, without spending a penny. A few years back they started charging a minimal $15 - $25 fee for the seated area, depending on the act. As long as it doesn't pour rain, that's a fine price to pay for an outdoor show during the summer. Also, often they have a sign language interpreter onstage which is both inclusive for those who need it and interesting for those of us who don't. The lawn is large and free, although be warned that if you sit farther back, the people around you will likely talk over the performance.
Attendees need to purchase sets of tickets to buy the food with. Of course they don't sell them in $1 to 1 ticket ratios and getting food requires different random number of tickets. The only way to go when attending the Taste of Chicago is to try various different sample sized items from different booths and, new just last year, food trucks! My best meals at the Taste consisted of a few breaded ravioli here, an empanada there, some rib tips around the corner, an insane ice cream sundae concoction across the park and ending with a giant slab of watermelon to use up my last two tickets. A full size entree would only give you a sliver of a taste instead of a smattering of what the city culinarily offers as a whole. It's a little pricey, but worth it once every year or two.
Taste of Chicago is a pretty fun and easy way to try a whole gaggle of Chicago classics as well as offerings from up-and-coming restaurants and food trucks. Go early to beat the crowds!
Great site! Gave me exactly what I was looking for. Thank you!