Taste of Humboldt Park
For the the 25th official Puerto Rican Festival, we take a look back-and ahead to what's next.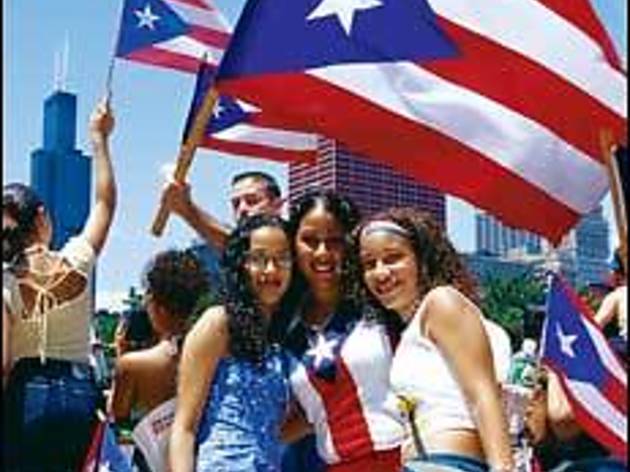 With an estimated 1.8 million attendees last year, the six-day-long Puerto Rican Festival in Humboldt Park is outranked only by the Taste of Chicago as the city's largest festival. The salsa beats and reggaeton rhythms of the Fiestas Puertorriqueñas, which started on June 13 and runs through Sunday 18 in Humboldt Park, draws a crowd far beyond the Chicago-area's 150,000 Puerto Ricans. The grassroots People's Parade along Division Street on Saturday 17, after the downtown parade earlier that day, operates separately from the fest. The festival is also widely attended by Dominicans, Central and South Americans, and Cubans, says Cesar Rolon of the Puerto Rican Parade Committee. "No other ethnicity has this kind of festival."
Then
Puerto Ricans have been immigrating to Chicago since the 1920s, but unlike other immigrants, Puerto Ricans are full-fledged American citizens, as the island is a U.S. commonwealth. In the early 1960s, a Chicago group of Puerto Rican civic leaders—called Los Caballeros de San Juan—organized the first unofficial Puerto Rican parade on 63rd Street in the Woodlawn neighborhood. In 1981, organizers turned the party up a notch and joined with the Chicago Park District to host a weeklong festival of Boricua art, music, food and culture in Humboldt Park. What, exactly, is being commemorated? In Puerto Rico, residents traditionally hold a weeklong fiesta around the feast day of their town's patron saint. The feast day for San Juan, the patron saint of the island's capital and largest city, falls on June 24, so U.S. residents of Puerto Rican heritage chose that time of year to celebrate.
Now
The Fiestas Puertorriqueñas is alcohol-free, but the 300,000-plus crowd that shows up daily doesn't come to drink: They come for the steady flow of internationally-known tropical artists. This year's lineup includes salsa crooners Frankie Negrón and Hector Tricoche; reggaeton up-and-comers Trebol Clan and Polaco; Latin house and freestyle DJ White Knight; and performers of bomba y plena, a folkloric forerunner of modern-day salsa. Food booths dish out a mix of fresh-cooked Puerto Rican, Cuban, Mexican and Brazilian dishes or the virgin piña coladas, served in pineapples. The festival also features the city's largest carnival-style amusement with game booths and rides.
This year marks the 40th anniversary of the Division Street Riots. On June 12, 1966, a young Puerto Rican man was shot in the leg by a Chicago police officer. According to People's Parade coordinator Leony Calderon, police said he was armed; witnesses said he wasn't. The shooting spurred three days of neighborhood riots—but ultimately led to massive neighborhood development, Calderon says, leading to the creation of educational, housing and cultural institutions that remain in Humboldt Park to this day.
On Friday 16, the Puerto Rican Cultural Center will bring together local activists, as well as U.S. Rep. Luis Gutierrez, to reflect on the four decades of post-riot progress at a symposium called "The Case of Puerto Rican Chicago From 1966 to the Present." The event takes place at 6pm at the PRCC Auditorium at 2700 W Haddon Street.
Future
The Puerto Rican community has moved in and out of different neighborhoods, including Lincoln Park, throughout the years. While the fest has been held for the last 25 years in Humboldt Park—a neighborhood marked by huge steel Puerto Rican flags erected in 1995 along Division Street between Western and California Avenues—gentrification has caused many Puerto Ricans to move further northwest into the city's Belmont-Cragin neighborhood, or into suburbs like Cicero and Elgin. Each year, rumors abound that the Puerto Rican festival is going to move out of Humboldt Park, but that's not true, say festival organizers. "We're guaranteed for the next 10 years," says Rolon, who says organizers have signed a contract with the Chicago Park District. As further proof that they're here to stay, the Puerto Rican Parade Committee plans to start this winter on a massive expansion of the Casa Puertorriqueña, a community center and the festival headquarters on California Avenue, across from the park. The new center will feature space for 2,000 people, an outdoor deck, a small business center and a youth-run community radio station.