That's what She said
Joseph Gordon-Levitt had 500 days with Zooey Deschanel, but our summer crush rages on as the singing actress brings She & Him to Millennium Park.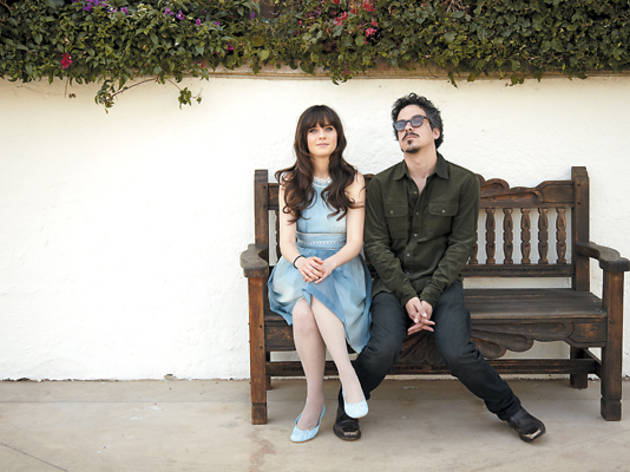 It seemed inevitable that Zooey Deschanel would have a recording career. As the cool older sister in Almost Famous, she shows her little rock-critic-to-be brother how to properly listen to Pink Floyd. Since then, she's crooned funk (The New Guy), Christmas carols (Elf), new wave (Yes Man) and karaoke (500 Days of Summer) onscreen. But don't get too used to it, Hollywood. She tells us those days might be behind her.
That's okay—her floating, reedy voice is best suited for the sunshiney '60s retro-rock of She & Him, her project with critical darling and music geek Matt "M." Ward. When the duo hits Millennium Park's Pritzker Pavilion for a free show June 7 in support of the bittersweet Volume Two, most of the city will line up to picnic on the lawn. Wear a pretty dress. Deschanel will be totally jealous.
The She & Him lyrics that really stick out are when you're saying something somewhat violent.
Ha, okay.
Like the first line of "Over It Over Again" on Volume 2.
I knew you were going to say that.
"I always want to sock it to you hard." That's antithetical to the tone of your voice.
I try to make things complex. If I'm writing happy melodies, I'll want sad or dark lyrics. And vice versa. Sad, dark melodies with happy lyrics. All the instrumentation and arrangements reflect that—trying to cultivate the happy/sad.
Do you often harbor both of those moods simultaneously?
You say violent, but I'm the total opposite of that. No, it's not like the songs are about myself. They're more feelings that I find interesting, what's moving to me.
The album ends on a song that says good-bye. That's adorable, like when Ringo sings good night at the end of the White Album.
Mmm-hmm! I hadn't thought about that. I didn't write it for the end of the record. It was a lullaby I wrote as a joke. Well, not, like, as a joke, but just having fun.
How did you pick the two obscure '70s songs to cover on Volume 2?
Matt introduced me to NRBQ's "Ridin' in My Car." And I introduced Matt to Skeeter Davis's "Gonna Get Along Without You Now." Did you know those two made a record together? We didn't realize that until later. Weird.
It's kismet. You two seem on the same wavelength. But he never brings in an obscure song for you and you say, "Uh, I don't know about that one, Matt"?
No! We almost always agree on things.… Are you eating?
You got me. I am. I'm sorry. It's rude.
No, you should eat. I'm just wondering what you're eating.
Dried cranberries. "Craisins."
Oh, okay! That's not bad.
Kind of. It's my lunch. Speaking of eating, you were a guest on Top Chef Masters. Rick Bayless whipped you up a gluten-free vegan dish. How did it taste, honestly?
Oh, man, that was awesome! Though, a long time before they aired the show, I gave up veganism. I can't do it. And I'll tell you why. I have multiple food allergies. That's kind of why I became a vegan, because I was like, Oh, I'm halfway there. I can't have eggs or dairy. I can't have wheat, either. Or soy. It was impossible being vegan.
Do you have plans to record with your other music outlet, If All the Stars Were Pretty Babies?
No, I haven't done that in four or five years.
Well then, never mind! Someone should update the Wiki page.
It was fun. It was a cabaret act, all old standards. But if you're doing an hour of standards [on an album], and they've all been recorded so many times, it's hard to be inventive. I just like to focus on my own stuff. Not that there's anything wrong with standards. For me, it's just a little more satisfying [to work on my own material].
I read that you don't want to sing in movies anymore.
I don't like being directed to sing a certain way. The director is always like, "Zooey, don't sing…well."
You went to Northwestern for a little bit. Do you have any fond memories of your time here?
I really liked it, but I just started getting work. I dropped out because I was working so much. It seemed silly working at something I wanted to be studying. It didn't make sense for me to come back to school. But I loved it. Whenever my parents would come to town, I'd make them take me to Charlie Trotter's. And I love the Art Institute.
Well, you'll be able to stare at it when you play Millennium Park.
Oh! Cool. I didn't realize that. I'm so excited.
What are your favorite things to do in summer?
This year I'm going to be playing a lot of shows. But let's see. Barbecues are fun. Hiking. Swimming. Picnics.
Is it a hard question to answer, living in California?
Yeah, it's always summer here. Oh, county fairs!
I imagine you dolling up and putting on fancy dresses when you picnic.
Yeah! Old-timey, for sure.
Dress up for She & Him on June 7 at Millennium Park.
Perfect Summer Weekends:
May 28–31
|
June 4–6
|
June 11–13
|
June 18–20
|
June 25–27
|
July 2–4
|
July 9–11
|
July 16–18
|
July 23–25
|
July 30–Aug 1
|
Aug 6–8
|
Aug 13–15
|
Aug 20–22
|
Aug 27–29
|
Sept 3–6
---
Stars of Summer:
Zooey Deschanel of She & Him
|
Greg Giraldo
|
Stephanie Izard
|
Sharlto Copley
|
B.o.B
|
Wanda Sykes
|
Lisa Cholodenko
|
Tony Tasset
|
Graham Elliot Bowles
|
Kate Arrington
|
Jay Franke
|
Bruce Sherman
|
Brenda Didier
|
Ben Goldwasser of MGMT
---
PLUS:
Best Summer Weekdays
|
Summer Festival Guide
|
Perfect family summer weekends