The 100 Bar Project
A couple of empty nesters have turned to the bottle—and they're blogging about it.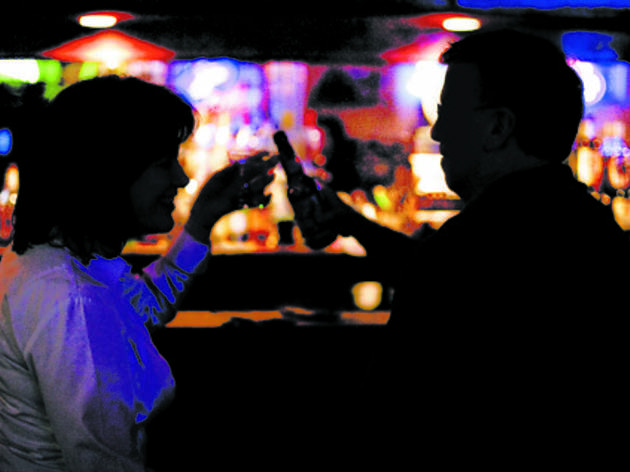 When Tom and Lori's kids left for college, they, like many empty nesters, decided to make a lifestyle change. Almost every weekend, the couple drives from their home in Southern Illinois to Chicago, camps out in a condo on the Near West Side and—parental stereotypes be damned—goes bar-hopping. They trace their adventures in the 100 Bar Project blog using anonymous, nearly college-student-like alter egos T and L.
Almost exactly a year after starting (the pair is prolific—in their first weekend blogging, they hit eight bars in two days), the couple is beginning to review 100 more in 2011. This year, they'll ask the bartender for a signature drink and apply their deft descriptions, a hint that these two might be over average bar-hopping age.
With more than 104 bars under their belt, T and L shared a few of their favorites with TOC.
Last-Minute Live Music
Joe's Bar
940 W Weed St; 312-337-3486, joesbar.com; live music $8–$40.
L: There's no pressure. We don't have to buy tickets ahead of time, in most cases.
T: It typically is a spur-of-the-moment thing.
L: And sometimes we don't even know who's playing.
T: Last time we were there, Rick Springfield was there. For Lori and me that was like, Wow, it's the '80s all over again.
Most Unique Drink
Trader Todd's Shot Ski
3216 N Sheffield Ave; 773-348-3250, tradertodd.com; Shot ski $20.
L: We were there for karaoke and they take [out] this real downhill ski. There are four holes drilled into it where shot glasses fit. So you line up with your friends and they bring the ski over. The entire bar chants. The bartender pushes it into your mouths so that nobody can back out of taking a shot. You have shot all over your face. It's hysterically funny.
Best Booze Trolley
The Accidental Tour Guide with mixologist Angie Jackson
Meet at Cooking Fools, 1916 W North Ave; ultimate-elixirs.com; Apr 17, 3–5pm; $40.
T: It's quite an experience doing shots while you're in a trolley driving around the city. You're surrounded by great people and Angie is coming down the aisle and maintaining her balance while she's pouring shots of whiskey [like] Cabin Fever, a maple-based whiskey that tastes great on pancakes.
Best Bulls Bar
Third Rail Tavern
1133 W Madison St; 312-432-9107, thirdrailtavern.com; draft beer $5.50–$8.50.
T: Great selection of beer and really comfortable bar stools. I mean really comfortable. The crowd gets into it. Chicago fans live and die on every shot, free-throw, shot on goal, touchdown or home run.
Favorite Pre-Theater Drink
Bar Novo
The Renaissance Hotel, 1 W Wacker Dr; 312-372-7200, barnovo.com; average cocktail $11.
L: If we're going to the theater, we stop for a cocktail. Their cocktails are very unique and well-made, and it's just a nice place.
T: We really like the Cucumber Pepper Margarita, which has tequila, cucumbers, lime, agave and jalapeño pepper. It's spicy and refreshing at the same time.
Great Bartending Class
BarSmarts Class by Pernod Ricard
Available online through late March at barsmarts.com; $65.
T: It was one really intense day of testing, tasting and cocktail mixing. But we passed, so Lori and I are both certified mixologists. I have my mixology diploma right next to my law degree; I don't know which one I'm prouder of.