The contrarian | End vanity sizing now
It's time for a reality check on clothing labels.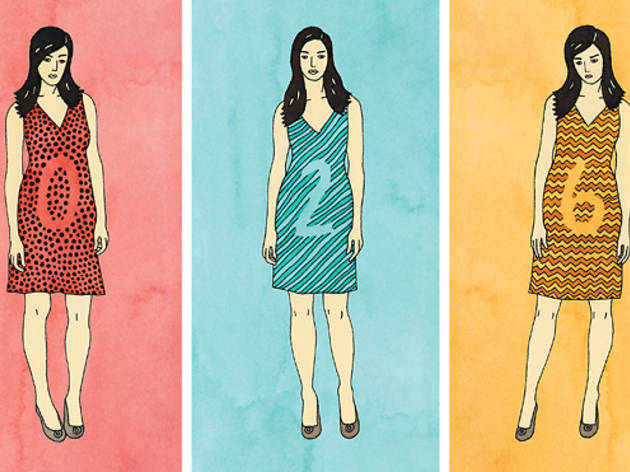 I don't want to shop in the kids' section. And I don't want to pay to tailor nearly every piece of clothing I buy. I'm a thin woman who's had it with vanity sizing, the practice of lowering clothing sizes to make people think they're smaller, whereby a size 10 magically becomes a size 6.
Vanity sizing creates confusion. Ask any woman what size she wears and she'll tell you it depends. I can be a size 00, 0, or 2 in mall brands and a 4 or 6 in designer brands, even though in college I was a reliable size 6, before vanity sizing overtook America.
The idea that I'm a size 00 or 0 is ludicrous. I'm small but not tiny, and there are many women smaller than me. What does that make them? A negative number? Though thin people are now the minority in the U.S., we're not nonexistent. We're here and, by the way, we need clothes.
It's frustrating to not know my size in any given store, to carry armloads of jeans to the dressing room and to order multiple sizes when shopping online. But with one study showing that size 4 pants can vary as much as 8.5 inches in the waistline, there's no other way to find clothes that fit.
Vanity sizing rests on two offensive notions: that women's worth is linked to their clothing size, and that smaller is better. While these assertions irk me beyond measure, some research, including a 2012 study published in the Journal of Consumer Psychology, has shown that women do indeed prefer clothes labeled a smaller size. In a society full of size discrimination, where girls feel pressured to start dieting before they have their first period, it's no wonder that vanity sizing works as a sales tool.
As a public health professional, I have another problem with vanity sizing: It tricks us into leading less-healthy lives. When people fit into smaller-sized clothes, they may think of themselves as thinner than they really are. And people who think this way are less likely to be physically active or eat well, according to a recent Harvard School of Public Health study. I've actually been told that I should "just eat more" if I want clothes that fit. But I'm quite happy in my skin and don't think I should be encouraged to eat beyond satiety in order to fit into an outfit.
When I was in high school in the 1990s, I supported the push for plus-sized women to be represented in mainstream clothing lines. But now, almost 20 years later, smaller-sized women increasingly are the ones excluded from the racks. All I'm asking is that stores keep selling clothes for people my size and smaller. We women are strong. Surely we can find better ways to help each other feel positively about our bodies than by lying on a label.
We can also stop making smaller women feel bad. Normally I feel fit, healthy, strong and somewhat badass. But when I try on clothes and see a size 0 hanging off me, loose fabric everywhere, I don't recognize myself. Instead of a strong adult woman, I see a girl playing dress-up in her mother's closet.
I get that, as a thin woman, I'm speaking from a position of privilege. But I'm also speaking as a woman who is disappearing from view. I want to feel as if I still exist and can try on clothes with my girlfriends when we go shopping together.
Debby Herbenick, Ph.D., is a research scientist at Indiana University, a sexual health educator at the Kinsey Institute and author of five books. Her latest, Sex Made Easy, is out in April.