The First 48: Missing Persons
Chicago missing persons detectives featured in new A&E show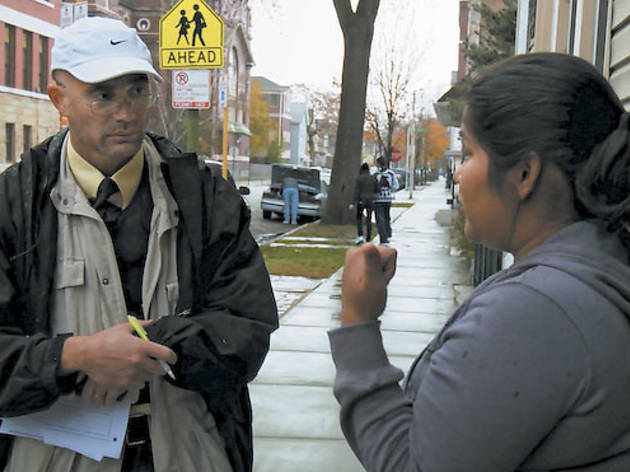 Nine hours after Morris and I are scheduled to talk, the 45-year-old detective, a 14-year Chicago Police Department veteran, finally calls. He's spent the day frantically searching for Wilson Barajas, a 30-year-old from South Lawndale whose distraught family had just reported him missing. If Barajas isn't located within two days, police say, the chances of finding him are cut in half. This theory frames A&E's new series The First 48: Missing Persons (a spin-off of the homicide-investigation-focused The First 48), which follows Morris and other CPD sleuths hour by precious hour as they comb the city for the vanished.
Busy day?
I'm strung out like a crack whore in spandex!
What's going on?
It's an open investigation, so I can't go too deep. I just don't feel like I'm getting the whole story on Barajas. A safe bet with police work is to trust no one and suspect everyone.

Your bullshit detector is always on high alert.
You have to assume everyone's lying to you about everything.
Is it hard to turn off the mistrust when you're off the job, with your wife and kid?
You can love your family, but you don't necessarily have to trust all of them! [Laughs] I just try to walk shit off as best I can, watch a funny movie. There was that movie, Lovely Bones, about a girl who went missing—I know two detectives, big, tough-looking guys, that couldn't finish it, because they've seen too much horrible stuff. I think human beings can only absorb so much tragedy.
The show begins citing a startling stat: Every 30 minutes, someone in Chicago disappears.
Well, something like 90 percent come back home. You know, teenage girl, dad doesn't want her bringing the boyfriend up to her room, so she runs away to have sex.
One case in the pilot concerns a missing gang member. Does someone's background impact your motivation to find that person?
He may very well be a piece of shit—he's implicated in a murder—but there are people that care about him, piece of shit or not, and they're hurting.

Was it disruptive having a camera look over your shoulder while you were trying to work?
Nah. I've been doin' this shit for a while, and I stopped worrying about what people think of me. And the job—there's no time to think about it. We got shit to do.
The First 48: Missing Persons premieres June 2 at 9pm on A&E.