The great Chicago mustache championship
From the Ditka to Chuy, Chicago is known for its bushy mustaches. But who has the top lip tickler in town? Vote for the best 'stache in Chicago.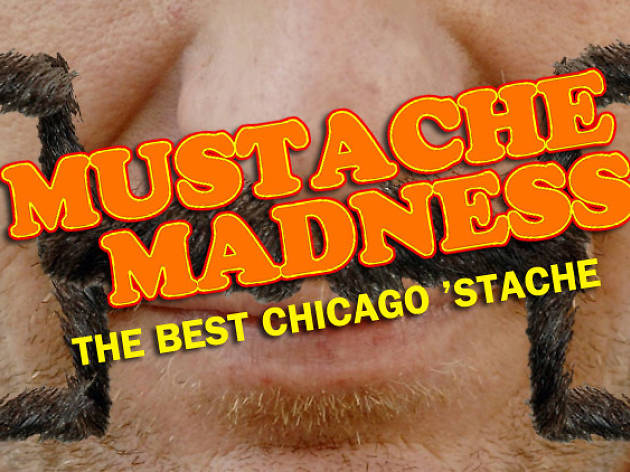 Chicago is a mustache town. Sometimes it feels like the 1970s never ended here. Or, hell, the 1870s, if you're getting a drink in Logan Square bars. We take pride in our hirsute dudes, from the gentleman in Gustave Caillebotte's Paris Street; Rainy Day at the Art Institute to the Superfans of SNL. Do you coach a professional sports team in Chicago? Well, you better sport a hairy upper lip if you want a championship—just ask Phil Jackson, Ditka, Coach Q and Ozzie Guillén.
In the spirit of March Madness that's taken over our sports bars, we're settling who has the best mustache going in Chicago via a tournament bracket. These elite eight cookie dusters are all worthy of representing our fair, hairy city.
But who has the best 'stache? We're turning the battle over to you. Vote below and check back to vote in the next round.
The Elite Eight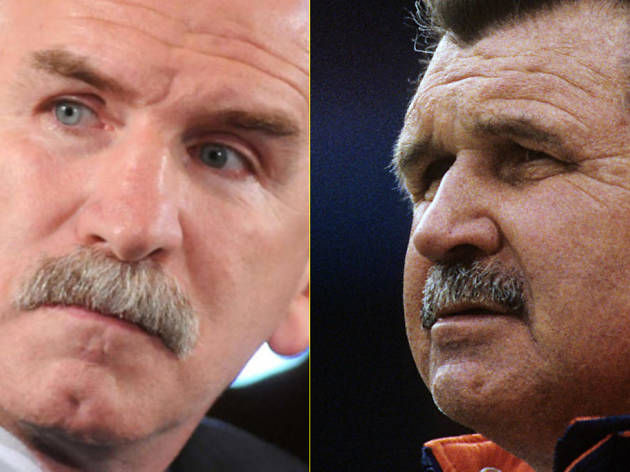 Coaches: Joel Quenneville vs. Mike Ditka
So much of hockey revolves around hair—mullets, playoff beards, Patrick Kane's baby face's inability to sprout said beard. Which is why Joel Quenneville is the coolest leader in the league. The weight of Coach Q's thick cop 'stache bends his mouth into a perpetual pout. He never looks happy with what's happening on the ice, and that's intimidating. The NHL even offers instructions on how to grow the Q Stache. On the other hand, Mike Ditka set the standard for mustaches in Chicago sports. His hirsute face is a trademark, and there's an annual Ditka lookalike contest.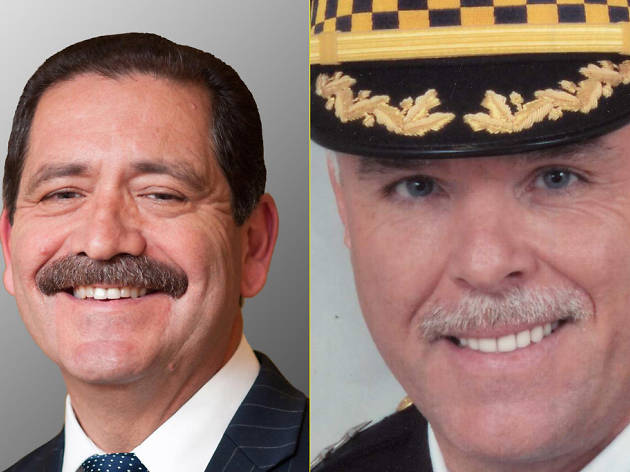 Government: Chuy Garcia vs. Garry McCarthy
Garcia is running for mayor on the back of his 'stache. The Chuy Garcia For Mayor buttons even feature a mustache. But the one on the buttons is more of a Pringles logo handlebar, unlike Garcia's actual candy bar–like coverage. If we can't trust him to appropriately represent his mustache, can we trust him to run the city? On the other hand, there is Police Supt. McCarthy. Close your eyes and picture "Chicago cop." Open them. Uncanny, right? This guy is straight out of central casting.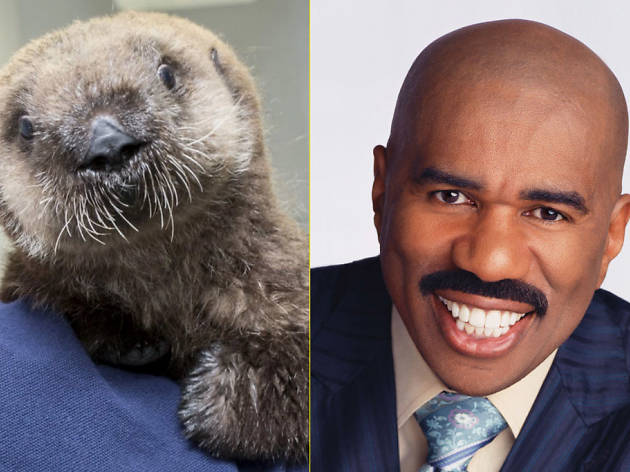 Entertainer: the baby otter at Shedd Aquarium vs. Steve Harvey
This will be the most difficult choice you make today. Who can resist the face of Luna, the Shedd's rescued baby sea otter that stole our hearts? On the other hand, there is Steve Harvey, who tapes his talk show in the WMAQ studios. That mustache is inhuman; it looks painted on. It is a mesmerizing black void that sucks in light, money and power. Somewhere, someone in television has the job of "Steve Harvey Mustache Keeper." Can someone check the credits for Family Feud?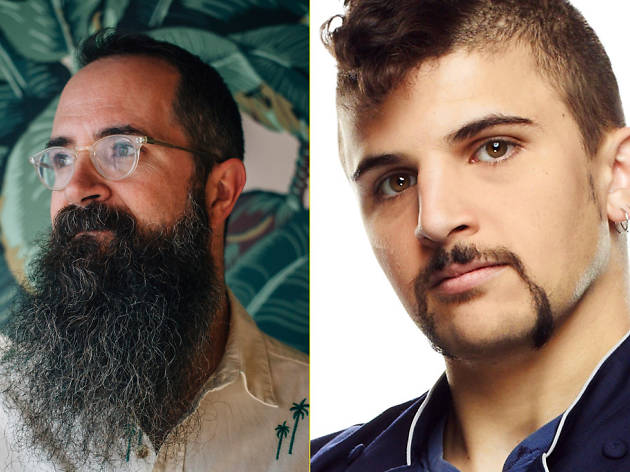 Food & drink: Paul McGee vs. Richie Farina
In artisanal bartending, you are only as credible as your facial hair is outrageous. If you don't look like you could rob a stagecoach in the Wild West, can we really trust you to small-batch grapefruit bitters? Paul McGee, the tiki king and cocktail guru for Land and Sea Dept., could make a Brooklyn man weep in shame. Sure, it's a little unfair to include him, as his face is earning extra credit with that wizardly soup-sucker under his chin, but Richie Farina brings a fair fight. The Moto man brought his handlebar on Top Chef. We like that it skirts the line between manscaping and unkempt. The clean chin is an industry must. When you're tasting foams, you don't want that lingering truffle musk to hang out in a beard all day. That just throws off everything.


The Final Four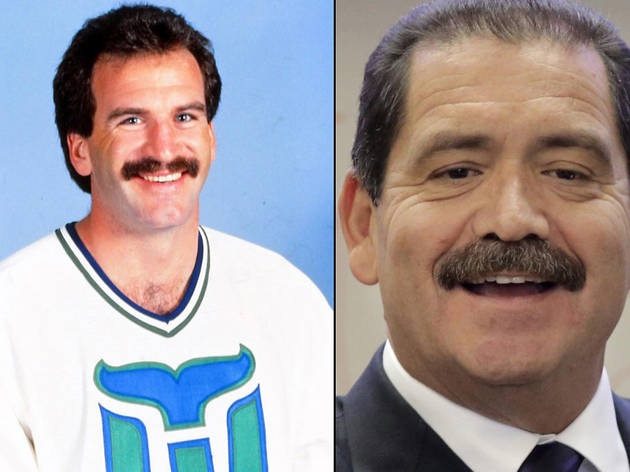 Coach Joel Quenneville vs. Jesus "Chuy" Garcia
Coach Q's mustache has been on this earth longer than most of his players, as evidenced by this image from his playing days. You could probably find traces of a Burger Chef Funburger in there. On the other hand, Chuy's mustache is all he has left. This election looks out of his grasp. So maybe a pity vote is in order here?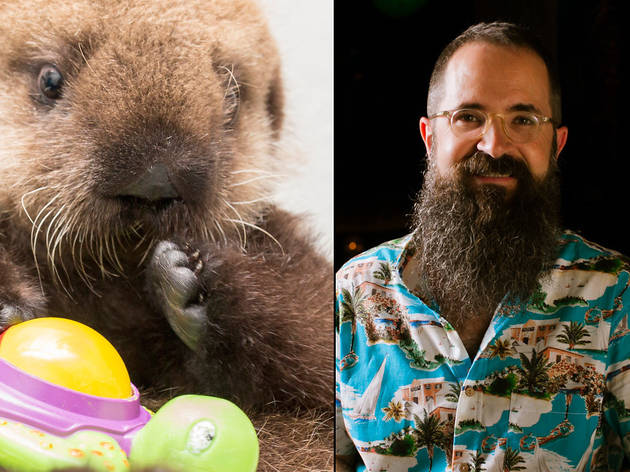 Luna the Otter vs. Paul McGee
Look, McGee, you make a mean tropical cocktail, but this a baby otter you are dealing with. Look at that face. Sure, that Bunny's Banana daiquiri sounds cute, but LOOK AT THAT FACE. You could try bribing voters with an open bar, but resistance is futile against infant marine mammals.