The highlight: Salton Sea, California
Explore a man-made wasteland in this forgotten part of the Golden State, 60 miles from Palm Springs.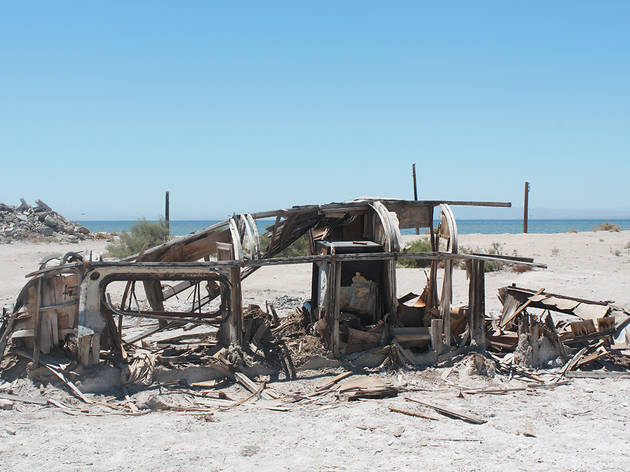 1/5
Photograph: Jason A. Heidemann
Salton Sea, CA.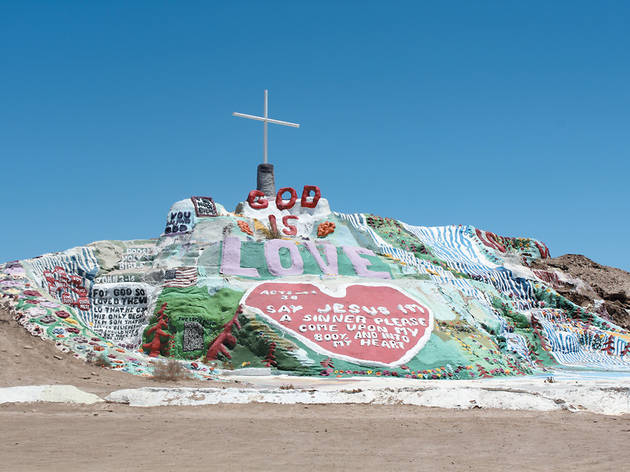 2/5
Photograph: Jason A. Heidemann
Salvation Mountain, Salton Sea, CA.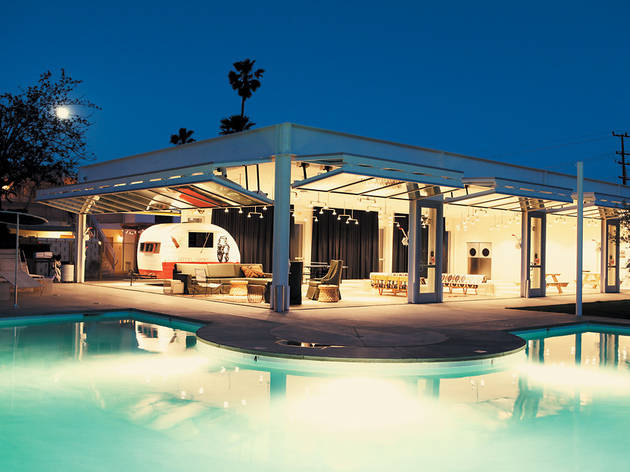 3/5
Photo Courtesy: Ace Hotel
Ace Hotel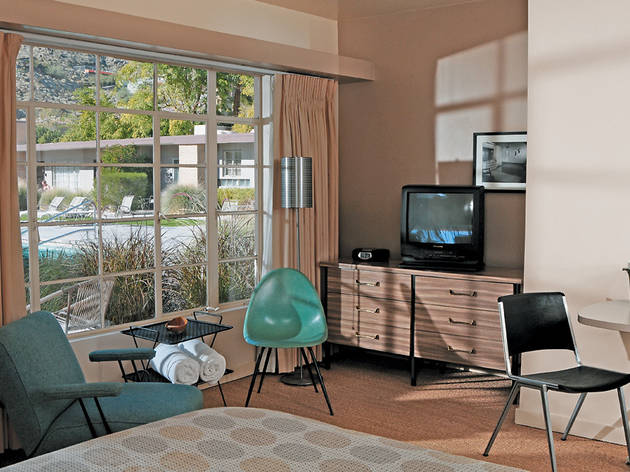 4/5
Photograph: Dan Chavkin
Orbit In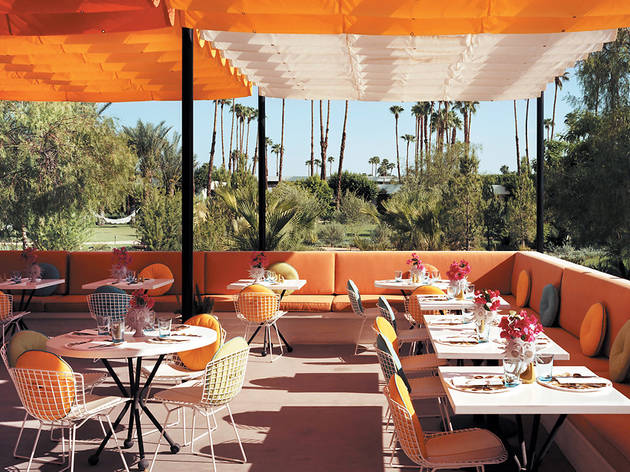 5/5
Norma's at the Parker
Standing alone at the water's edge in a largely abandoned town called Bombay Beach, about 60 miles southeast of Palm Springs, California, the only sound punctuating the complete stillness is the crunching beneath my feet. When I look down, I realize I am crushing the skeletons of dead fish, hundreds of which have washed ashore. Unable to survive the saline levels (which are currently saltier than seawater and rising), their dried-up bodies now wither under the punishing sun. In the Salton Sea, even the fish are forgotten. I, however, am in heaven.
A long story short, more than 100 years ago the accidental diversion of water from the Colorado River to the Imperial Valley flooded the Salton Sink, an ancient basin located in California's southeast corner whose surface area is 226 feet below sea level. Its proximity to Los Angeles and San Diego began attracting tourists in the 1920s, and resort towns sprung up along its pristine shoreline. But flooding, pollution, endless heat and increased saline levels in the sea due to runoff from nearby farms killed the boom and the area went bust. Decades later, a few decrepit towns cling to half-life while fish continue to die. For the traveler in search of the American Dream gone horribly awry, innumerable treasures await.
I circumnavigate the entire sea, approaching it first from its northeast shore. Bombay Beach (population 295) resembles a postapocalyptic settlement. The only hint of life I detect while passing through on a scorching 102-degree afternoon, aside from numerous waterfowl, is the sight of two Mexican fishermen in a golf cart. Crumbling homes along the shoreline look as if their tenants fled in the middle of the night. Most dwellings have lost their roofs and siding, and are slowly sinking into the mud. In some instances, you can still see tattered furnishings intact. It's chilling.
A no-less-fascinating bright spot just outside of Niland on the southeast shore is Salvation Mountain, the work of folk artist Leonard Knight, a born-again Christian who has been painting the side of a dusty mountain with biblical passages for more than 30 years. Similarly painted beat-up vehicles litter the property, and although Knight lives on the premises and welcomes visitors (you may even be asked to lend a hand), he is nowhere in sight during my visit.
Salton City sits at the northwest corner of the sea, a mere 32 miles from Coachella. Its main thoroughfare, the four-lane Marina Drive, is barren aside from the stumps of palm trees along the divider and leads to the former yacht club, now an abandoned swatch of faded blacktop overgrown with desert scrub. A new casino has opened along the nearby Highway 86, and a couple of respectable homes along the waterfront point to new life. Yet on the way out of town, I notice that most roads eerily come to an abrupt end. Like the dreams in this forgotten part of the Golden State, nothing goes very far here.
Get there The Salton Sea is located 165 miles east of Los Angeles, 125 miles east of San Diego and about 60 miles southeast of Palm Springs (you'll need to rent a car to get there). Nonstop flights in winter start at $300 to L.A., $319 to San Diego and $475 to Palm Springs.
---
PLAN IT
More to do in Palm Springs
Where to eat
Jonathan Adler's ecstatic design sensibilities reach their zenith at the luxe Parker. Hit the covered patio at Norma's for a boozy brunch and never leave.
Where to lounge
Midcentury mojo meets hipster chic at the Ace Hotel, a former Palm Springs HoJo and current hangout for younger vacationers. Strap on the feedbag at King's Highway, stay for artisanal cocktails, live music and comedy at the laid-back Amigo Room or dip your feet into the inviting pool.
Where to sleep
Rooms at the Orbit In and Hideaway, two adjoined properties meticulously outfitted in midcentury furnishings, start at $149 in winter. Check out the boomerang-shaped bar by the pool.