The hip alderman versus the machine committeeman
In the 1st Ward, a battle between old-school and new-wave politicians rages.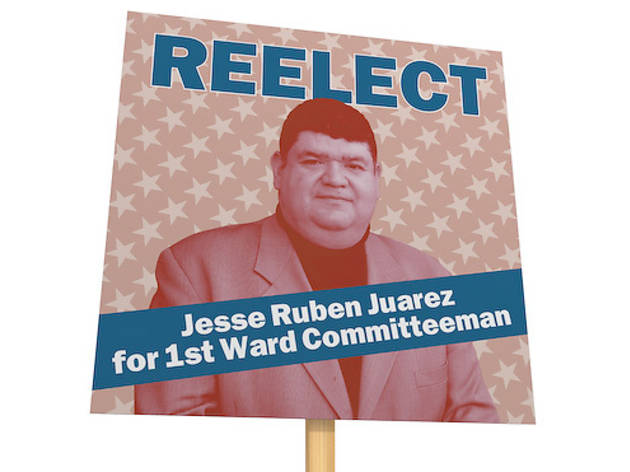 1/2
2/2
When it comes to politicking in the city's 1st Ward, which is shaped like a fishhook snagging parts of Wicker Park, Bucktown and Logan Square, candidates have recently come to know two disparate constituencies. One is the younger whites who migrated to Chicago from elsewhere in the Midwest and are disgusted by the city's political folkways; the other is Latinos who grew up in local schools, churches and the Democratic machine.
After winning a full term last February, with 73 percent of the vote, Ald. Proco "Joe" Moreno, who speaks Spanish and listens to Minor Threat, has done an excellent job of bridging both groups. In November, Moreno hosted a "live band punk karaoke" fund-raiser at Quenchers Saloon. "Come see me 'sing' at least one Nirvana song and probably something from the Clash," he said in the invitation. The alderman has also proposed or sponsored progressive initiatives like on-street bike parking, banning plastic bags at large stores and decriminalizing marijuana.
On March 20, Moreno will try to consolidate his power by taking the ward committeeman's job from Jesse Ruben Juarez, a career political soldier who represents what the Near Northwest Side used to be—before Quimby's and Big Star.
Moreno was raised in Moline and moved to Chicago after college. Juarez grew up at Erie Street and Ashland Avenue—"Santa Maria Parish"—and went to St. Rita of Cascia High School; he began his career in politics as an intern in the Metropolitan Water Reclamation District and worked his way up to chief of staff. Moreno is a long-distance runner and a vegetarian; Juarez cuts a bouncer's figure.
This isn't the first time the two have been rivals for the same job. When former Ald. Manny Flores stepped down in 2010, both Moreno and Juarez lobbied to replace him. After then-Mayor Richard M. Daley chose Moreno, "it was part of our agreement that I would support [Moreno], and he would support me," Juarez tells me. "I'm a little bit saddened that he's challenging me."
Moreno says he's running for committeeman in part because Juarez didn't hold public meetings before voting to appoint Eddie Reyes to the County Board and Annazette Collins to the state Senate. Moreno wants special elections rather than appointments.
"It was done in less than a week," Juarez says of Collins's appointment. "There wasn't enough time to open it to a meeting." As for special elections, he says, "If there was a special election, [Moreno] would never have been appointed."
More than two-thirds of aldermen are also committeemen, who serve as leaders of the ward's Democratic Party. They want the unpaid job because it provides a vote at slating sessions and control of their territory's political operation, which prevents the party from picking a rival aldermanic candidate.
Juarez is tight with County Assessor and party chairman Joe Berrios. (He's also backed by Cook County Board President Toni Preckwinkle and Gov. Pat Quinn.) "It's a concern for me when anybody who doesn't live in the 1st Ward has influence in the 1st Ward," Moreno says of Berrios.
While Moreno appears as a new-school politician, his campaign tactics are quite conventional: He built his own independent Democratic political organization, 1st Ward First, whose main goal is to raise funds for his campaign. He also unsuccessfully challenged Juarez's petitions, as well as the petitions of a third candidate, community activist Anne Shaw.
Despite his connection to Berrios, Juarez argues separating the alderman and ward committeeman's offices is good government; it prevents the alderman from trading political favors. "He's supposed to be the new hipster, the new thing," Juarez says. "I just wish he would focus on ward service, like Manny done."
In the three proposed ward remaps the City Council is considering, the 1st Ward is less than 50 percent Latino. That suits Moreno just fine. Juarez, meanwhile, would prefer a Hispanic majority.
"[Juarez] needs the old Latino voters," says veteran 1st Ward political organizer Joe Lake, who has worked with both candidates. "He's got no money, no workers. Joe's got tons of money, hundreds of workers." And the cool cred to boot.