The Hot Mix 5 Way | Street smart
Legendary Chicago DJ crew will soon get their own honorary streets.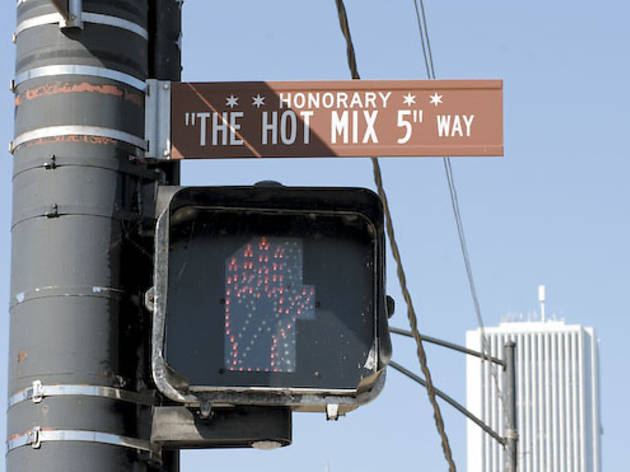 In a town that draws such a large part of its identity from its blues and soul heritage, it's no shock to see legends Muddy Waters, Buddy Guy, Curtis Mayfield and Sam Cooke get their just dues on the brown honorary street signs. More surprising: the signs acknowledging the city's deep dance-music roots, particularly house. The genre was stigmatized by politicians after it spawned a thriving warehouse-party scene in the '80s that Mayor Richard M. Daley cracked down on when he took office in 1989.
In recent years, house has gained some of the recognition it deserves in its hometown. In 2004, Jefferson Street between Monroe and Van Buren Streets was dubbed "The Godfather of House Music" Frankie Knuckles Way, near famed house-music spot the Warehouse. In July 2005, Mayor Daley (rather reluctantly, according to participants) named August 10 of that year "House Unity Day."
Influential DJs the Hot Mix 5 were honored with a sign at Columbus Drive and Balbo Avenue in 2007. The crew rose to prominence with vise-tight sets on WBMX-FM that incorporated everything from the latest from local label Trax Records to Bon Jovi's "You Give Love a Bad Name." (If you want a taste, a bunch of taped-from-radio mixes have ended up on YouTube.)
To celebrate the Hot Mix 5's 30th anniversary, nickname-loving members Farley "Jackmaster" Funk, Kenny "Jammin" Jason, Mickey "Mixin" Oliver, Ralphi "the Razz" Rosario and Julian "Jumpin" Perez (who replaced Scott "Smokin'" Silz) reunite on Friday 14 at the Mid (306 N Halsted St, 312-265-3990). Event producer Sam Cappas, a close confidant of the Hot Mix 5, tells me that group members will get individual honorary streets dedicated to them in 2012, substantiating his story with photos of "Kenny Jammin Jason Blvd" and "Mickey Mixin Oliver Blvd" signs.