The Interview Show's fifth anniversary preview
Mark Bazer's show at the Hideout celebrates its anniversary.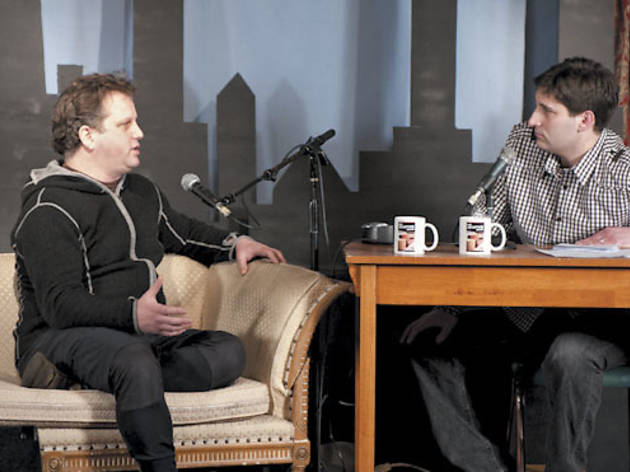 1/4
Photograph: Courtesy of Mark Bazer
Paul Kahan and Mark Bazer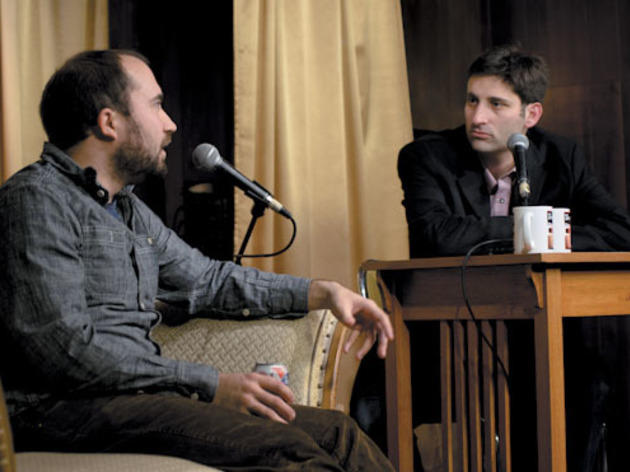 2/4
Photograph: Kevin Viol
Mark Bazer and Craig Benzine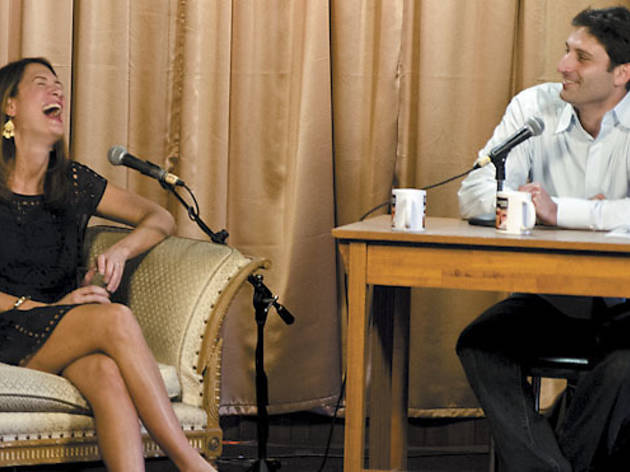 3/4
Photograph: Kevin Viol
Gillian Glynn and Mark Bazer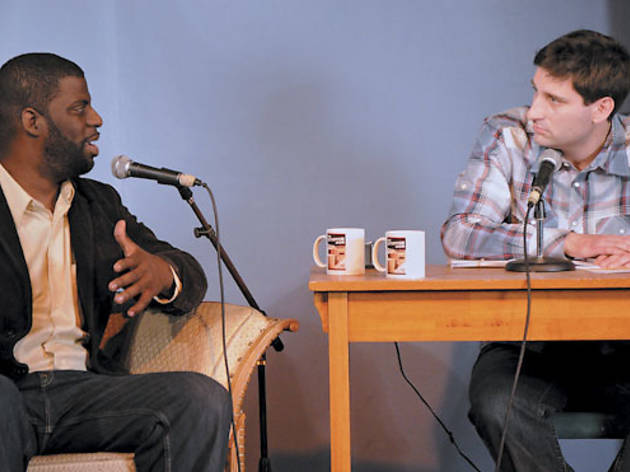 4/4
Photograph: Courtesy of Mark Bazer
Rhymefest and Mark Bazer
"Were you a fuck-up as a child?"
It's a Friday night at the Hideout and the space is packed with a mostly white, mostly plaid-wearing audience. It breaks out into slightly scandalized laughter; Mark Bazer, the poser of the cheeky question, maintains a straight face. Rebecca Skloot, author of the New York Times best-selling book The Secret Life of Henrietta Lacks, laughs and lapses into a spirited retelling of her mischievous adolescence.
It's another episode of The Interview Show, the monthly talk show that Bazer, 39, has hosted at the Hideout for, come February 1, five years. Usually featuring three guests, and a musical performance or sketch-comedy act, the show is, as Bazer describes it, a cross between Charlie Rose and David Letterman. Over the years, a roster of local and occasionally national luminaries has sat on the cheap sofa, guests as disparate as rapper Rhymefest, author Gillian Flynn, blogger Tavi Gevinson and chef Rick Bayless.
The Interview Show (The name was originally a placeholder. "I didn't try to come up with other names. Either out of laziness or because it worked," explains Bazer.) began as a one-time pitch to the Hideout owners. He wanted to make a talk show modeled after The Dick Cavett Show, which aired in the late '60s and early '70s. "There were some funny elements, but also some real substance," Bazer says. The Hideout agreed to Bazer's idea, as long as he would make it a regular event. So he did.
The first show in February 2008 had an audience of mostly friends and family, but the lineup was pretty stellar. You may have heard of at least two of the guests: stand-up comedian Hannibal Buress and young-adult author John Green.
Now The Interview Show regularly reaches maximum capacity; about 120 to 130 people sit (if they're lucky) or stand. A crew of four films the show to upload to the show's website.
Bazer's background as a journalist (he still writes a column for Tribune Media Services, though he works as a writer at ad agency Leo Burnett) informs the noticeably insightful questions he asks. A particularly well-done five-minute summary of Skloot's dense book was a hit on the night I went.
"The research probably takes up the most time," Bazer says. "It probably comes from being an editor. It's important to do a good interview. Not to denigrate Larry King, but for me that's just not the approach to take."
He usually prepares during the week prior to the show; maybe earlier if an author's on the lineup. The easy energy of the show has attracted many loyal constituents.
"I come here for Mark," answers a dark-haired woman when I ask her why she'd shown up as we slowly filter out of the space. "It's just fucking great!" raves a slightly drunk attendee when I ask him the same question.
One long-attending couple even gave Bazer and his wife (who has attended every show) a ride to a Springsteen concert after the cab Bazer ordered to pick them up never came.
When asked who his favorite guests are, it takes Bazer a while to come up with some names. (Afterward, though, he can't stop interrupting to mention another guest who was just fabulous.) He loved Charlie Trotter ("I definitely did more research on him than on anyone else") and SNL alum Julia Sweeney. He'd love to have David Axelrod on the show. "I think the stories that he'd be willing to share would be great."
There's really only one type of guest Bazer doesn't want. "I don't want somebody to just come on and promote something. That shouldn't be the only reason they're there," Bazer says. As for the future of the show, Bazer is hopeful but realistic. "I would love for The Interview Show to be on TV or radio, but I also try not to let those thoughts spend time in my head. If you're always thinking about what's next, you're not going to like what you're doing now."
Stephanie Izard, Jon Langford and Bill Zehme will be on The Interview Show on Friday 1.