The musicians
From the clubs to the recording studios, these heroes create the sounds of Chicago.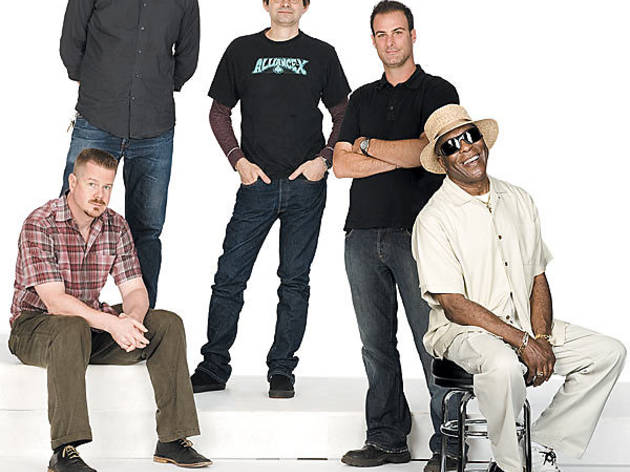 Billy Corgan
Musician
Even though the Smashing Pumpkins are bigger internationally than they are stateside these days, Corgan's sticking with Chicago—he's even written more than a dozen folk songs about such local subjects as the Great Chicago Fire and the Cubs-Sox rivalry. Corgan recounts wandering around Lincoln Park one emotionally tough day only to end up in front of Columbus Hospital where he was born. The moment "struck me as quintessentially Chicago," he muses. The city "has this unassuming quality where you can find yourself back to where you started without really realizing it."—Frank Sennett
The single "G.L.O.W.," out this month, is the Smashing Pumpkins' last release of '08, but "a multiyear concept album" might be in the offing, Corgan says.
Bruce Finkelman
Club owner
The Empty Bottle has been the crown jewel of the indie-rock scene since Finkelman opened the joint at its current Ukrainian Village location in 1993. The last few years have found Finkelman expanding his scope, producing shows everywhere from the Congress Theater to the Epiphany Episcopal Church. Recalling his youth working at the Fulton Street Meat Market with his father, he remembers hearing bands play nearby at another storied Chicago venue, Space Place: "My dad and all his buddies would stop and look at these folks with Mohawks and colored hair spilling out on the street as the club was closing. The mix of rockers and plant workers in the early morning was truly my first quintessential Chicago rock moment."—Areif Sless-Kitain
Jay Ryan
Poster artist
For 13 years, Ryan's posters advertising acts from Andrew Bird to the Shins have brought a menagerie of furry fauna to indie-rock hub Wicker Park. His kinetic sketches of bicycle wipeouts and rodents balance the cute and the violent and have helped restore the lost art of rock posters. It's no wonder he finds influence by pedaling through the city's parks: "My wife and I used to go downtown after midnight and ride our bikes around the Loop and the lakefront. It's a great way to experience the city. This one particular night, not far from the Art Institute, there was a young man wearing very, very small bikini briefs, a leather jacket and nothing else standing on the corner going, 'Oh shit, oh shit, oh shit.' "—Brent DiCrescenzo
Score Ryan's posters at thebirdmachine.com.
Steve Albini
Music maker
Guitarist, acidic wit, analog audiophile, acerbic recording-industry pundit—just don't call him a record producer. As he often says, he's engineered classic records by Nirvana, the Pixies, PJ Harvey and Joanna Newsom. Albini's strong-willed persona would suggest he's a born-and-raised city boy, but when this Montana native moved to Chicago in 1980, he'd never lived in a big city before. "I was overwhelmed and exposed to a lot of different kinds of people. I was used to basically everybody being more or less equivalent, then came to Chicago and discovered there were different subcultures," he says. It didn't take him long, however, to figure out where he belonged in Chicago's scene. "I felt like I had really found a place for me and people like me when I had sex with a total stranger in the bathroom at Tut's, a punk-rock club on Belmont Avenue."—Brent DiCrescenzo
Check out Albini's latest work on the Wedding Present's El Rey and Scott Weiland's upcoming sophomore solo album. He can be booked at his studio, Electrical Audio, for $650 a day.
Lupe Fiasco
Musician
Wasalu Jaco (a.k.a. Lupe Fiasco) has helped keep the Chicago rap scene ahead of the curve by eschewing tired rims-and-liquor–dominated pop hip-hop for precocious, witty rhymes about his Muslim faith and his predilection for skateboarding and Japanese-toy collecting. While ironing his white oxford for our photo shoot, he explains why local newscasters like Tom Skilling and Bob Sirott are his Chicago icons: "I'd come home from school every day and turn on the TV, doing stuff just like this [gestures toward his ironing]…they were like family," he says. "Guys like Geoffrey Baer on WTTW, who'd show you every part of Chicago, the dual Chicago. As a poor kid, I got to experience all of the city. WTTW, man—if I get really rich, I'm going to buy that station!"—Brent DiCrescenzo
Before starting on his third album in '09, Lupe is focusing on his Chicago-centric label, 1st & 15th, prepping releases by He Say, She Say; Matthew Santos; and GemStones.
Ken Vandermark
Jazz musician
You can throw out the MacArthur "genius" grant, the European fame and accolades, and even the acclaimed documentary about his life, Musician. Because Vandermark's quintessential Chicago moment—"every time I hear Fred Anderson play at the Velvet Lounge"—has nothing to do with his own fame. It's that humble attitude and devotion to the craft that have kept Vandermark's remarkable career as a performer, promoter and godfather to the city's great free-jazz-flowering genre moving forward. Although he was raised in New England (he moved here in 1989), few artists embody the working-class ideals of Chicago—constant performing and self-improvement, endless touring and lifting up those around you—better than Vandermark.—Matthew Lurie
This fall, Vandermark is releasing new albums on Not Two Records from his Resonance Project, as well as Collected Fiction (Okka Disk), a two-CD set of improvised duos with premier Chicago and European jazzers.
Buddy Guy
Blues man
Toting his guitar from Louisiana to Chicago in 1957, Guy recorded for Chess Records in the '60s as a session man with blues elders such as Muddy Waters. As a solo act a few years later, he fused blues and rock, influencing greats like Hendrix and Clapton. But it's the memories of those salad days of Chicago blues that stick out in his memory. "It was the heydays of Muddy Waters, Howlin' Wolf and Little Walter and all those people who made Chicago blues great," he says. "You could walk down the street and hear Muddy Waters coming out of the club and Little Walter coming out of the other side—24/7—you couldn't tell what day of the week it was. At the famous blues club the 708, you could hear Jimmy Reed and all the giants of blues. I made a dollar [or a] dollar and a quarter a night to play there."—John Dugan
Guy released a new album, Skin Deep, in July and spent the summer on a world tour. He was recently honored with the first Great Performer of Illinois Award.