The new, cool lecture
Local academics give the lecture a beer-fueled makeover.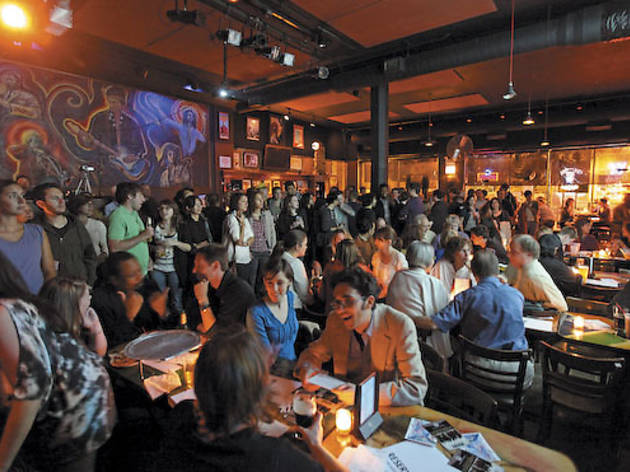 It's a Tuesday night, and there's hardly an empty cabaret table or barstool at Martyrs'. The North Center tavern primarily showcases rock bands, but tonight, the stage is set with a podium and projector screen. I'm here for PechaKucha Night, a lecture-event series that boasts a presence in more than 400 cities. It promises not to be a snoozefest: PechaKucha's strict format (20 slides per speaker, 20 seconds per slide) keeps the pace fast and the facts digestible. I scan the room and see I'm in good company: A robustly diverse crowd—some tattooed and wearing graphic tees, others buttoned up in full suits—mingles, imbibes and takes in ideas from the 12 academics, artists and community organizers slated to speak.
PechaKucha (pronounced "pe-chak-cha"; Japanese for chitchat), like several other local lecture-hosting groups, aims to make academic and creative concepts accessible by serving them alongside cocktails at casual, nontraditional venues. The packed house proves that bar lectures have caught on. In an era of digital innovation, what's the appeal of adding a beer or two to the regular ol' lecture? I ask a twentysomething in attendance: She tells me she's drawn to PechaKucha because she finds it difficult to meet friends outside her circle of former classmates.
When I ask lecture purveyor Stephanie Levi, she tells me she had trouble connecting with peers within her highfalutin discipline of molecular genetics and cell biology at the University of Chicago, where she is working toward a Ph.D. "I was running in a circle of young creative types who were doing cool stuff around the city," she says. "None of them could click with me about what I was doing, so I had a desire to make science accessible to my friends."
In 2008, Levi hatched the idea for Night Lab, a science-focused bar-lecture series; she simultaneously launched her blog, science-is-sexy.com. Night Lab lecture topics lean toward the titillating or the highly useful, and events are held at hip watering holes (Schubas, Hopleaf). During a recent session about sex and attraction, lecture-goers compared footage of men's and women's brain activities during sex; for another lecture on brewing the perfect cup of coffee, sipping students learned why it's important, from a molecular standpoint, to use a uniform grind. Levi believes her work has the potential to reach far beyond the barstool. "People are voting for how much funding science gets," she says. "The more people care, the more [they'll support] science."
Homeroom—a Chicago nonprofit that runs a bar-lecture series called 101 (homeroomchicago.org)—also aims to sex-up traditional schooling. Seth Vanek, the artistic director , says "in a bar, you have to be aware of attention spans"—and so he sticks to topics that fall under the umbrella of sex, drugs and rock & roll. He gathers editors, journalists, professors and the like to wax poetic on topics ranging from Britney Spears to the bizarre fan culture surrounding the hardcore hip-hop group Insane Clown Posse. "We pick fun topics, but we dig in a bit, so people really get something out of it," he says.
At Martyrs', the evening passes in a stimulating blur. As part of an activism project, performance artist Amber Hawk Swanson presents awesomely weird photos of an anatomically correct sex doll made from her likeness ("it's penetrable in three holes—I'll let you figure out which ones," she says). Spanking-new CPS teacher Lucy Hilarides speaks about her first day of teaching, which wrapped up just hours before. And Stephen Vick, quality-control manager with Intelligentsia, shares arresting images from his journey to Africa, where he helped coffee farmers produce a better product.
Before the show, I spoke with co-organizer Thorsten Bösch, who issued me a warning: "They're awfully addicting." He's right. While the round of drinks enticed me to come here, the appeal—as with any lecture—lies in seeing others intellectually jazzed about their work. By night's end, I'm hooked.
Catch fun lectures at Ideas Week (chicagoideas.com), taking place around Chicago October 10–16.