The Onion adapts to Chicago
America's Finest News Source tries to mine the local comedy scene.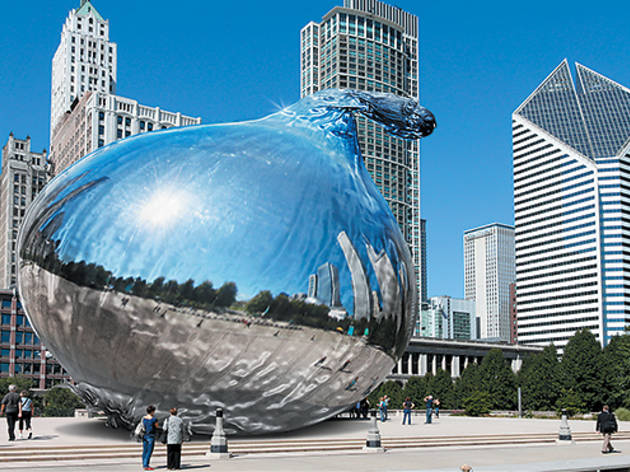 The morning after the presidential election's first televised standoff, The Onion's website led with a critique of the President's flaccid performance: "Sasha Obama Asks Father Why He Was Acting Like Such A Pussy During Debate." The quick jab reflects the publication's new focus in its new home: churning out timely material, just as the papers it lampoons do. In July, the beloved satirical news outlet completed a move to Chicago from New York that spurred the departure of two thirds of the full-time editorial staff—the biggest shake-up in the organization's 24-year history.
"We have less staff than we did, but we've moved to an almost daily production schedule [online]," says Onion top editor Will Tracy. The lanky, bright-eyed 29-year-old has been shouldering the weekly paper and its website after former editor-in-chief Joe Randazzo and ten others quit to stay on the East Coast. The company wanted to centralize operations in Chicago, which was already home to its business arm and The A.V. Club. Over a beer near The Onion's headquarters at 212 West Superior Street (a move to a larger space across the street is imminent), Tracy outlined his vision for "America's Finest News Source": "A news story breaks and I want people to say, 'I wonder what The Onion is saying about this,' " he says. Achieving that with the current skeleton crew of writers has been "very, very hard, and right now we are in the process of trying to staff up."
Since the relocation was announced in September 2011, the road to Chicago has been bumpy. "Any move is going to be a logistical and emotional roller coaster, and this was," Tracy says. Resentful Onion staffers—some of whom followed the paper when it was relocated from Madison, Wisconsin, in 2001—didn't want to decamp to a city they believed lacks writing talent. "Nothing against Chicago. I think it's a great town," an anonymous Onion editorial employee told the Atlantic Wire. "But we're here in the center of everything and it's still a challenge to find good people."
Tracy, an Oregon native, doesn't subscribe to that brand of New York exceptionalism. He views the paper's return to the Midwest as a homecoming. "There's no one on staff who thinks the Midwest does not produce good comedy," he says. Even so, "The Onion could be written anywhere. You could plop us in the middle of Wyoming."
Considering the August headline "Hot New 'Murder Craze' Sweeps Chicago," it appears The Onion's new locale is seeping in. Still, three and a half months after its migration, the paper hasn't hired a single Chicagoan to its writing staff. That's a stark contrast to its Web video wing, the Onion News Network, which has been mining the comedy scene here since May and taking advantage of an Illinois video-production tax credit. "It has been both wildly intimidating and a huge honor," says Second City ensemble member Holly Laurent, who was tapped to assist with an upcoming election video series. ONN's head writer, local sketch maestro Andy Miara, adds that Stage 773's The Late Live Show has been a "great feeder."
The Onion paper division operates more like a cloak-and-dagger fraternity. "New writers have to be sponsored by a current Onion staff writer, and everyone who's on staff right now doesn't know anyone in Chicago," Tracy explains. "We talked to Second City, we talked to iO. There are a lot of funny people here, but very funny people have tried to write for The Onion and failed because their voice hasn't fit."
Tracy is confident Chicago will benefit The Onion in at least one way. "Certainly we'll be able to find better photo models for our [American Voices] man-on-the-street items. You need that Midwestern 'area man' type, and there are a lot around here."
Tracy participates in the Chicago Ideas Week panel "Comedy: What's So Funny?" Saturday 13 at 7pm at the Museum of Contemporary Art (220 E Chicago Ave, 312-397-4010). $15.