Tony Taglia, "I'm old, baby!"
Lookin' for Ms. Goodbar at the beach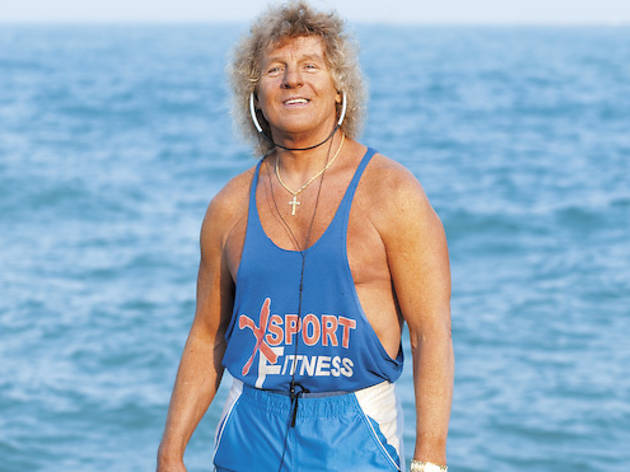 North Avenue Beach
Are you from Chicago?
I grew up in Little Italy, but I live in the 'burbs.
Why come all the way to the lake to run?
In the wintertime, I'm at the health clubs, and that's boring as hell. I conduct business from here because I'm a general contractor.
Doing business in your spandex!
That's the kind of life I've always had, man.
You hate offices?
Too enclosed.
They can't cage Tony.
They tried! [Laughs] I'm a Leo. My mother calls me Tony the Tiger. I'm also down here checking out the babes. You got 'em comin' and goin'! If there are any beautiful women in Chicago, they're here.
You're looking for Ms. Right?
Oooh, that's a fuckin' needle in a haystack. I'm lookin' for Ms. Goodbar! The problem is they all have the hard bodies and the marshmallow brains. I'm looking for the ultimate: smart and beautiful. Usually those things are mutually exclusive.
Who's your ideal?
Sharon Stone ain't bad.
What's on your summer agenda?
Relaxing. Everybody has all these dreams: They want all this money and that's going to get them the nice cars and then the chicks are gonna come. Then you find out you wasted your whole life for that shit and you learn that's not what it's all about.
You had those dreams?
Absolutely. I think every American kid does. Life's not all it's cracked up to be, but it sure beats the alternative.
The crucifix—are you religious?
I was an altar boy and all that shit until they caught me drinking the wine. But I believe someone started this whole fuckin' mess. Big Boom, Darwin. Some say we came from fuckin' fish. I ain't seen a fish jump outta the water and say, "Yo, Tone. Remember me?" Until I see that happen, fuck that theory.