Tours
Explore some of your favorite vices-booze, caffeine and sugar-on these indoor walking tours.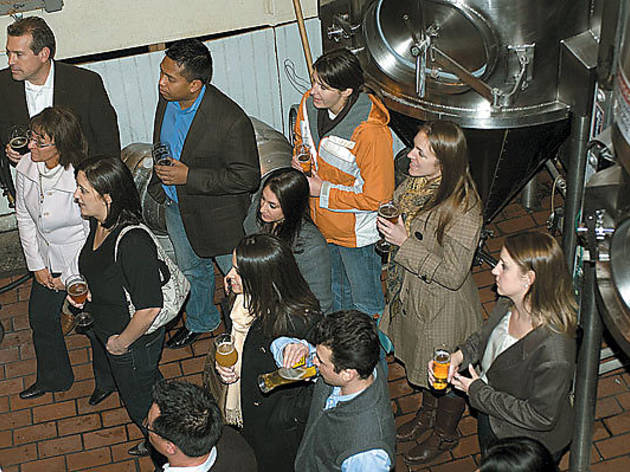 In the cold and dark of January, with all the holiday hoopla behind you, what are you going to do to keep your spirits up? Coffee, cheesecake and beer are three of our favorite things, so how 'bout a behind-the-scenes peek at the Chicago institutions renowned for these delights? Hopefully, your New Year's resolution wasn't to swear off caffeine, alcohol or sugar.
Eli's Cheesecake Experience
DURATION About 40 minutes
PERK A slice of cheesecake
TOUR Inside this mecca of milk fat and sugar, located on the city's Far Northwest Side, visitors stroll down a long hallway and observe the cakes being made that day, be it cheesecake, tiramisu or specialty items like cupcakes. After they whip 'em up, Eli's employees hand-decorate every single one of their signature cheesecakes. The tour guide is usually Margie Lissner, a longtime friend of the family that founded Eli's; it pays to pay attention, because she'll ask trivia questions and the correct answers win more cheesecake. Eli's Cheesecake World, 6701 W Forest Preserve Dr (773-736-3417, elicheesecake.com). Mondays–Fridays at 1pm, $3.
Goose Island's Clybourn Brewery Tour
DURATION About 60 minutes
PERK A tasting of six beers
TOUR After an afternoon with one of Goose Island's brewers, you'll have a new appreciation for the goddess Fermentia, whose divine magic guides craftsmen in producing beer. You'll finally learn what hops are and you'll meet malt too (in the form of barley, rye and other grains). All the beer at the Clybourn facility brews in small batches, but don't worry—it won't run out. Six varieties allow your taste buds to confirm your new knowledge, distinguishing an ale from a stout. If you're hungry after all that, you can amble over to its brewpub for some food (and, natch, another beer). Reservations recommended. Goose Island Brewery, 1800 N Clybourn Ave (312-915-0071, gooseisland.com). Sundays at 1:30pm, 3pm, 4:30pm; $7.
Chicago Roasting Works Tour
DURATION About 75 minutes
PERK All the coffee you can drink
TOUR Cheesecakes take awhile to bake and beer takes even longer to brew, but the Intelligentsia tour offers an immediate gratification: watching coffee beans turn from green to dark-chocolate brown as they roast before your very eyes. Coffee specialist Varris Holmes brews several types of coffee to taste (often based on point of origin, plus a blend and a decaf). You'll also learn about the company's "direct trade" program (similar to fair trade). And at the end, you get to take home a half-pound of the very beans you just saw roasted. It doesn't get any fresher than that! Intelligentsia, 1850 W Fulton St (312-563-0023, intelligentsiacoffee.com). Mar 5, $18.