Tropic Chicago | You asked for it
Four in-town getaways to combat cabin fever.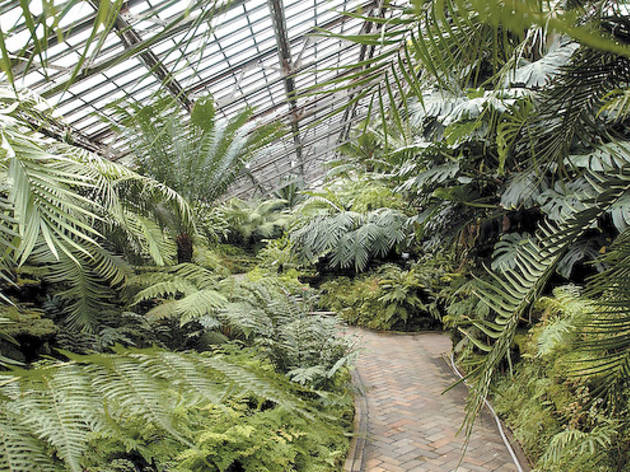 After the rush-rush holidays, I usually get a severe case of the winter blahs. Got any tips for combating cabin fever—a tropical getaway in the city maybe?—Chris K., South Loop
Barrelhouse Flat For a tiki experience more refined than aloha karaoke stalwart Trader Todd's (3216 N Sheffield Ave, 773-348-3250), Barrelhouse Flat's shaken craft cocktails—from a classic mai tai to the Montego Bay (a heady mix of Jamaican rum, absinthe, pimento dram, Angostura, lime, grapefruit and honey)—evoke the tropics without beating you over the head with a bamboo pole. 2624 N Lincoln Ave (773-857-0421).
The Field Museum The permanent "Traveling the Pacific" exhibit attempts to answer the question "What is it like to live on a tropical island?" The collection's Pacific islander artifacts include an outrigger canoe displayed on a daydream-inducing fake beach. 1400 S Lake Shore Dr (312-922-9410).
Garfield Park Conservatory While the Desert and Aroid houses, as well as most of the Show House, remain closed as the city's horticulture haven continues rebuilding due to massive hail damage sustained last June, the temperature hovers at 75 degrees with Floridian humidity in the mighty jungles of the open Palm and Fern rooms. 300 N Central Park Ave (312-746-5100).
SpaceTime Tanks "A vacation in an hour" is this New Age–y Lincoln Park company's pitch. Each eight-foot-by-four-foot sensory-deprivation tank is filled with 800 pounds of Epsom salt dissolved in 220 gallons of 93.5-degree water. Warm and weightless flotation is yours for $50 an hour. 2526 N Lincoln Ave (773-472-2700).
Like a wedding DJ, we take requests. Ask us for cultural guidance.