True colors
Going green puts this Loop alley center stage.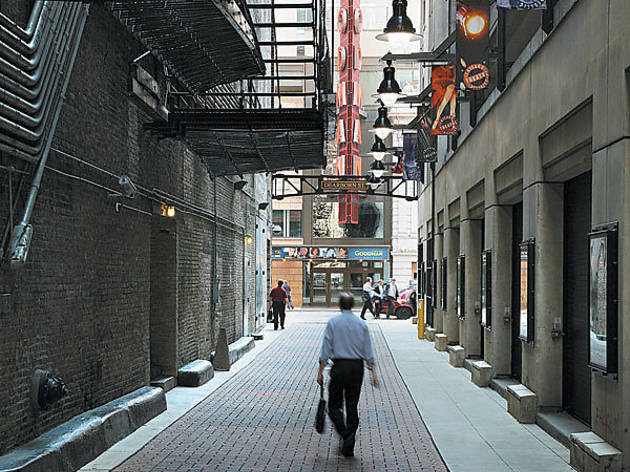 If you take a stroll through Couch Place—the alley named for brothers Ira and James Couch, owners of Chicago's first brick building, the now-gone Tremont Hotel—it might strike you as a little fancier than your average Chicago alley. The narrow walkway, which is lined by the Gene Siskel Film Center and the Ford Center for the Performing Arts/Oriental Theater on one side and ABC studios on the other and connects Dearborn and State Streets just north of Randolph Street, is adorned with posters for current and upcoming Broadway in Chicago productions such as Wicked, Jersey Boys, Dirty Dancing and Xanadu.
Restored in 2007, the alley is a nod to New York's Shubert Alley, a place where tourists and gawkers loiter after shows in hopes of catching a glimpse of their favorite Broadway star. In fact, Couch Place is also known as James Nederlander Way, after the head of the producing family that owns the Ford, Cadillac Palace and Bank of America Theaters and also books Broadway shows in Chicago. The alley boasts a whiff of glamour rather than a whiff of—well, you know what most Chicago alleys smell like.
But the coolest aspect of this alley has nothing to do with the Great White Way; instead, its best assets are steeped in the city's green initiatives. In 2006, the city began its Green Alley program, an attempt to make its alleyways more environmentally sound (30 have "gone green" so far). Instead of cement, the alley is covered with permeable brick pavers that reflect heat and reduce storm-water runoff, thereby preventing nearby properties from flooding and reducing the need for additional sewer infrastructure. Look up and you'll see light fixtures made from recycled aluminum (just like the plaque commemorating the alley). The effect is a backstage area that's bright, clean, and eco- and pedestrian-friendly.
Who knew Couch Place was even greener than Wicked's emerald-hued witch, Elphaba?