TV-free bars | You asked for it
The Super Bowl doesn't exist at these four Chicago bars.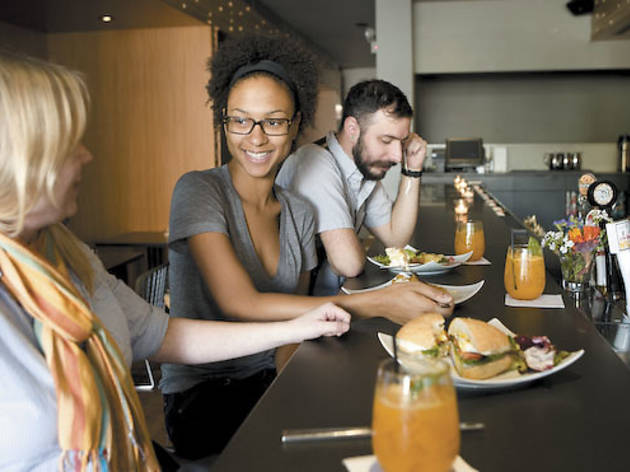 Since my team (Da Bears!) didn't come anywhere near the Super Bowl this year, I couldn't care less about "the big game." So I'm in search of a good bar without all the flat-screen TVs, where I can have a drink, tune out and forget the Bears' nightmare season.—"Hanie Hater," Bridgeport
The Charleston The former scruffy saloon changed hands a couple of years ago and morphed into a spot to sip craft beers while DJs spin. But one thing has stayed the same: no TVs. "We have a working reel-to-reel tape player," bartender Sarah Voden says, "so there's kind of an anti-technology vibe." 2076 N Hoyne Ave (773-489-4757).
Skylark "When you have a TV," bartender Nick Rahn explains, "it creates an ambience where everyone's staring in a corner." Pilsen's lodge-like tavern has enough distractions as is: an extensive draft list, tater tots, a pinball machine and a make-out, er, photo booth. 2149 S Halsted St (312-948-5275).
Tiny Lounge The bar's boob-tube ban "draws your attention to the aesthetics of the place," manager Jen Templeton says. In this case, that means a railcar-thin room full of warm midcentury modern woodwork and smartly dressed drinkers. 4352 N Leavitt St (773-463-0396).
Weegee's Lounge Owner Alex Huebner says the flicker of a television would spoil the speakeasy vibe of his candlelit bar, where you can enjoy an expertly mixed Sazerac and classic jazz on the stereo while you wait your turn for free shuffleboard. "We wanted to create a sociable atmosphere," he says, "where people could converse and cocktail without distractions." 3659 W Armitage Ave (773-384-0707).—John Greenfield
Like a wedding DJ, we take requests. Ask us for cultural guidance at chicago@timeoutchicago.com.