Uncanned Music
Scott McNiece soundtracks high-profile Chicago restaurants.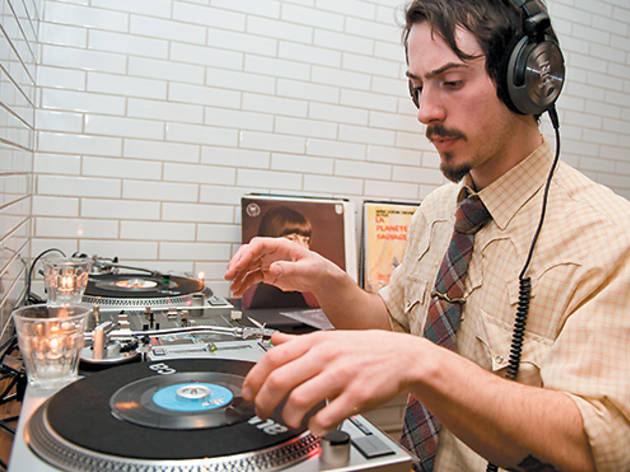 On a recent Monday night, Scott McNiece is perched on a stool in the Trenchermen barroom in Wicker Park, sipping a dark ale and, as always, listening intently. He's scrutinizing not just the music but how it's functioning in the room: Is the sound drowning out conversation or propping it up? Is there too much echo off the subterranean space's white-glazed brick walls?
"A room like Trenchermen, where you have a lot of reverberation," he says, "you go with music that has a full body, clear low end and treble. Conversation overwhelms the midrange anyway."
It's McNiece's job to know this stuff. Several months ago, the former gofer for restaurateur Brendan Sodikoff's Hogsalt Hospitality launched Uncanned Music, a music consultancy that's essentially Muzak for hipsters. The goateed 27-year-old, an assistant editor for ChicagoMusic.org and sometime drummer, has been soundtracking meals for chef-driven restaurants that prioritize "music programs" alongside their wine and beer programs. In addition to the brunch playlists at Trenchermen, McNiece has been responsible for music at Au Cheval, Bavette's Bar and Boeuf, the Boarding House, Carriage House and City Tavern, among others.
"Music is a huge part of the dining experience. Everything else you take in at a restaurant, you choose: drinks, food. But you're forced to take the music," McNiece says. "Every restaurateur is selling a complete sensory experience: taste, smell, sight and sound all combined. Music is the dark matter of dining. It's everywhere holding the whole experience together."
Later in the night, McNiece will fill Trenchermen with vintage French pop. Typically he books a DJ for the weekly Collection Selection slot. McNiece made an exception because he was excited to play records a touring musician friend mailed from Paris. But first he orders a burger and discusses his process of tailoring dozens of hours of music for a specific spot.
"When I first ate brunch at Trenchermen, they were playing night music. I was getting rocked a little too hard. And this place has this Northern European seaside thing going on, so the first playlist I put together featured a lot of Nordic groups," he says. "I was thinking [of the Wes Anderson film] The Life Aquatic right off the bat. Movies are a great reference point for me."
The repurposed materials and Asian-French-Latin fusion menu of Ruxbin called to McNiece's mind the dusty, Japan-centric future of Blade Runner, translating musically to electronic beat makers like Blockhead, Onra and Shigeto who incorporate Eastern samples.
Usually McNiece digitally strings together tracks in Apple's GarageBand application. But for Au Cheval, he delivered 20 three-hour mixes on quarter-inch tape that's threaded into the restaurant's vintage reel-to-reel player. "Brendan [Sodikoff, the owner] said he wanted the music to shake the walls," McNiece says. "I was immediately transported back to high school, listening to old-school hip-hop while riding in my friend's Chevy Cavalier with ridiculous bass speakers in the trunk."
The Boarding House recently tapped McNiece to curate playlists for its third-floor dining room. "It has a really epic view of the skyline," he says, "so I chose pop songs with lots of orchestration." He pulled tracks from Belle and Sebastian, Yo La Tengo and the David Byrne & St. Vincent collaboration.
"We were using another DJ, and some nights we got nice comments and other nights it was like, 'Why am I listening to Ke$ha in the dining room?' " says the Boarding House's co-owner and sommelier Alpana Singh. "Music is tough for a dining room because you're trying to keep it upbeat but not have people lose focus on dinner. Scottie found that compromise. Very much like what I do with wine and food, he's able to pair music to fit a room."