Unreal estate
Own one of the Loop's smallest and most enigmatic buildings.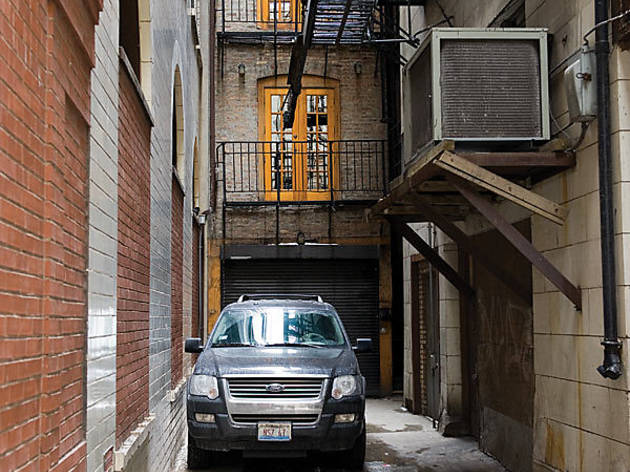 Sandwiched between a Chinese restaurant and a sub joint sits what is perhaps the Loop's most intriguing building: 22 East Jackson Boulevard. And it could be yours for only $435,000.
Just a couple of catches: The place is 1,440 square feet—about the size of a large two-bedroom apartment. Oh, and since 22 East Jackson is situated down an alley-like lane in the middle of two structures four times its height, the light-brown brick building gets little sunlight through its wood-framed, street-facing windows.
The three-floor, 19-by-19-foot oddity has been on the market for a year and a half, says Martin Murray of Murray & Harrison Realty, and it's been a tough sell. The basement and first two floors are office-style space, while the third floor is an apartment with a full bath. Murray says he's currently talking to two interested buyers but adds that past offers have been taken off the table because of the property's "limiting" size. "One party wanted to use it for retail but couldn't fit what they wanted to do inside the building. The other wanted to use it for an office and hired too many people. By the time they were ready to close, the staff was too big."
Like the building itself, located at the dead end of a gated nine-foot-wide passage directly off the sidewalk, its history is bathed in shadow. "There are a lot of fanciful stories about the age and origins of this tiny building, but that's all part of its mystique," says Tim Samuelson, the city's official cultural historian, who adds that he's "dreamed" of calling the peculiar address home. "I've been trying to pin down the exact story for years."
What is known, based on court records and historical newspaper accounts, is that a stable once sat there, owned in the 1860s by Henry Horner, a wholesale grocer (and the grandfather of an Illinois governor of the same name) who lived at the corner of Wabash Avenue and Jackson. (What's debated is whether Horner's stable survived the Great Chicago Fire.) The building was then occupied from 1871 to 1900 by Abson's Chop House. In the early half of the 20th century, a number of restaurants set up shop in the compact structure: Red Path Inn, Robinson's, the Pickwick (named after the passageway's unofficial label, Pickwick Place) and, plainly, 22 East Jackson. Until recently, Murray says, the building was used as an office.
"I walk by it every day," says Dennis McClendon of Chicago CartoGraphics, a design firm at 228 South Wabash (around the corner from 22 East Jackson) that specializes in maps. "For years, I've known that it was this little curiosity. I wondered, Why does it look like this separate building back there that doesn't have any street frontage? How does the back end of a building on Wabash end up having this address on Jackson with an access alley?" To slake his wonkish curiosity, McClendon pored over old fire-insurance maps to track the history of parcel division on the block, but he found few answers. "We just don't know parts of this puzzle," he says.
But Samuelson says there's an allure to an incomplete puzzle—a surprising thing to hear from a historian. "There's part of me that doesn't want to diminish its persona with too many unromantic facts," he says. "It's always reassuring to know that for all its growth and transformation, downtown Chicago still has hidden-away places of mystery and delight."