Upgrade your holiday extras
Jazz up white-elephant parties, pub crawls and more.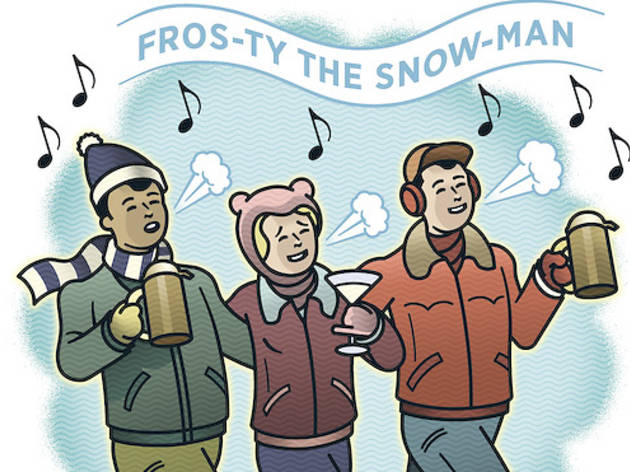 White-elephant party
Bring a crappy gift home; pull it out next December for another white elephant party; rinse; repeat. Or play by one simple rule: Each gift must be used the night of the bash. Trust us—all you'll leave with is great photos on your iPhone. Some suggestions:
• 'Stache straws Each bendy straw holds a fake moustache on top. $12 for six at Urban Outfitters (locations citywide).
• Snow in a can Indoor snowball fight! $6 at Urban Outfitters.
• Gummy shot glasses Choose from green apple, blue raspberry, cherry cola and more. $10 for six at thinkgeek.com.
Advent calendar
Flimsy cardboard filled with chalky chocolate doesn't cut it as an adult. Update this tradition by hitting Binny's (locations citywide) to create a DIY Advent calendar of holiday beers, including Delirium Noel ($11.99 for 750ml) and Jolly Pumpkin Noel de Calabaza ($15.99 for 750ml). The local liquor chain sells those brews and more by the bottle, and allows you to mix-and-match others, like Lakefront Holiday Spice, to create six-packs ($9.99); walk out with ten bottles to last a very happy giftee from this issue's date (December 15) to Christmas. If you're up for taste-testing an extra batch, save the bottlecaps and stick them to a paper calendar to create a schedule of what your pal should drink each day.
Christmas dinner
Up the ante on your Christmas meal at new Lincoln Park spot Butcher & the Burger (1021 W Armitage Ave, 773-697-3735) with a Monday 19 class (7:30pm, $75) from chef Allen Sternweiler. The lesson plan: how to break down half of a pig—leaving you ready to really ham it up this December 25. You also score a three-course meal after the lesson. Or, pick up meat from the butcher side of B&B to make Christmas turkey burgers ($7.50 per pound of ground turkey). With a pinch of one of Sternweiler's housemade spice blends ($10.95–$12.95 for 2.5–6 ounces), your guests will be clucking about the unconventional switch-up.
Hanukkah food
Spice up your latkes with scallions, says chef Melissa Clark of Gilt Taste, a new recipe and mail-order food site from Gilt Groupe. Clark brushes her latke dough with sesame oil and sprinkles it evenly with finely chopped scallions and a pinch of salt before frying the thin pancakes in olive oil. The mild green onions add punch to a Hanukkah staple that can get boring year after year, she says.
Family time
She can roll her eyes at everything else, but one activity your mother-in-law can't object to? Helping others. Team up with family members to donate your time to better someone else's holiday. Many volunteer orgs get overloaded this season with folks drawn to feel-good gigs (say, serving dinner to the homeless), but need manpower to tackle the less glamorous jobs (like cleanup). Search for local opportunities on chicagovolunteer.net.
Stocking stuffers
Kiss red- and green-foiled candy goodbye in favor of more creative sweets at new Lincoln Square shop Amy's Candy Bar (4704 N Damen Ave, 773-942-6386), which carries everything from chocolate-covered gummy bears to fizzing hot cocoa tablets—just drop 'em into warm milk and enjoy. Pair with owner Amy Hansen's housemade marshmallows to create a stocking that won't stay stuffed for long.
Pub crawl
You can do better than an ugly sweater–themed outing. This year, bring back wassailing. The British tradition of drinking and caroling stems from the drink wassail—spiked hot apple cider—but in the spirit of wanting variety in our booze, we're opening the door to any wintry cocktail. Carol on the sidewalks between seasonal sips at these Andersonville bars:
• The holiday eggnog at Ceres' Table (4882 N Clark St, 773-878-4882) is housemade with clove, cinnamon and nutmeg, and spiked with Mathilde Cassis, a bold black currant liqueur ($10).
• Warm up at Simon's Tavern (5210 N Clark St, 773-878-0894) with a glass of homemade glogg ($5).
• Cozy cocktail venue In Fine Spirits (5240 N Clark St, 773-334-9463) hooks you up with a simple, well-executed blend of Crusoe spiced rum and hot spiced apple cider ($8).