Upgrade your holiday outings
Hit these less crowded—and equally awesome—alternatives to traditional holiday outings.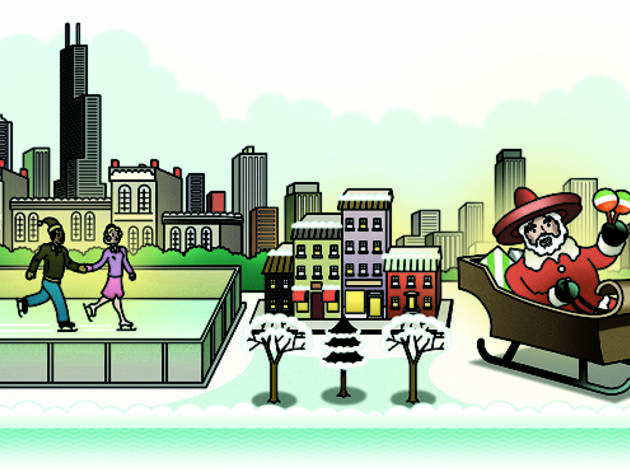 Looking at lights
The traditionLincoln Park ZooLights (Fri 16–Jan 1, closed Sat 24 and Sun 25; 5–9pm; free. 2001 N Clark St, 312-742-2000)
The alternative Drive around Lincolnwood Village, a Northwest Side neighborhood bordering Sauganash, to get the glow without the cold and the crowds. Residents have nicknamed the series of cul-de-sacs between Pratt and Devon Avenues, west of Cicero Avenue, "Candy Cane Lane." Every year homeowners outdo themselves—and each other—with twinkling carousels, gigantic Christmas trees and bulbs galore.
Nearby food and drink Stop by Moher Public House (5310 W Devon Ave, 773-467-1954), an Irish bar and restaurant, to fuel up on Guinness beef stew and hot apple cider with a shot of bourbon.
If you end up at ZooLights anyway… Send a Tweet to Humphrey Snowgart (@humphrysnowgart), the zoo's giant snowman, who has more than 300 followers on Twitter. He may tweet back, and often retweets.
Visiting Santa
The tradition UL Santa House on Daley Plaza (through Sat 24; free. 50 W Washington St, explorechicago.org)
The alternativeLate-er Night Andersonville (Fri 16) has a Santa at Andersonville Holiday Pop-up Gallery (5–8pm) for the kids, but a sale at Las Manos Gallery (6–10pm) offers something for adults, too. Local businesses (mostly eclectic design stores) contribute merchandise; with more than 35 participating, knock out your gift list in one circuit. Other activities include a holiday show from Gus Giordano Dance School and a screening of The Nightmare Before Christmas.
Nearby food and drink Hit Dutch restaurant Vincent (1475 W Balmoral Ave, 773-334-7168) for its Caribbean Christmas menu, inspired by cuisine from the Antilles Islands.
If you end up at Santa House anyway… A gingerbread cupcake ($3.50) from nearby Magnolia (Block 37,108 N State St, 312-346-7777) will ease the pain of standing in line at Santaville.
Festive meal
The tradition Walnut Room at Macy's (111 N State St, seventh floor, 312-781-4483)
The alternative There's no 45-foot Christmas tree, but there is a cozy meal waiting at mk (868 N Franklin St, 312-482-9179), a contemporary American restaurant—and favorite of Mayor Rahm Emanuel and President Obama—that goes all out for the season. This year's holiday tasting menu (starts Tuesday 20) includes poached Maine lobster, pan-roasted French turbot and grilled Kobe beef, and takes advantage of seasonal goodies like blood oranges and chestnuts. Start with a winter cocktail—the Holiday Smash (cognac, brandied cherries, orange; $12) or a traditional hot toddy—and savor the scene, where banisters are encircled with evergreen garland and silver branches sport festive red balls.
If you end up at the Walnut Room anyway… Do admire that Great Tree, which is greener than ever this year: 15,000 sparkling LED lights are running on a third of the energy used for previous trees.
Ice skating
The tradition McCormick Tribune Ice Skating Rink at Millennium Park (through Mar 11; free, skate rental $10. Michigan Avenue and Washington Street)
The alternative If the line at Millennium Park's free rink is daunting, try heading south to theMidway Plaisance Park rink(1130 E Midway Plaisance North, chicagoparkdistrict.com) near the Museum of Science and Industry. Now that University of Chicago students have left for holiday break, this free (skate rental is $6), similarly sized Hyde Park rink will be quieter and less congested.
Nearby food and drink Enjoy a view of the rink from vegetarian/vegan spot Christian's Café (1130 E Midway Plaisance North, 773-947-7111).
If you end up at Millennium Park anyway… Warm up after at nearby State & Lake (201 N State St, 312-239-9400) with the restaurant's new ginger cider sidecar ($12), a blend of vanilla vodka, ginger liqueur, honey and apple cider served hot (or on the rocks, if you prefer) with a cinnamon-sugar rim.
Christmas market
The traditionChristkindlmarket Chicago (through Sat 24; free. 118 N Clark St)
The alternative Beyond the outdoor German market you'll find a festival celebrating Mexican holiday traditions. Join in on Posada de Pilsen(Sat 17; 8pm; free. Starts at Tonantzin Community Arts & Cultural Gallery, 1173 W 18th St), a candlelit, music-filled procession that stops at four Pilsen venues. The party continues at Xicago Studio (10pm; 2005 S Blue Island Ave) with piñatas, music, food and drink, including ponche, a Mexican Christmas punch.
If you end up at Christkindlmarket anyway… Continue the European tour at bakery Toni Patisserie (65 E Washington St, 312‑726‑2020), where it's bûche de noël season. The French dessert, chocolate mousse rolled with vanilla roulade and coated in dark chocolate ganache (picture an ice-cream log cake), is sold by the slice ($5.25).
Holiday windows
The traditionMacy's holiday windows (through Jan 8. 111 N State St, 312-781-4483)
The alternative The boutiques along Division Street (from Ashland Avenue to Leavitt Street) always impress with their one-of-a-kind window displays. And this year, the Do-Division Street Committee is awarding two $500 prizes (winners judged via photos posted on the Do-Division Facebook page) in a holiday-window decoration contest. Be sure to check out Renegade Handmade's woodland-themed window, adorned with pine needles, logs and handcrafted cuckoo clocks.
Nearby food and drink Grab a hot cider at Alliance Bakery (1736 W Division St, 773-278-0366) to keep you warm as you window gaze.
If you end up at Macy's anyway… Donate to the Make-a-Wish foundation by heading inside to buy just-introduced Wish Factory ornaments, a collaboration between Macy's and celebrity designers such as Tommy Hilfiger and Jessica Simpson.
Family fun
The traditionWinter WonderFest at Navy Pier (through Jan 8; wristband for rides $15–$18. 600 E Grand Ave)
The alternative Save the beer garden and indoor ice rink, the crowded fest only offers activities for kids. Get the whole family moving at Northerly Island (1400 S Linn White Dr, 312-745-2910). When there's three or more inches of snow on the ground on select Saturdays and Sundays (call for dates), children and adults can rent cross-country skis and snowshoes for just $5 (two-hour rental).
Nearby food and drink Line your belly with a foot-long grilled cheese ($9) from sports bar the Scout(1301 S Wabash Ave, 312-705-0595).
If you end up at Navy Pier anyway… Try the new Tilt-A-Whirl ride (before the beer garden, please).
The Nutcracker
The traditionJoffrey Ballet's The Nutcracker (through Tue 27; $30–$140. Auditorium Theatre, 50 E Congress Pkwy, 312-922-2110)
The alternativeThe House Theatre's version of the quintessential holiday show (through Dec 30; $25. Chopin Theatre, 1543 W Division St, 773-769-3832 ext. 1) is a funny, updated and often irreverent musical that, at one point, covers the audience with artificial snow.
Nearby food and drink Save cash by noshing on the vegan cookies offered free at this production.
If you end up at the Joffrey anyway… Admire the company's new costumes for "Waltz of the Flowers." This year the dancers' skirts are made from laser-printed and air-brushed polyester, delivering a brighter look than the original hand-painted silk skirts.