Upgrade your New Year's Eve
From the kiss to the Champagne, here's how to make NYE better.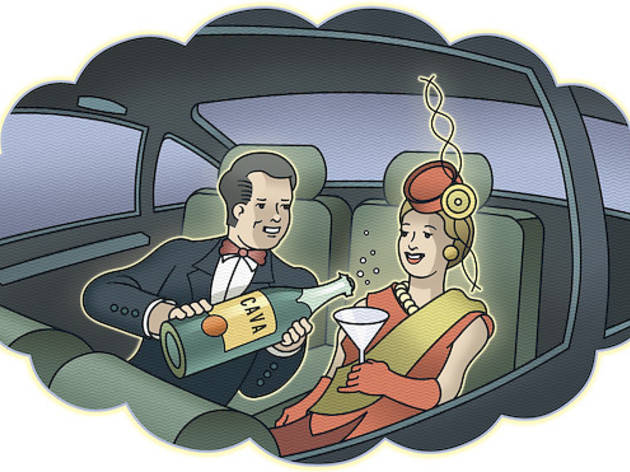 Champagne
Throwing a house party? Ditch the Veuve standard in favor of bubbly alternatives that replicate the rich flavor, searing acidity and soft, prickly bubbles of the traditional "champenoise" style—and cost a whole lot less. Peninsula Hotel sommelier Michael Muser recommends sparkling rosés from Napa Valley's Schramsberg winery: Mirabelle Brut Rosé ($21.99) and 2007 Brut Rosé ($34.99). For a crisper, more herbaceous flavor, Muser suggests cava, a Spanish sparkling wine. He points to the Gramona Gran Cuvée from Catalunya, Spain ($18.99). All available at Binny's (locations citywide).
Party hats
That plastic top hat looks just as goofy now as it did in middle school. Grow up with a handcrafted mini top hat from Chicago artist Aviva Kleiner, who makes headbands and fascinators under the label Heartfelt by Aviva. The felt fascinator ($48), which attaches to your head with a discreet elastic band, rocks a bold cream bow and short birdcage veil for extra sex appeal.
Menswear
A plain black suit seems drab on such a festive night. Step up your game with a bespoke look. Jason Smith of Trunk Club, a local mail-order styling service for men, recommends a velvet blazer in a rich midnight blue or crimson, or a white tuxedo jacket. "Paul Smith and Tom Ford own this category," Smith says. But we say only invest that kind of dough if you're going to wear this getup again; otherwise, we've had luck at thrift stores around the Belmont El stop or in Pilsen.
Kiss
Make your midnight kiss feel special, even in a packed party atmosphere, with tips from Sarah Sloane, sex educator at Lakeview adult store the Pleasure Chest (3436 N Lincoln Ave, 773-525-7151). Build anticipation throughout the evening by flirting: "If they come in for a kiss, put your finger on their lips and make them wait [for midnight]." When the time comes, use your drinks to your advantage—a lingering piece of ice delivers a cold rush; maraschino cherry offers a sweet, dessert taste. And: "Remember that a kiss isn't just two sets of lips," Sloane says. "Press your body against your partner, let them feel your breath and smell your perfume" or cologne.
Taxi
Fighting for a cab is not how you want to spend your first moments of 2012. Sign up with Uber, a new car service, for a guaranteed pick-up in a sweet ride. Use the Uber app for Android or iPhone, or text your location from any mobile phone, and you'll get a pickup ETA (usually less than 15 minutes; you can track your driver with the app). The service links to your bank account, and the tip is included. You'll shell out more than you would for a taxi—the pickup fee alone is $7—but you're paying for convenience (our driver, William, performed an admirable search-and-rescue in Chinatown). The fleet ranges from '07 Town Cars to Escalades, but Uber community manager Max Crowley hopes for the black Mercedes S500 when he requests his pickup. "When the S pulls up," he says, "I feel like Jay-Z."