Vacationing in Manistee, Michigan
Watch out, Saugatuck: Manistee has the goods to become Michigan's next tourist-clogged beach town.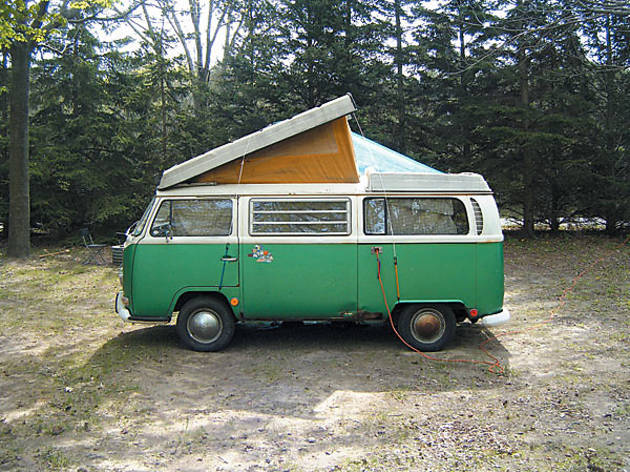 Manistee, Michigan
Round-trip 532 miles
Gas $62
Walking through the sleepy beachside hamlet of Manistee, with its inland four-block main drag featuring Victorian architecture and a 1.5-mile river walk, you get the feeling this place would be tourism gold if only people knew about it. But so far, relatively few tourists have caught on to the town's charm, so privacy still abounds on its beaches.
First Street Beach (First Street and South Lakeshore Drive) is where locals don Megadeath T-shirts and blast Alice in Chains. That said, the pristine beach stretches a quarter-mile from the parking lot down to the lake, and few people are near the water—some couples watching the surf, a lone wave frolicker with her golden retriever. There are lush forests to the south and small dunes to the north, which border Douglas Park's six beach-view grilling cabanas, concession stand (two hot dogs for $1.75) and basketball courts. It's the closest thing Manistee has to a city beach, and it's where the locals go.
Just north is the classy Fifth Avenue Beach (Fifth Avenue and North Lakeshore Drive), featuring a beach house with concessions, and volleyball and tennis courts. Affluent condo residents bring their dogs and kids there, and you can visit the North Pier lighthouse, an operational historic landmark set at the end of the wooden pier. A few fishermen cast off the pier, and it's so quiet that duck families paddle undisturbed among the seagulls.
A few miles north is Orchard Beach State Park (2064 Lakeshore Rd, 231-723-7422), a small, narrow campground with hiking trails situated on a gorgeous, rocky bluff overlooking Lake Michigan ($6 per car, $15–$20 to camp, $60–$80 for a minicabin, though there are only two cabins and they're pretty much rented for the whole summer). Go down a staircase to the lovely, desolate beach surrounded by cliffs, trees and grass.
Twenty miles south of downtown is hipster ground zero, the Lake Michigan Recreation Area (US 31 and Forest Trail Rd, 231-723-2211). Here, backpackers climb the dunes, hikers videotape flora and fauna, volleyball enthusiasts set up lakeside (BYO net—there's nothing but nature for ten miles from the highway to the beach), and sunbathers lounge in privacy. BYO dog as well—they're allowed on the beach's north end. But do not BYO grandma—you scale a quarter-mile of dunes to get to the beach.
Where to wash that sand off? The only beachside lodging we found was the Lake Shore Motel (101 S Lakeshore Dr, 231-723-2667; $90/night and up), a clean but dated '70s throwback with cheap paneling, where you gaze at First Street Beach from mismatched chairs outside your room's door.
You'll have better luck finding lodging in downtown Manistee. Situated on the riverfront, the Manistee Inn and Marina (378 River St, 800-968-6277; $66/night and up) offers free fruit and bagels in the morning. It's across the street from the sprawling Pratt's Port City Antiques (351 River St, 231-723-4150), where you can find a framed velvet Elvis for $30. Another option is the Ramsdell Inn (River Street at Maple Avenue, 888-823-8310; $99/night and up), which has a turn-of-the-century lobby featuring stained glass (unfortunately, the rooms are more artificial-flowers-and-country-oak). Behind the Manistee Inn is the notably named Sunrise Hooker (354 River St, 231-398-3795), which offers half-day fishing charters ($250 for three people includes gear, plus cleaning and bagging of fish, which you can cook on the Manistee Inn's riverfront grills). More adventures can be found at Manistee Paddlesport (231 Parkdale Ave, 888-408-8850), where canoe and kayak trips run $32 to $72.
All that exercise and you'll be famished. At Northside Bar (132 Monroe St, 231-723-9118), a delicious, half-pound cheeseburger from the charcoal grill costs $5.50, domestic beer is $2.50 and peanuts are free. Regulars drop by in droves for the Thursday night $9.50, 12-ounce New York strip "steak fry" (meaning the meat is cooked on the charcoal grill in the parking lot). Don't miss the $7.50 roasted chicken with new potatoes and coleslaw at The Painted Lady Saloon (723 Kosciusko St, 231-723-2487), where a stuffed wild boar sits atop a ceiling beam, and the daily-specials sign dangles from a tree.
The best deal in town? The Hi-Way Inn (715 Kosciusko St, 231-398-9188), a bustling hot spot where septuagenarian karaoke mistress Linda hawks $1 Jell-o shots. The worst? Little River Casino (US 31 at M-22, 866-466-7338). But Manistee Inn will arrange for a free shuttle bus there if you're hell-bent on gambling away your paycheck.