Violence in Boystown
Is the heated reaction to the videotaped stabbing on Halsted Street warranted?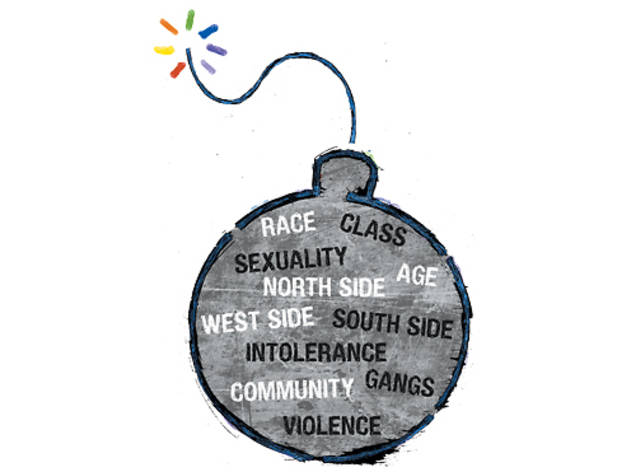 Yusuf Humphrey says he's learned a lot in the past couple of weeks.
He's learned the anxious feeling as police slow down and glare at him and his friends as they barhop on Halsted Street, the hot touch of a Ford Crown Victoria cop cruiser hood on his sweaty palms, and the embarrassment as officers interrogate him on the sidewalk in front of fellow clubbers. The other day, Humphrey says, he'd stepped outside Scarlet Bar to smoke a cigarette, when police pulled up. "There were probably 15 people—whites, Latinos—on the sidewalk," the 21-year-old African-American Northwestern student from Rogers Park told me one recent Tuesday night while hanging out at the Center on Halsted. "But they stopped me, questioned me."
There's been tension in the air, Humphrey says, ever since a notoriously fiery July 6 Lakeview Chicago Alternative Policing Strategy meeting that focused on a recent high-profile stabbing on the 3300 block of North Halsted that was videotaped by a neighborhood resident and posted to YouTube. The clip shows several younger black people teaming up to beat on Rubin Robinson, a 25-year-old DePaul student from Englewood, who is also black. (Last week, Darren Hayes, a 24-year-old from Hammond, Indiana, was charged in the nonfatal attack.)
More than 700 people attended the meeting, which revealed some of the underlying hostilities in Boystown. It showed a room divided between mostly white residents worried their neighborhood was becoming a hotbed of violence, and outspoken activists condemning calls for safety as racist against young blacks from the South and West Sides who come to the 'hood looking for a more accepting environment and seeking LGBT-related services at the Center on Halsted. Ald. Tom Tunney of the 44th Ward, which includes Boystown, requested police provide an extra patrol detail along the gay nightlife strip.
But Humphrey believes the attention isn't warranted. "There's too much shit going on in this city to be focusing on this," he says. "I don't want handcuffs put on me every time the police feel that they can do it just because someone got stabbed. That has nothing to do with every black person that's over here."
A couple of blocks south of the Center on Halsted, representatives from the Night Ministry parked their van and served peanut-butter-and-jelly and ham-and-cheese sandwiches to about 20 gay youth. Some had been kicked out of their homes after coming out to their parents. "It's a little more open out here, you can let go a little bit," Nate Washup said, explaining why he takes the train all the way from Chatham on the South Side. The bisexual 19-year-old said he sympathizes with the community's reaction, even if it means he might be judged unfairly. "Someone got stabbed, so I can understand how that would open people's eye a little bit, wake them up, keep them on their toes. If this neighborhood doesn't usually get violence, they're going to be wondering, What's different here? And I can understand that."
An hour earlier, at 23rd District police headquarters, Sgt. Alejandro Silva hosted a two-hour self-defense seminar prompted by the stabbing. He showed the two dozen rapt neighborhood residents in attendance such things as the myriad ways house keys can be used as a weapon against an attacker. After class, Silva stopped to chat about the drama at the CAPS meeting, which he derided as a "circus."
"There were a lot of people getting on the mic, and you know what happens when people get a microphone in front of them," he said with a laugh. "We had a near-riot. It was ugly. It seemed like people wanted to fight each other in the audience. I've been here four-and-a-half years, and it seems crime always becomes a race issue in this neighborhood."
To understand why the reaction in Lakeview was so heated, Silva said, you have to understand that community response to crime is relative to the area's tolerance level. Certain residents' unrealistically high expectations of safety can lead to the perception that a fairly low-crime neighborhood like Lakeview is dangerous. "There's no such thing as a safe neighborhood," he said. "There are safer neighborhoods and not-so-safe neighborhoods. This is a safer neighborhood, relative to the whole city."
"It's not a race issue at all," says Jesse Hinton. He's the president of the Chicago Windy City Black LGBT-SGL Pride, a South Side–based organization that puts on events and acts as a resource for black LGBT youth. "The violence—it's across the city of Chicago. It's something that happens every single summer."
Judge James Shapiro, a subcircuit court judge and Lakeview resident who turned out to the self-defense seminar, called the CAPS meeting reactions to the stabbing "disappointing, very intense and dispiriting." "It was a community venting their spleen," he said. "We still need to have a dialogue, a racial dialogue, but I guess that was it. It was more of a shouting match." Center on Halsted spokesman Brian Richardson says he's not surprised to see people point fingers at the four-year-old institution. "I think it's because we are a visible, productive member of the community that works to serve all members of the community," he says. He lists job placement, crisis intervention, housing and mental-health services, family reunification, and HIV testing as reasons gay youth flock to the center. "It's clear we need to do a better job communicating to everyone what we're doing."