Visiting ours
Play tourist in your own town by taking locals-only treks to attractions you normally avoid like the plague-starting with a magnificent day on North Michigan Avenue.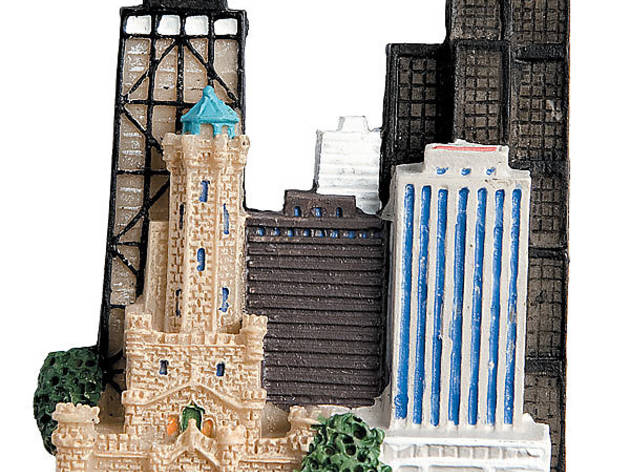 Photo: Martha Williams
At 10am on a Saturday morning, the Magnificent Mile is pulsing harder than my espresso-filled veins. I'm staking out the retail strip of Michigan Avenue extending about eight blocks north of the Chicago River and waiting for a green light at Walton Place when a giant Red Bull can drives by, followed by a bedraggled horse-drawn carriage and a truck toting a billboard-sized monitor playing a National City banking commercial. Birkenstock-clad tourists and surgically enhanced Oak Street shoppers walk against signals. The light changes, cabs honk. Cabbies wave fists. Tourists shriek. I have to remind myself that this excursion, designed for in-the-know Chicagoans, is about to get much better.
Finally, I arrive at my first destination—Christopher Charles Spa (980 N Michigan Ave, 312-664-6404). I've come to the salon to find a relaxing treatment, but unlike most of the power-suited clientele, I don't have gobs of cash. It's no problem, I'm assured, the half-hour Eye Rejuvenation ($50) will do the trick. And it does: An undereye peel is applied and a gelatinous substance is deftly massaged into my temples until they seem to float off my face.
A few shrunken crow's-feet later, I'm feeling stoned and blithely out-of-it from sheer relaxation. At the Hancock Center (875 N Michigan Ave), I tell the guard I'd like to go to the galleries on the 25th floor, which is far from the Where-is-the-Observatory/lounge/restaurant/bathroom? crowd. The Richard Gray Gallery (suite 2503, 312-642-8877) is stone silent. Its show of huge Jennifer Bartlett landscape paintings is dull, but I'm looking forward to an exhibition of portraits by Alex Katz opening on Wednesday 19. This is one of the world's most ritzy yet unpretentious art galleries: The woman at the desk tells me Katz will be at the opening if I want to meet him. Next door, Valerie Carberry Gallery (suite 2510, 312-397-9990) features stunning paintings by Evelyn Statsinger. Better than a Pink Floyd poster, the undulating grids of green shades make my head spin.
Photo: Michael Jarecki
One more art stop to go: Chicago's 1869 pumping station now houses the City Gallery in the Historic Water Tower (806 N Michigan Ave, 312-742-0808). I elbow my way through people distributing handouts: Jews for Jesus, the Hyde Park Reformed Church, veterans (of all kinds, I guess), a mink-garbed woman braving the heat for Elan Furs and a man holding a makeshift flyer that reads "architecture tours." At the end of the static, I'm rewarded by the sight of large color photographs by local artists Brian Ulrich and Jason Lazarus. Their youthful, conceptually laced work complements the offerings inside the Hancock galleries.
Stomach growling, I loop back up to the northernmost end of the Mag Mile for lunch at Café Spiaggia (980 N Michigan Ave, 312-280-2750). Inside the tony Italian restaurant's cheaper offshoot, a few seats are filled by elderly couples and men reading books (somewhere, wives are shopping). I suck down a simple but delicious bean soup ($8) and sip a glass of Rossodi Montalcino ($14).
Next, I enter the streets and get swept up by khaki-wearing pedestrians. No doubt on their to-do lists: Disney Store, Hershey's store, the Water Tower Place fountain. I pass a gold man, a silver man and a half-silver-half-black man doing a tableau-vivant shtick and occasionally busting out into the robot dance before I nearly choke on a whiff of Britney Spears Curious. It's coming from a blond girl who stops suddenly, causing a domino effect. My nose goes into her head, and she gripes, "See Mom, Chicago is scary," while giving me the stinkeye.
As I dash into the InterContinental Hotel (505 N Michigan Ave, 312-944-4100), the concierge takes one look at me, cocks an eyebrow and points to the second floor. For $15, anyone can access the sauna, exercise facility and green-tiled colonial pool, a leftover from the 1929 building's former life as the luxury Medinah Athletic Club. I swim a few laps and lounge on wicker chairs as sunlight streams in from green-tinted stained-glass.
Back onto Michigan Avenue, I check my bag of wet clothes at Nordstrom's comp concierge station (520 N Michigan Ave, 312-464-1515). Hey, no reason to shop on this corporate strip if you can't get something in return, right? I sift through Nordstrom's half-yearly sale. As I lay down too much cash for a white Phillip Lim cocktail jacket, I suddenly feel like a Mag Mile regular. I could live this life, I think, ducking in for a Garden Street, a sparkling wine and mango vodka cocktail ($11) at the nearby James Hotel (55 E Ontario St, 312-337-1000). And that's when I know it's time to go home.
Want to live like a tourist for a day? Click here for your chance to win a free pair of tickets to Chicago's hottest tourist attractions.