Heads up! We're working hard to be accurate – but these are unusual times, so please always check before heading out.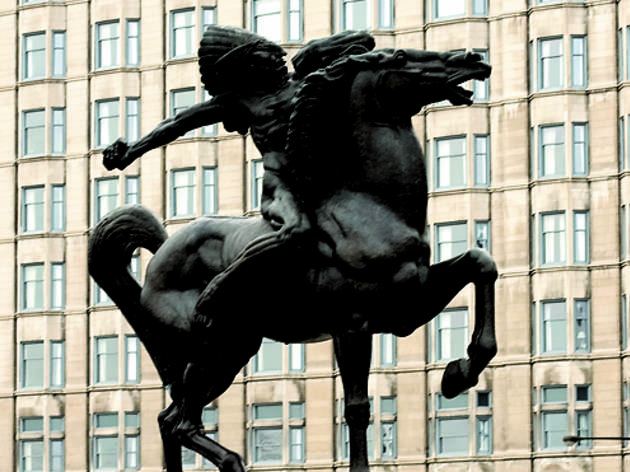 Warrior statues missing weapons
The Bowman and the Spearman without a bow and spear.
Q I've heard that the statues of the Native American warriors at Congress Parkway and Michigan Avenue had their weapons removed after the attacks of September 11. Is that true?—Angelic Chavez, South Chicago
A The absent weapons in the two hulking bronze sculptures go back long before the attacks of September 11, 2001. Seventy-three years, to be exact. In 1928, Croatian sculptor Ivan Mestrovic created The Bowman and the Spearman to commemorate the frontier struggles that birthed the United States, depicting natives atop horses in dramatic battle poses. The bowman holds only a short rod in his left hand and the spearman's right hand is completely empty. "The bow and spear were never included with these bronze figures," explains Allyson Murphy, curator of exhibits for the city's public art program, "but were left for the viewer to imagine." If it's the weapons you're missing as you stand in the shadow of these tense, towering statues at the gateway to Grant Park, you're also missing the point.
Curious about something around town? E-mail us at chicago@timeoutchicago.com.