Where to buy fireworks for 4th of July
Get your fill of Fourth of July explosives and cartoonish patriotism across the Indiana border.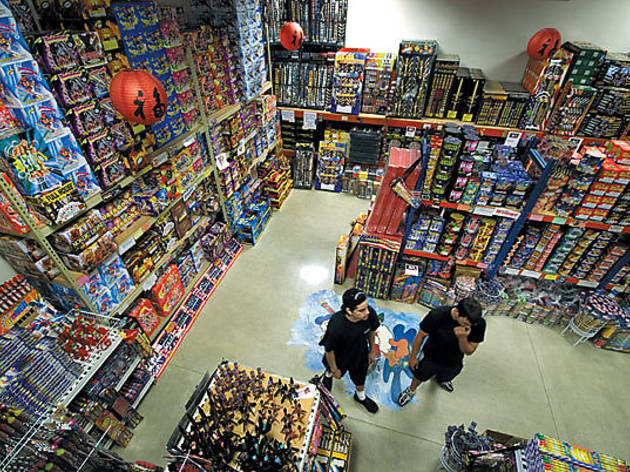 Strolling the aisles of fireworks shops is one of the truly bizarre experiences of life. You can find the most outlandishly packaged merchandise—a cube of fireworks known as Area 51, labeled with a cartoon alien chasing Bill Clinton, for example—at huge vendors like Indiana's Krazy Kaplan and Michigan's Crazy Steve (no relation). But stranger still are the small roadside fireworks stores that spring up each June and disappear like a spent bottle rocket on July 5. (You'd call them mom-and-pop shops…if your mom wore Judas Priest T-shirts and your dad had seven fingers.) The fact that fireworks are illegal in Illinois (selling, possessing or igniting any firework that shoots a projectile or explodes is a misdemeanor) just makes these forbidden combustibles that much more attractive. So we headed into Indiana, land of the fireworks emporium, to suss out some of the strangest explosives at these surreal retailers.
RECOMMENDED: Things to do on the Fourth of July
Exploding Terrorists ($5.50)
Description Purple flames accompanied by shrieking whistle, concluding in small explosions
Fuzz factor 2/6 fuzz
Packaging Contains figures depicting Osama bin Laden, Moammar Gadhafi, Saddam Hussein and Yasser Arafat, enabling Americans to effigize the two living Middle Easterners and eulogize the latter, deader two
Buy it at Fireworks Outlet (298 E Hwy 20, Michigan City, 219-879-9966)
While you're there Visit the martial-arts dojo next door to immerse yourself in China's second-awesomest export.
Beach Bum ($15.99)
Description 13 explosions, with glowing tails that fire at a slow pace
Fuzz factor 3/6 fuzz
Packaging Features a cartoon of a tubby Anglo lounging lakeside with a piña colada in his hand beneath an exploding night sky. A typical American, you might think…if your frame of reference for American life is Baywatch Nights.
Buy it at Creative Fireworks (8599 W Hwy 20, Michigan City, 219-879-9436)
While you're there Polish your long game at the Clubhouse Driving Range (415 E Hwy 20, 219-873-0966), which has its own tavern.
Chasing Tail ($75)
Description This 500-gram cake produces 40 gold shots, which cascade in a waterfall effect
Fuzz factor 4/6 fuzz
Packaging Features a cartoon of a scorpion, nature's most shameless tail-chaser
Buy it at Rocket Sales Inc. (10128 W 400 North, Michigan City, 219-872-8444)
While you're there The Kempf Gun Shop (7625 W Hwy 20, Michigan City, 219-872-7957) is a short drive away, should you feel compelled to increase your firepower.
Big Ass Balls ($149.99)
Description An artillery kit with 85 shells producing 120 explosive, colored, crackling effects
Fuzz factor 6/6 fuzz
Packaging Label features a large-testicled monkey scratching its head
Buy it at BoomTown Fireworks (718 Joliet St, Dyer, 219-864-3800)
While you're there Déjà Vu Showgirls gentlemen's club (3850 179th St, 219-554-1865) is in nearby Hammond, stocked with strippers who—we're guessing—know how to handle big-ass balls.
Magnitude Platinum ($134.99)
Description An artillery kit with 76 shells producing 128 effects. Six tubes enable timed launches of different shells.
Fuzz factor 5/6 fuzz
Packaging Not the title of a Jean-Claude Van Damme movie, rather a firework named by someone with a skewed grasp on the English language. (Keep your eyes peeled for Importance Uranium and Significance Nickel next year.) The black-and-white packaging is as spartan as the name is perplexing.
Buy it at BoomTown Fireworks
While you're there Boomtown Fireworks shares Mak Plaza with Advance America Cash Advance service, enabling poor pyros to send next month's paychecks up in smoke.